Cedar Point amusement park is located on the shores of Lake Erie in Sandusky, Ohio. Most people know the park because of their roller coasters, which have been setting records for years with the biggest, fastest, and most extreme rides on the planet. However, few people seem to realize just how much the park caters to families to make it an incredible day of fun activities.
Growing up in Northeast Ohio, our family typically went to the park at least one day a year. Now that we have our own family, with three young thrill seekers, we tend to go to the park a lot more often because they simply can not get enough of the rides.
The most appealing part of Cedar Point to our family is that most everything is kid friendly, since we travel nearly everywhere with them.
Throughout September and October, Cedar Point is transformed into Halloweekends, which started back in 1997. The event started out as a means to get people into the park during the cooler months, and the decorations were the typical cheap stuff you can pick up at your local store. However, today, Halloweeknds is a huge draw for guests, often the busiest time of the year, and Cedar Point makes a huge investment into top quality decorations.
Our family spends the majority of our time in the park at any of the three kids zones: Camp Snoopy, Planet Snoopy, and Kiddie Kingdom. These three distinct areas offer a variety of rides to suit all your younger kids needs. I have rather enjoyed seeing our kids interests develop over the last year with certain rides they would not even look at from the beginning of the season to seeing them love some of the bigger rides they originally had anxiety to ride.
Cedar Point also does an extensive job of bringing in special events just for families during Halloweekends.
For example, they have straw mazes and tractor rides.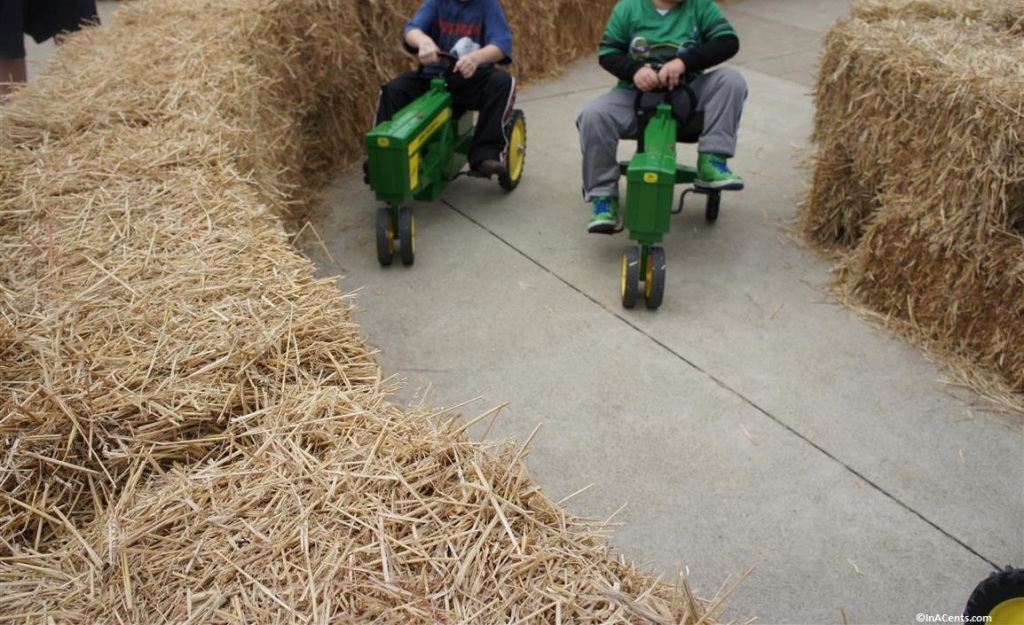 Foam pits where foam is pumped into a straw bale enclosed area for the kids to play. They even provide towels to clean off at the end.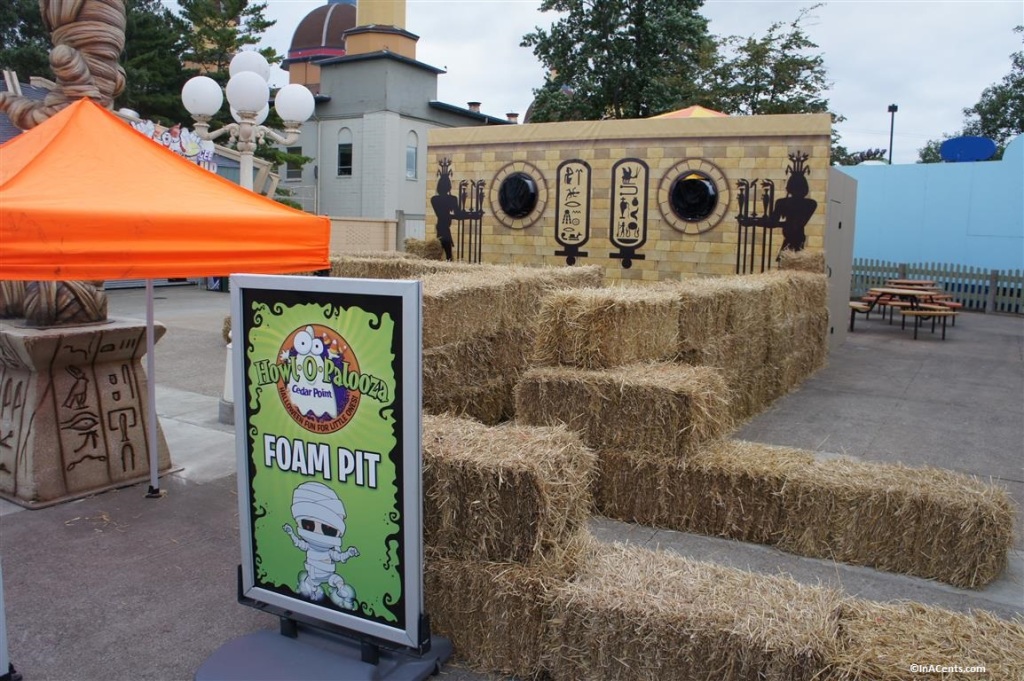 Kiddie Kingdom is set up to host a trick-or-treat, where kids take a card around to several stations and receive a treat at each spot.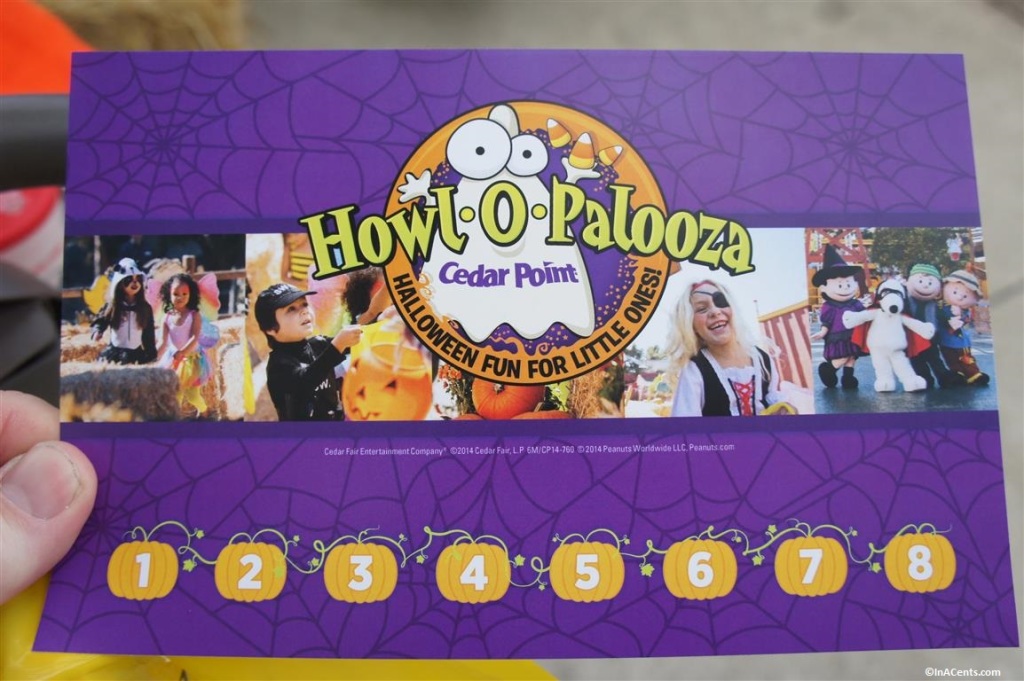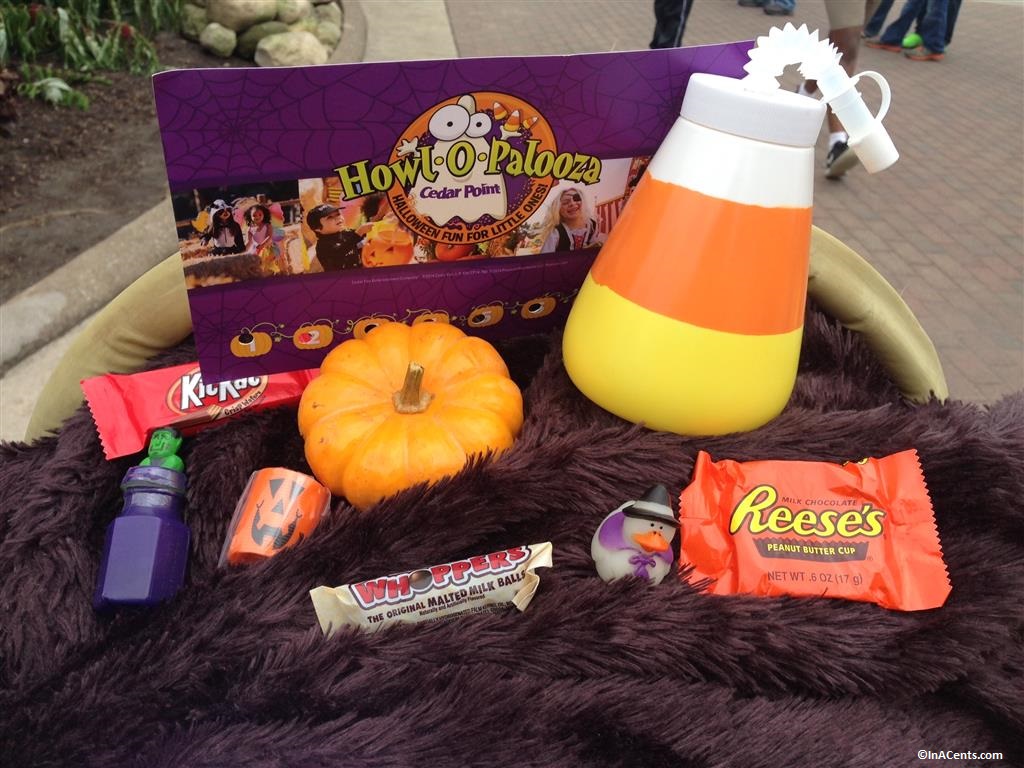 At 5:00 on Saturday and Sunday during Halloweekends there is the Monster Midway Invasion Celebration parade featuring the characters from the Peanuts gang.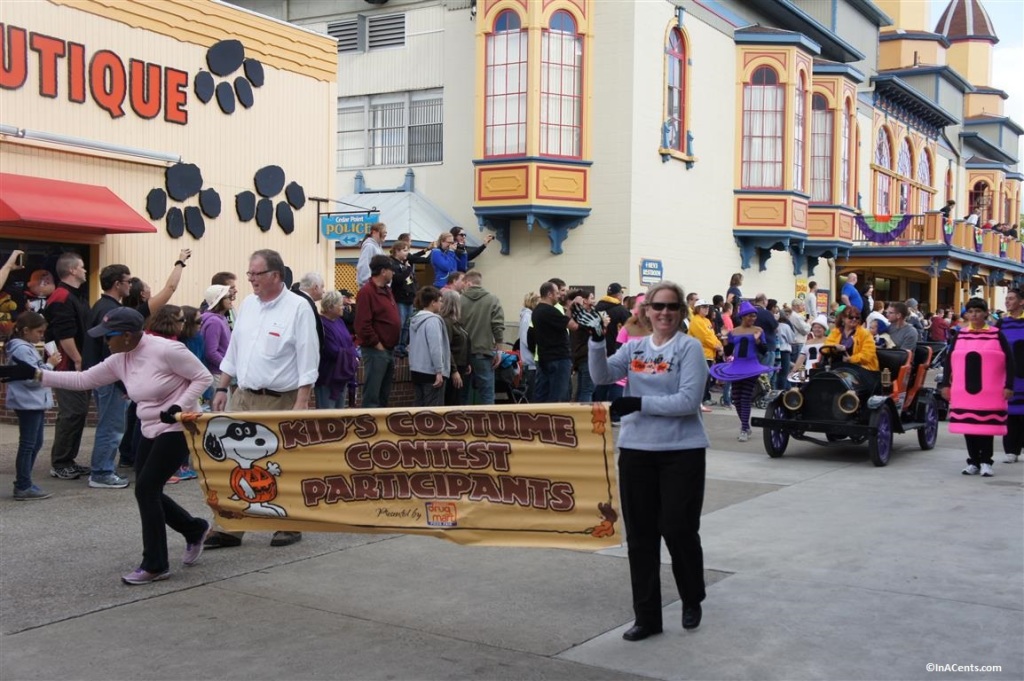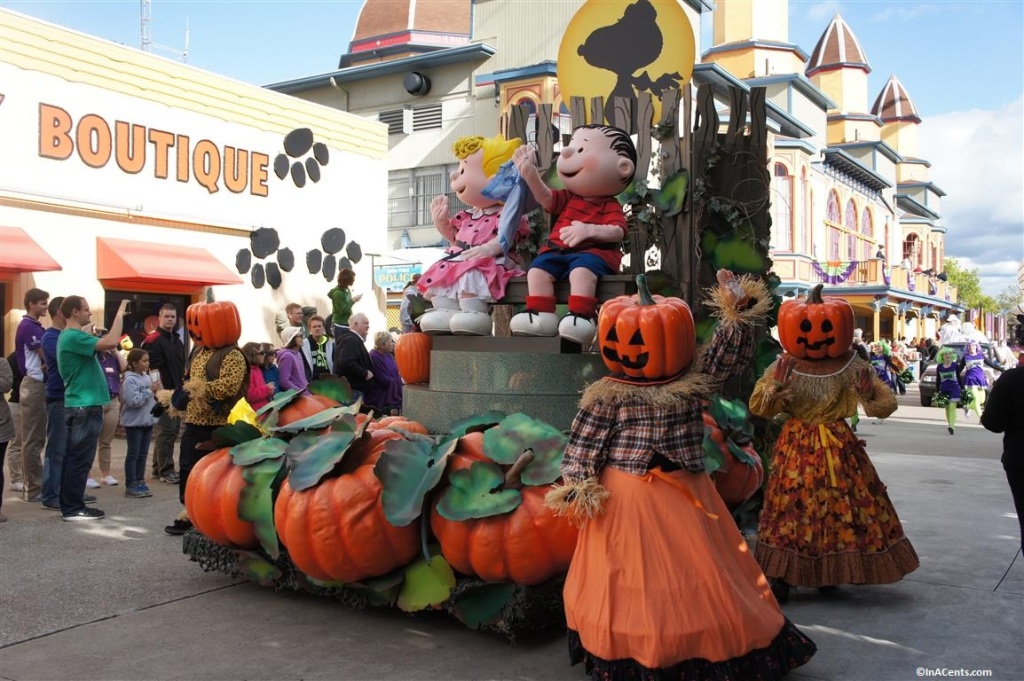 Kids can enjoy a scare free "haunted" house at Magic House on Boo Hill. Besides some spooky decorations scenes, this walk through is totally kid friendly.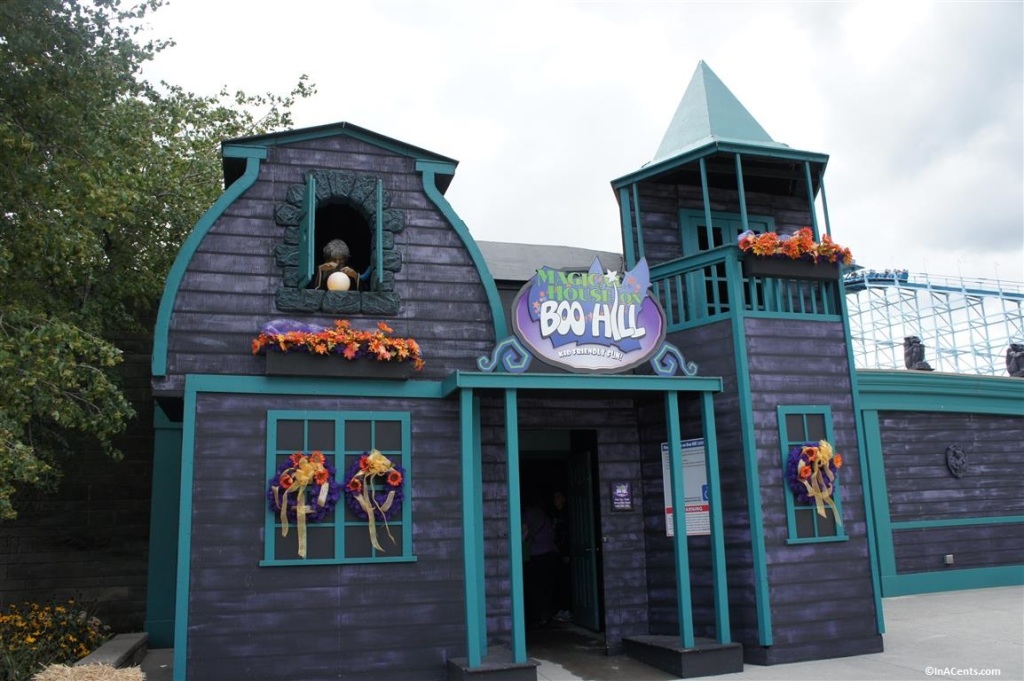 Cedar Point also features a variety of live entertainment shows that are kid friendly and fun to watch. They include everything from magic shows to Cirque style acts. Our family is always really impressed with the quality of the live shows. Our tip is to get in line for your favorite show early as the limited weekend schedules and high crowds can sometimes make for some difficult times getting in to see them.
For those looking for the scarier events, Halloweekends features five haunted houses and six outdoor scare zones. Scarier zones start around 8:00 pm, so if you kids may be susceptible to getting scared, you might stay clear of those areas.
We can say this was our family's first year at Halloweekends, let alone our 5, 3, and 1 year olds first time at a haunted attraction, and they LOVED every part of the night time experience. The cast members are extremely good with the kids and enjoy joking around with and taking it easier on them.
Family's can enjoy a casual train ride around the park at their leisure on the Cedar Point & Lake Erie Railroad. The train provides two stops (one in the middle and the other at the rear of the park) and allows you to bring your stroller if getting off in between. One the back half of the trip, guests can enjoy Boneville, one of our family's favorites with animatronic skeletons carrying out hijinks.
Worried about bringing your little ones to the park? Cedar Point makes it super easy with things like the Family Care Centers and Parent Swap program.
Our family was delighted this year to see Cedar Point had some Charlie Brown themed animated window displays.
At 7:45 nightly near the back of the park, the Witch greets guests with Call of the Scare, unleashing all the scaresters onto the crowd. This is a very cool event, though your little ones may get scared when all the monsters run out. Again, our kids loved it.
Coming in from out of town? Stay at Hotel Breakers or Breakers Express.
Curious about what a family can eat at Cedar Point? Check out the CPFoodBlog, which highlights all of the latest dining news at the park.
Discounted Coaster Club Membership
Live near Cedar Point (or any amusement park) and interested in taking part in special events throughout the year? Then take advantage of joining a coaster club to get in free to the park and enjoy exclusive ride times (ERT), meals, and merchandise. We have even partnered with the Coaster Crew to give you an exclusive family discount you will not find anywhere else.
Win a Family Four (4) Pack of Tickets to Cedar Point
Update: This contest has ended and the winner has claimed their prize. Thank you!
Cedar Point has graciously donated four tickets for one of our readers, and entering could not be any easier. Simply visit the link below and enter your email address. After confirming your email address, you will then be giving a chance to earn even more entries by sharing.
Win a Family Four (4) Pack of Tickets to Cedar Point
Please note that the tickets are only valid this year, and the lucky winner only has three (3) more weekends to use them. Cedar Point is open on Friday nights (after 6 p.m.), Saturdays and Sundays now through November 2, 2014.
Good luck!
Save Money, Travel More!
Source: InACents
© 2014 – 2016, inacents.com. All rights reserved.