Congratulations! You made the leap and bought your family platinum passes for Cedar Point, Knott's Berry Farm, Carowinds, or any of the other amusement parks in the Cedar Fair family.
At a rough cost of approximately $40 per visit plus $15 parking per vehicle, your break even point on the platinum pass is roughly four (4) visits. Once your family has succumbed to the initial upfront cost for becoming a platinum passholder, it is time to start maximizing the benefits for your family.
1) First, you need to make sure you visit more than 4 times per season to get the most value for your family. Seeing as the park is open May through the beginning of November, you have 6 months worth of time period to get to the park. Easily plan one visit a month, and you have maximized your value potential.
2) Platinum pass members get access to Cedar Point 1 hour before the gates open. This means the majority of the year you get into the park at 9:00 AM. Since platinum members get free parking, this means you are getting to the park before the majority of people and getting to park in the front of the lot, saving you steps for later in the day.
One hour early entry grants you access to the following rides and roller coasters: Lake Erie Eagles, Pipe Scream, GateKeeper, Millennium Force, Raptor, Iron Dragon, Maverick, Midway Carousel, Ocean Motion and the rides of Planet Snoopy. This is a great opportunity to get in your favorite attractions while the lines are short.
3) Take advantage of exclusive ride times for platinum members. On select nights throughout the year, Cedar Point will allow platinum passholders only to ride the chosen roller coaster. Ride time begins after the general public has finished riding. Weather or maintenance conditions may result in cancellation of these events.
The tentative schedule is as follows:
May 28, 2015- Raptor
June 11, 2015- Top Thrill Dragster
June 25, 2015- GateKeeper
July 9, 2015- Rougarou & Millennium Force
July 23, 2015- Maverick
August 6- Top Thrill Dragster
August 20, 2015- Raptor
4) Your platinum pass gets you access to Dinosaurs Alive, the prehistoric walk through the animatronic world of dinosaurs.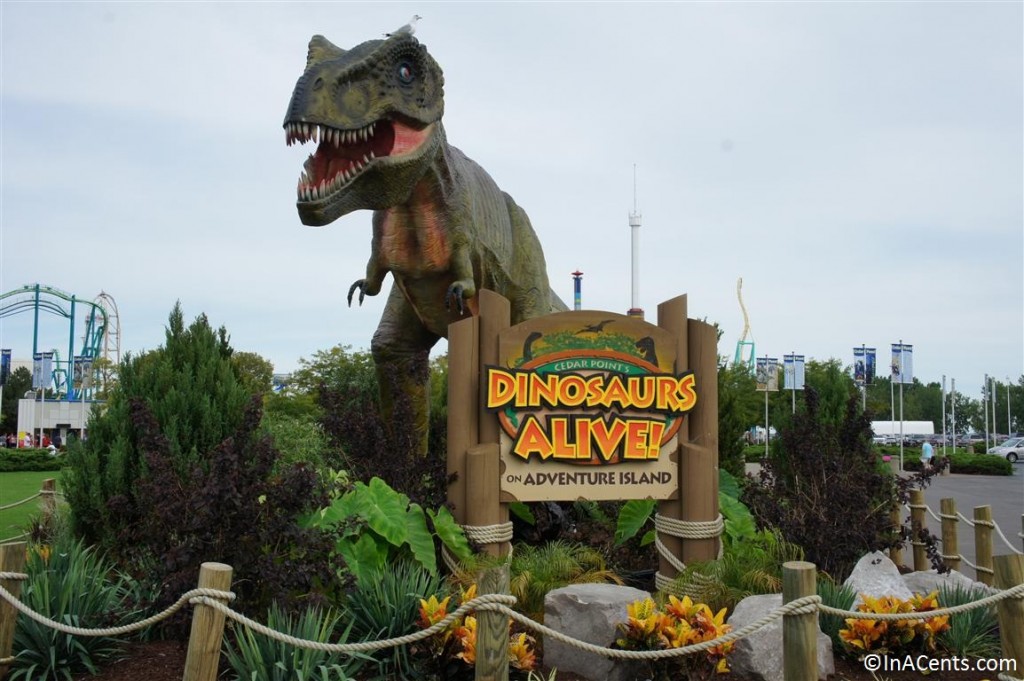 5) Cedar Point allows you to bring a friend to the park throughout the year for a discounted rate. On bring-a-friend weekends, you can purchase up to 4 tickets for only $19.99 each. On Fridays throughout the season, tickets are only $29.99, and all other days are only $39.99 per ticket.
6) You have paid for the cost of a platinum pass. Now take advantage of the biggest benefit, access to all 16 Cedar Fair parks across North America. Being located near Cedar Point puts you in an ideal part of the country to plan some easy roadtrips for visiting the other parks.
7) Your Cedar Point platinum pass gets you a 10% discount on food throughout the property at most locations. Cedar Point has also offered for the past couple of years exclusive meal options that are only available to platinum pass members. In the past this included various fresh cut fry deals and a BOGO offer at Toft's ice cream on Sundays.
8) Make sure to visit the park during special events throughout the year. Last year, Cedar Point brought in Coca-Cola and Johnsonville Brats on select days/weekends, offering guests a chance to interact with the brands and purchase discounted food offerings not available throughout the year.
In addition, look for Beach Blast to return in 2015. Last years event on the shores of Lake Erie offered family friendly activities on the beach, as well as exclusive discounted hot dog meal deals.
9) Platinum pass benefits also include a huge selection of discounts both inside the park, and at area places, thanks to their new passholder benefits program. Save on things like photos taken in the park; buy one, get one tickets for mini-golf, go-cart racing, and other premium ticketed attractions, and hotel rooms.
Bonus Tip: Visiting one of the other Cedar Fair parks with your platinum pass? Be sure to take advantage of some of these additional great benefits.
– Kings Island: 30 minute advanced entry to Banshee, Diamondback, Woodstock Gliders, Snoopy's Space Buggies and select other rides in Planet Snoopy.
– Kings Island Soak City: 30 minute early access to the park
– Other parks also offer early entry where available, as well as additional discounts throughout the parks.
Where will you be using your Cedar Point pass this year?
Save Money, Travel More!
Source: InACents