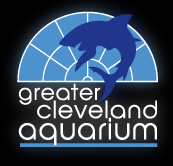 I will be the first to admit I have been harsh on the Cleveland Aquarium which opened in early 2012. Right after their grand opening, I had hopes that various Greater Cleveland Aquarium (GCA) online coupons and discounts would start to surface, since they partnered with Menchie's right off the start.
Then after visiting the Newport Aquarium, I pondered why the GCA could not hold a match to their larger predecessors.
What followed were several test runs of discounts, the first of which was their special Halloween festivities via Groupon, and then discounted admission in the whole month of November 2012.
In the later article, I discussed the critical $20 threshold that I thought was holding back the Greater Cleveland Aquarium from really swimming (as opposed to sinking). Now here we are just beyond the first year, and the GCA has announced a permanent price reduction.
We here at the GCA promised changes to come in the New Year; we are now ready to announce one of the biggest changes of them all. The GCA had a successful first year of business. We reached our goal of 400,000 visitors and reached over 35,000 annual pass holders, and because of such success, we are now able to (and happy to) permanently restructure our general admission rates to $19.95/adult and $13.95/child. With this change you will also see a lowered senior rate of $17.95, a lowered military rate of $17.95 and a lowered group rate of $15.95/adult and $9.95/child for groups of 15 or more.
I think this is fantastic news for not only the aquarium, but also the City of Cleveland and its residents. Being under $20 brings the cost for a facility of its size in line with other aquariums around the Country. More importantly, the aquarium should now be able to get over the mental stigma of costing too much.
While a family outing for four people can still cost a bundle, I think it is a smart choice in maintaining a viable crowd to visit the aquarium.
Save Money, Travel More!
© 2013, inacents.com. All rights reserved.