If you are interested in getting straight to the Great Cleveland Aquarium discounts and coupon information, please scroll to the end of this post.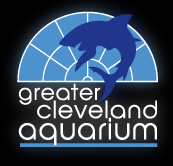 The Greater Cleveland Aquarium (GCA) opened their doors officially January 21, 2012. It is the first time we have had a stand-alone aquarium in the area, and we are pretty excited to get to make a trip down there to see it. The closest thing we had, prior to the GCA, was the small aquarium at the Cleveland MetroParks Zoo, which is old, in need of updating, and nearly impossible to get to with a double stroller since it is located at the top of a giant hill.
We will probably hold off on going to the GCA for a while until the initial crowds die down. The disappointing thing, is that despite our family being members of the Cleveland MetroParks Zoo, and the Port Clinton African Safari, the Greater Cleveland Aquarium has no affiliation with other facilities because they are not accredited by the American Zoo and Aquarium Association.
You may recall from previous articles that our zoo membership is an invaluable tool in our travels because it allows us free or 50% off reciprocal admission to over 100 other zoos across the United states and Canada. Reciprocal benefits alone save our family at least $100 or more per year in zoo admissions. Plus we love doing either short day trips to surrounding cities or including a zoo as part of our travels when out-of-state. The cost of the memberships easily pays for itself throughout the year.
I have been reading a lot of commentary on the new aquarium, and the biggest complaint is the high price of admission. At $21.95 for an adult and $15.95 for a child (2-12), it might be hard to justify for a family of four having to drop over $75 for daily admission, not even including parking and any other discretionary spending. A family would be better off spending $130 on a Family membership, which would start paying for itself after the second visit.
My problem with it is a membership only gets me admission to the aquarium, and not 100+ other zoos and aquariums across the area. It is a big hurdle for the Greater Cleveland Aquarium to overcome. Lots of the public have chimed in that they would rather go to Chicago's Shedd Aquarium or some of the other substantial aquariums or zoos across the country.
I suspect once the initial attendance dies down at the GCA, discounts will start to become more readily available.
2012 Cleveland Aquarium Discounts and Coupons
Below is a list of current promotions offering discount tickets to the Great Cleveland Aquarium.
– Groups of 15 or more can purchase discounted tickets for $17.95 (Adults) and $11.95 (Children under the age of 12)
– Active-duty and retired military (with proper ID) receive a 20% discount
– Effective September 4, 2012, the GCA will offer Senior (ages 60+) pricing, receiving a $2 discount per ticket. Starting September 4th, the GCA is also introducing senior annual passes with the ability to add on children (2-12) for an additional $25/child. New Senior pricing for passes will be Senior Individual: $45; Senior Couple: $80; Grandparent Pass (2 seniors and 2 children): $130.
Unfortunately, with a large amount of public criticism and negative press, the Cleveland Aquarium refuses to offer discounts of any kind to draw people into the facility. Either demand is really high and there is no need for discounts, the Aquarium costs way to much to operate to validate any discounts, or the marketing people have no idea how to encourage families to visit the facility.
Expired Offers
– The Northeast Ohio Menchie's Facebook page is offering a $2 discount off the price of single ticket admission if you purchase a limited time Deep Sea Blueberry frozen yogurt by February 29, 2012. The discount is only valid March 1, 2012 – March 30, 2012.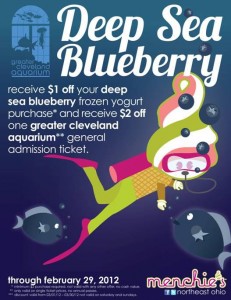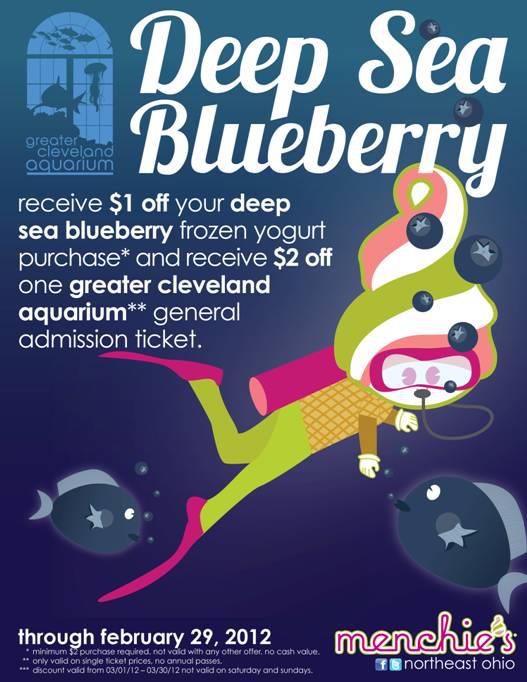 There is a $2 minimum purchase, of which you will also receive $1 off the purchase of your yogurt.
8/23/12- Added Senior Discounts
5/10/12- Added Group and Military Discounts
1/30/12- Originally published
© 2012 – 2013, inacents.com. All rights reserved.