Imagine it is 1972 and your family is headed to the Magic Kingdom at Walt Disney World for the first time. With a couple hundred bucks in hand, you are taking your family to what hopefully will be an incredible experience your family will never forget, all while being uncertain of exactly what you may find. The Magic Kingdom at Walt Disney World opened October 1, 1971, and even in its early days, there was a magic in the air that brought families back year after year. That is the path I am reenacting as my grandparents, my mom, and my aunts attended the Magic Kingdom in the summer of 1972.
According to Disney Archives, in 1971, there was not a traditional guide map that guests received at the front of the park like they do today. Instead there was a newspaper called the Walt Disney World News. Inside that document was a map to the park, as well as other various news items from around the park. Sometime in 1972, the first Magic Kingdom guides became available for guests.
During the early days of the Magic Kingdom, large souvenir maps of the Magic Kingdom were available for purchase from the gift shops to take home for approximately $0.50. The original maps were beautiful reproductions of the hand-drawn original. These maps were also very different than the maps that hung in the Contemporary and Polynesian Resorts during the early 70's and 80's. The original maps are not printed with copyright information, as Disney did not started doing that until 1979. Guests were able to purchase this map between 1971 and 1974.
During the 40th Anniversary of the Magic Kingdom, reproductions of the above map were available for purchase and included in the daily guides.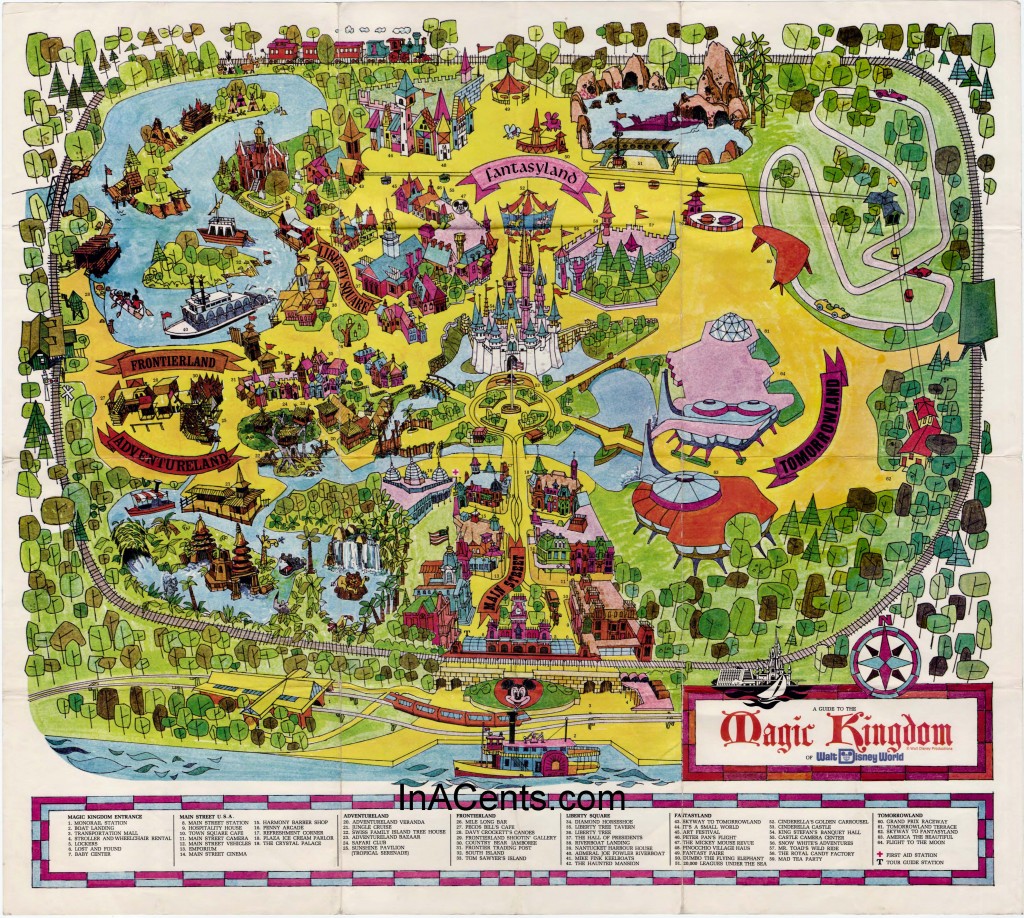 Above is a scan of the original full-size map. The image was not scanned in sections and stitched together, but rather one single scan. I was only able to scan the full-size in black and white, so I had to use my sister's full-size scanner to get it in color.
This happens to be on the most delightful surprises that I discovered in my grandparents archives of travel documents. Finding an original 1971 wall map of the Magic Kingdom is pretty rare, and I was happy that my grandparents hung onto it for all of these years. The problem with the map being so rare is that information is rather sparse on its history.
Some of the interesting differences we noticed between this map and the current maps are the following:
– The Skyway, which is no longer in service.
– Pirates of the Caribbean was not added until 1975.
– The 20,000 Leagues Under the Sea ride, which now will be part of the Fantasyland expansion area.
– Mr. Toad's Wild Ride, which in now only available at Disneyland.
Did you notice any other differences?
Resources:

© 2012 – 2016, inacents.com. All rights reserved.