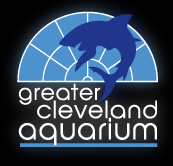 I will be the first to admit I have been pretty harsh on the Greater Cleveland Aquarium, and I have not even been there yet. The reason holding me, and apparently lots of other people back based on the comments we receive, is the price. Aquariums cost a lot of money to get up and running, as well as maintain and operate. The problem has always been the high cost for a single visit, with the only way to justify and maximize the cost is to get an annual pass. However, my voice has started to soften lately as the cost has been lowered, and select discounts have started to occasionally appear (see the Resource list at the bottom of this article for more information).
So imagine my surprise when I was alerted this morning that the Great Cleveland Aquarium is now offering discounted Family Annual Passes via Groupon [affiliate link].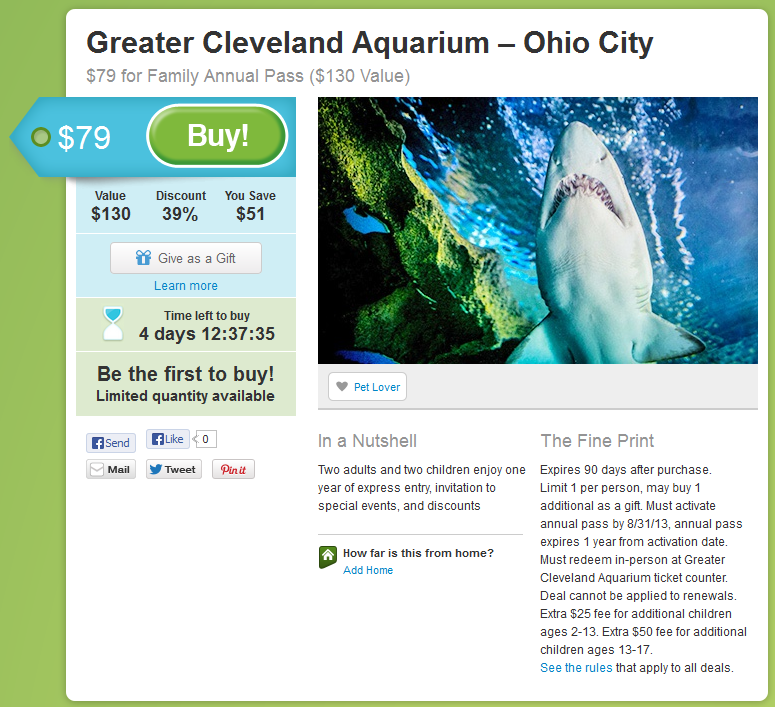 Current prices for the Greater Cleveland Aquarium are as follows:
Adult – $19.95
Child – $13.95
Under 2 – Free
The normal price of a family annual pass is $130; however, through the limited time Groupon, the membership price is only $79.
To put things in perspective, our family of 5 would spend $67.80 (the newborn is free) on a single visit. Which means we might as well just join for a year, making us in the green on the second visit.
Parking is additional and not included in the cost of the annual pass; however, on every third visit parking is free for pass holders.
The annual pass also comes with the following benefits:
Unlimited visits for two adults and two children aged 2–12. Additional children aged 2–12 may be added for $25 each, and children aged 13–17 may be added for $50 each.
Express entry through pass-holder entrance
Invitation to pass-holder parties, exhibit openings, and special events
Free parking on every third visit
Discounts on special programs
10% discount on gift-shop purchases, Nautica Cafe purchases Monday–Friday, and cruises aboard the Nautica Queen
Discount on Under the Sea birthday-party package
Complimentary Discover Scuba experience from Just Add Water
If you are a Discover card holder, do not forget to sign into your account, and visit ShopDiscover to receive an additional 10% cashback bonus on your purchase.
I think I am finally going to pull the plug and buy this pass because I know we will visit at least twice to get our moneys worth. Plus we will finally be able to do an in-depth article and review.
The Greater Cleveland Aquarium has been doing a respectable job at making the aquarium more affordable for families, while staying competitive with the other aquariums in the region. The only thing I would really like to see from a membership benefit, is to become accredited and join up with the Association for Zoos and Aquariums. Not only would members benefit in that they could get reciprocate admission to other zoos and aquariums across the nation, but the animals would also have access to a larger network of breeding and care. Hopefully this is getting worked on behind the scenes.
Resources:
Greater Cleveland Aquarium Discounts and Coupons
A Day at the Newport Aquarium with Kids
The Cleveland Aquarium Starts Down the Road of Discounts
Greater Cleveland Aquarium (GCA) To Experiment with Price Reduction in November
Greater Cleveland Aquarium Admission Price Restructuring for 2013
Save Money, Travel More!
Source: InACents
© 2013, inacents.com. All rights reserved.