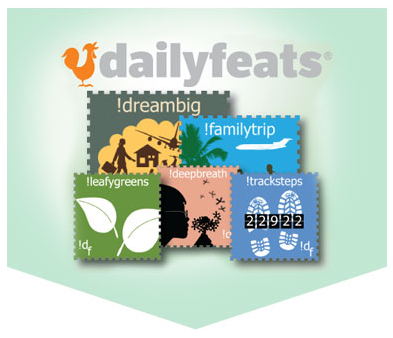 This week I received a mailer from the US Bank FlexPerks program discussing some of the new promotions that have been added to the lineup of offers. Some of the benefits include Lounge Access via Regus as well as some of the free point offers that we discussed for email signups and photo contests. However, there are two programs that I am excited to introduce.
The first of which is a partnership with DailyFeats. The idea is simple. Create tasks that lead to a healthier lifestyle and upon completion, they reward you with points that can later be converted into FlexPerks. So I decided to give it a try.
To begin, I recommend visiting flexperkspromos.usbank.com. After signing into your account, you should see an offer to join the DailyFeat program.
You will then need to create a new account with DailyFeat. After you enter your name and email address, you will notice there is a promo code field. After a little bit of research, I found a code on Southern Savers that offered up to 202 free points by entering in promo code southernsavers100.
You will notice your account starts out with 100 free points. Additional points can then be earned by completing a special challenge.
Within minutes, I was up and running, and by clicking around through the hundreds of little feats, I was able to either instantly earn free points, or set up tasks that will earn me more points once completed.
So what is all of this really worth?
Well looking at the reward program, there are lots of options for everything from gift cards to FlexPerks, and the ratio seems pretty favorable.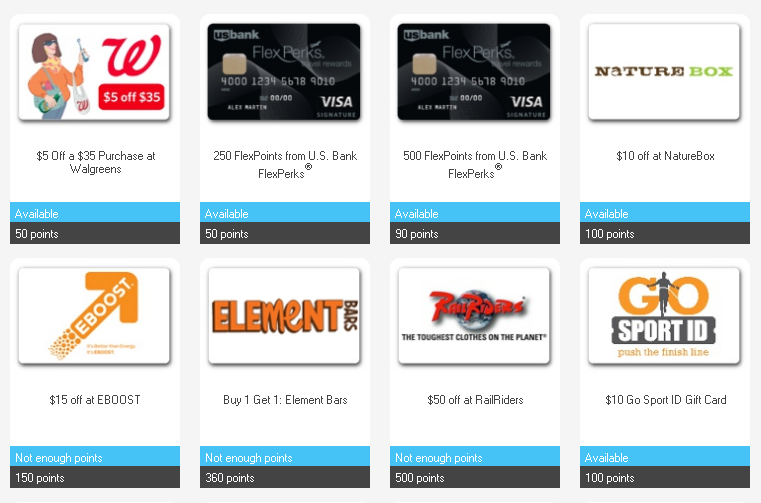 The FlexPerks redemptions are pretty stellar in my opinion. For only 50 points you will earn 250 FlexPerks, and 90 points earns you 500 FlexPerks. The only poor thing is that the redemption is only limited to once every three (3) months.
I am really falling in love with the charmingness of the DailyFeats program. Cute little tasks that can easily be accomplished, and furnish a thought process that should help you lead to a more productive lifestyle. At the same time, you will be earning rewards that will help you earn free FlexPerks that can be used towards travel.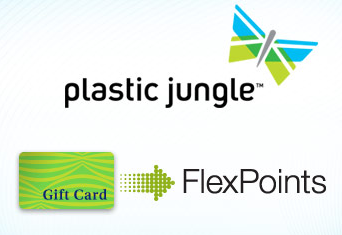 Plastic Jungle Conversion to FlexPerks
I foresee some great potential out of the new partnership between Plastic Jungle and FlexPerks. Before I get into more details of this promotion, lets come to a basic understanding of the FlexPerks program. Just the other day I promoted the US Bank FlexPerks credit card, and highlighted how points earned are valued at $0.02 per point. Why is this important?
When you earn 20,000 FlexPerks, you can then redeem them for a trip up to $400 in value. Where you need to be careful is that if you try to book a flight between $400.01-600 (via Travelocity), the program will require 30,000 points. One cent makes a big difference.
By opening both a personal and business version of the US Bank FlexPerks credit cards last year, our family is sitting on a pile of 43,000+ points, which means we have $800 in travel rewards coming to us. It is pretty undeniable the value and potential of the program.
So now back to the Plastic Jungle promotion. I was curious to see how lucrative the offer was for the consumer, so I tested out a couple of our gift cards.
$25 Regal Cinemas – 1063 FlexPerks
$25 Home Depot – 1100 FlexPerks
$25 JCPenney – 750 FlexPerks
So lets take the most lucrative of these offers, Home Depot, valued at 1100 FlexPerks. We want to get to the magic 20,000 FlexPerks number to get a $400 travel valuation. Using the $25 Home Depot gift cards, we would need to shell out:
20,000 FlexPerks / 1100 FlexPerks = 18 * $25 = $450
With the above example, if you put all 18 Home Depot $25 gift cards on your US Bank FlexPerks card, you would earn 450 FlexPerks + 19,800 FlexPerks via Plastic Jungle, plenty to get to the 20,000 redemption level. The problem is that this experiment results in spending more than the value of the travel redemption (i.e. it would cost you $450 to earn $400 in travel rewards). Obviously, this example does not work. However, quite possibly higher value gift cards and/or those sold with a higher resale value may make the math work out.
Lets take a quick look at the breakeven point.
20,000 FlexPerks / 1250 FlexPerks = 16 * $25 = $400
As you can see, we are not too far off. I can not guarantee there is a valuation that makes this work in our favor, but there very well could be with some experimentation.
One way this could possibly work in our favor is to use Discover Cashback to purchase gift cards at a discount. For example, one could redeem $80 in cashback for a $100 Banana Republic, Brooks Brothers, Gap, Lands' End, L.L. Bean, Old Navy, or The Limited cards. Then it would depend how many FlexPerks we would be given, plus figuring out the best way to acquire $80 in Discover cashback with the least amount of out-of-pocket spend. This could take some more investigation, plus an evaluation of time versus money to actually make the FlexPerks/Plastic Jungle promotion lucrative. Not as good as I initially thought, but there could be promise.
US Bank FlexPerks Referral
Interested in opening a US Bank FlexPerks card? As an existing card holder, I am able to refer guests to the best current offer that I am aware of at this time. Our refer a friend program is offering 17,500 FlexPerks for opening the card and spending $2,500 or more within five months from account opening.
When completing the application, at the top there is a field labeled "Referring Friend's FlexPoints #." Please enter in account number 400003689876. We will earn 5,000 points as a referral bonus, and you will be on the way to earning FlexPerks. We thank you!
If you have any questions, please let us know.
Save Money, Travel More!
© 2013 – 2016, inacents.com. All rights reserved.