Obituary
For Immediate Release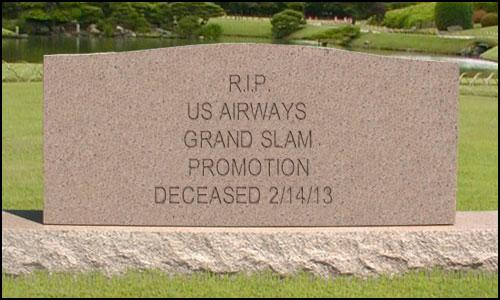 US Airways belonged to the third of five generations of family in the Star Alliance, a leading maker of frequent flyers around the world. After struggling with trying to purchase American Airlines, who was in the midst of bankruptcy, US Airways died February 14 at hubs around the world. He was 34.
"He was very customer friendly and curious," said Rev. Benny Thompson, a friend from back in the All American Aviation days. "He would go out of his way to make the customer happy, and was often seen flying below the moon."
US Airways was headquartered out of Tempe, Arizona, USA. His grandfather and father were traveling salesmen who discovered a line of aircraft meant for packages and began marketing them for passengers instead.
Not only was the death of US Airways discovered today in a back alley of American Airlines, but also the long-lived US Airways Chairman credit card offer was pulled.
The merger of US Airways with American Airlines quite possibly means the official death of the greatest mileage promotion that ever lived, the Grand Slam. While it may not have been a mistake fare getting us to Japan and back for mere pennies, or the free AirTran flights for dumpster diving for Wendy's cups, the Grand Slam promotion marked a fun and exciting promotion to take part in transaction with its partners for free or very cheap and walk away with enough miles for a domestic airline ticket, if not more. Sadly, it took some peanut butter to prove to all the mileage chasers that the Grand Slam promotion would not return in 2012; however, now the final nail may have been placed in the coffin.
US Airways is survived by its executor, American Airlines, as well as United, Delta, Southwest, and other small domestic carriers.
US Airways donated their body to the Aviation Museum. A memorial service will take place at 7 p.m. on Friday, Feb. 15, at All Saints Church.
~~~~~~~~~~~~~~~~~~~~~~~~~~~~~~~~~~~~~~~~~~~~~~~~~~~~~~~~~~~~~~~~~~~~~~~~~~~~~~~
Today marks quite a big day news wise for US Airways, with the announcement this morning that they are merging with American Airlines. What is even more baffling to me is that American Airlines in the midst of bankruptcy, yet they are the ones who appear are coming out on top of the merger. I am not following the intricate details of the US Airways/American Airlines merger as close as Gary, but at least that is my understanding. However, the big news in terms for us that earn US Airways Dividend miles is that after being alive for years, the best offer for the US Airways Chairman credit card was pulled today.
Earlier in the week, once news started to flutter about an announcement of the merge, I went and applied for my wife using the Chairman link and was instantly approved. The great thing about that offer was the first year annual fee was waived and there was an annual 10,000 mile bonus upon renewing.
The absolute best part about the US Airways credit card is the ability to open up the card again, and again, and continue to keep getting the bonus (although now that the merge is in process, that loophole may close). Barclays is also synonymous with offering a 15,000 mile bonus after spending $750 over a three month period. I have plans of opening a second US Airways card for myself in a couple of months, but I want to offset when we may get targeted for the extra bonus.
(Update: Since publishing this article, our affiliate offer has been reduced) So what this means is that the current best offer for the US Airways Premier World MasterCard® comes by way of our affiliate link. The card boasts 40,000 30,000 Dividend miles after first use. The only differences between our offer and what used to be offered via the Chairman's link was that the $89 annual fee is not waived. Plus there is no mention of an annual 10,000 mile bonus upon renewing each year, although there are reports of people getting it still.
I still think the US Airways Dividend mile card is a powerhouse of miles because of the ability to possibly open it again and again before the merge with American Airlines is completed. I am in no way saying you have to run out and get the US Airways card now because it could potentially be around for quite a while until the merge is finalized. For example, when Continental was combining with United, the Continental credit cards remained around all the way up until the merge was completed. What I am saying though is that you may want to consider opening the US Airways card now, since it may give you the opportunity to open another in 3-6 months, scoring another bonus.
The US Airways card offered in this post is an affiliate of InACents, which we receive a commission if you are approved for the card. Thank you!
Update: After this post went live, user kdoughboy on FlyerTalk found three (3) links to applications that offer only 35,000 miles, but the annual fee is waived the first year, and there is mention of the 10,000 mile retainer each year. The links are below, but none of them are affiliate links:
https://www.barclaycardus.com/apply/Landing.action?campaignId=1695&cellNumber=19 (T&Cs at bottom)

https://www.barclaycardus.com/apply/Landing.action?campaignId=1695&cellNumber=31 (click link at top of app for T&Cs)

https://www.barclaycardus.com/apply/Landing.action?campaignId=1695&cellNumber=36 (T&Cs at bottom)

All these links go directly to the application, but you can see the bonus information in the T&Cs.
Update 2/15/13: The below link is offering 40,000 miles with no annual fee; however, the page states "We apologize for the inconvenience, but our website is experiencing technical issues. Please contact us at 1-866-419-6437 or try again later."
https://www.barclaycardus.com/app/japply/WebAppGate.jsp?prodidreq=CCMWC47830
Save Money, Travel More!
© 2013 – 2014, inacents.com. All rights reserved.