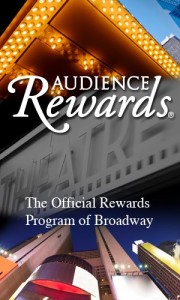 Good morning fellow Audience Rewards (AR) fans! Today the Audience Rewards (AR) program updated their Broadway trivia questions, which in turn means you can earn FREE airline miles and points in various programs. As typical, AR continued the trend of issuing the same questions for all partner programs (Delta, US Airways, SPG, and Best Buy). Here is the bad news…if you keep your partner accounts linked to a singular Audience Rewards account, you need to select which program you want to earn miles/points under, because you can not answer the questions twice. This is where it becomes more valuable to have unique Audience Rewards accounts for each partner program, as I have been promoting from the beginning.
All questions/answers were updated on our official Audience Rewards page.
For those of you new to Audience Rewards, the program is the official rewards program for Broadway. If you are attending any of the Broadway shows in:
Charlotte, NC (NCBPAC)
Chicago, IL (Broadway in Chicago)
Durham, NC (DPAC)
Los Angeles, CA (Broadway LA)
New York, NY
San Diego, CA (Broadway/SD)
San Jose, CA (Broadway in San Jose)
Tucson, AZ (Broadway in Tucson)
If you value rewards programs as much as we do, you need to consider signing up for a free Audience Rewards account, and make your Broadway show ticket purchases through their program. In return, you get the option of earning Audience Rewards points, Delta Skymiles, US Airways Dividend miles, SPG Reward points, or Best Buy Reward Zone points. It is a very quick way to be able to earn miles and points in a program of your choosing, all while purchasing the tickets you were planning on anyways. This program could potentially become a really quick resource to earn miles/points in a program by going to see your favorite shows.
Unfortunately, as of right now they are limited in the number of cities, but are working on going nationwide, as well as expanding into other partner programs.
Now, without further ado, we proudly present this week's trivia questions.
Which of the following are NOT considered an example of "Kinky Boots"? The platform boots worn by Elton John in his 1970′s concerts
True or False? So far, the director of Rock of Ages, Kristin Hanggi, has not directed any other shows on Broadway. True
What was another play version of Chicago called? Roxie Hart
Which of the following musicals has Stephen Oremus NOT been music director of on Broadway? Hair
Brynn O'Malley, of Annie, is from what state? Michigan
The original Broadway production of Who's Afraid of Virgina Woolf played at what theatre, though it's now under a different name? Nederlander
For all things Audience Rewards, including all the latest free points and miles from the Points Play trivia questions, see our Audience Rewards page. Save Money, Travel More!
Did you enjoy this post? Please consider connecting with us.
© 2013, inacents.com. All rights reserved.