Discover Card has a new targeted promotion offering 2% cashback on purchases at Chevron and Texaco stations for purchases between January 1 to March 31 on up to $250 in gas purchases. To see the offer, you need to sign in to your Discover Card account after visiting the following special page, discover.com/chevron (Note: You will need to signin to see the offer).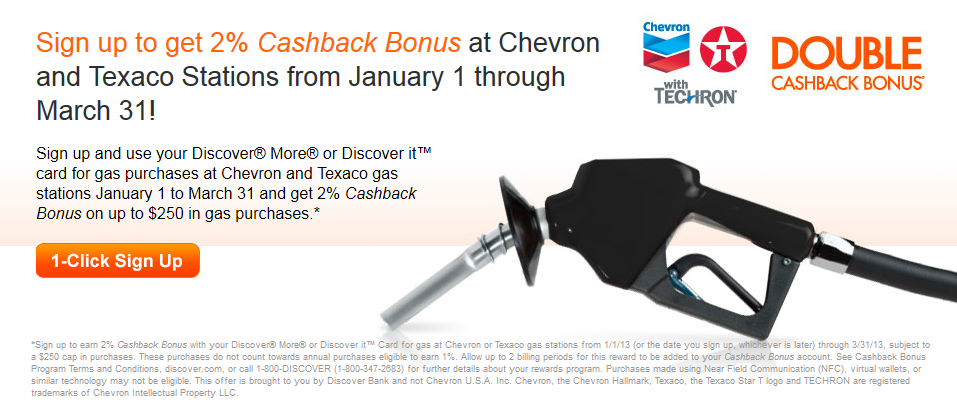 While the promotion terms states it is for Discover More or Discover it cards, I had no problem registering my Discover Miles card too. We do not live near any Chevron or Texaco stations, but I went ahead and signed up anyways. While Discover is not the best card out there for cashback at gas stations, if you carry only Discover, you might as well register.
*Sign up to earn 2% Cashback Bonus with your Discover® More® or Discover it™ Card for gas at Chevron or Texaco gas stations from 1/1/13 (or the date you sign up, whichever is later) through 3/31/13, subject to a $250 cap in purchases. These purchases do not count towards annual purchases eligible to earn 1%. Allow up to 2 billing periods for this reward to be added to your Cashback Bonus account. See Cashback Bonus Program Terms and Conditions, discover.com, or call 1-800-DISCOVER (1-800-347-2683) for further details about your rewards program. Purchases made using Near Field Communication (NFC), virtual wallets, or similar technology may not be eligible. This offer is brought to you by Discover Bank and not Chevron U.S.A. Inc. Chevron, the Chevron Hallmark, Texaco, the Texaco Star T logo and TECHRON are registered trademarks of Chevron Intellectual Property LLC.
Save Money, Travel More!
© 2013, inacents.com. All rights reserved.