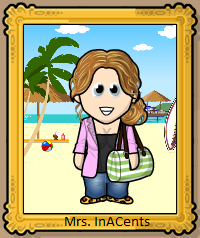 Once upon a time I went on a couple of four hour flights with my three year old when he was age one. Buggy had a fantastic time sleeping in my lap and watching the t.v. on the plane and eating snacks. I felt uncomfortable and sweaty. I literally said I am never going on a flight longer than four hours ever!
Now I will fly with my 3 year old and my one year old son on multiple flights to Hawaii. It will be my one year olds first flight. This may or may not go well people! The following is Sharky's bag of airplane goodies in case he is not as comfortable flying as my first son was as a baby. I am sure either way I will be uncomfortable. I cannot sleep sitting up, and I have restless legs. Where is my goodie bag to keep me happy? I may just have to order a glass of wine.
Sharky's (age 1) Airplane Fun Bag (The One with Sharks on it)
1. Toy cell phone– My one year old loves to play with his toy cell phones (and unfortunately loves trying to get to and play with our real iphones when we are not looking), so I intend on bringing him one of his toy versions. The ones he likes the most is the V-tech baby cell phone or the Fisher Price baby smart phone.
2. Pipe cleaners and Wikki Stix– If you do not have the pleasure of knowing what a Wikki Stix is, I will enlighten you. A Wikki Stix is a waxy stick that children can bend and form into fun shapes. They are about the size of a pipe cleaner in length and they are thin and bright like crayons. I am going to try these and pipe cleaners with my one year old on the plane for the first time. I know he will not be able to make much with them, but I think that he will like the feel and he will enjoy the new sensory experience. These both are leftover from a project I did a few years ago so I am also happy to finally have a use for them.
3. Melissa and Doug Wooden Shape Puzzles– These are 4 double-sided wooden puzzles with basic shapes that fit into each puzzle. They are very simple and only need 3-6 shapes to complete. These would be easy for any one year old and they do not take up much room on a carry-on. I am borrowing these from someone I know so they are free; a real bonus when it comes to finding new toys to entertain your children.
4. Stickers– I think my one year old (actually 15 months) is ready to restick stickers I pull off paper. I am bringing Cars stickers and a Cars movie poster that were free promotional items. I think this will entertain both my 3 year old who loves Cars and my 1 year old who loves everything his older brother loves.
5. Vehicles– I am bringing a selection of plastic vehicles including a train, a bus, and two airplanes out of my boys huge stack of vehicles. I figure we can drive them on the tray table.
6. Toothbrush– I have a friend who is a Dentist who says that everywhere he takes his two toddlers, he gives them a toothbrush to practice brushing their teeth. No water or paste, just a soft baby brush. He says this really helps them learn to brush, cleans their teeth, and keeps them very occupied. As my one year old is majorly teething, I also think this will be soothing. I am bringing him a new one to practice with on the plane, and of course not during turbulence.
7. Baby Snacks, a Bottle of Milk, and a Sippy Cup– I have actually prolonged going off the bottle until after our trip so that the sucking of his bottle will help pop his ears. I am also bringing Goldfish crackers, animal cookies, and Trader Joe's real fruit bars for him to enjoy.
8. Books– I bought my son a new book to surprise him on the plane. It is called The Ice Cream King
. My one year old loves books and loves ice cream. Anyone bring wet napkins?
9. Melissa and Doug Sunny Patch Flip-Up Sunglasses– I bought these because both my boys love playing with sunglasses and these have an extra fun element because they flip up. I bought them for Lan-Shark for Easter but squirreled them away right away as he was distracted with trying his first Peeps candy (and loving it!) so that they would be new and exciting on the plane and for the rest of our trip.
10. Plane white cards and envelopes– My one year old is just learning to draw. Instead of eat crayons, we are going to practice on these cards and then send them to the loving Auntie and Grandmas at some point. I figure the three year old can help. In fact most of this stuff can be enjoyed by my 3 year old as well.
We are really hoping on our first flight our kids will sleep a lot because it is a red eye. Hopefully they will be excited about the airplane, and the airplane magazines, the drinks cart, and the barf bags enough to buy us an hour. Then hopefully they sleep! If that happens these bags goodies may not even make an appearance until a later flight!!! Keep your fingers crossed Moms.
Save Money, Travel More!
Did you enjoy this post? Please consider connecting with us.
© 2012, inacents.com. All rights reserved.