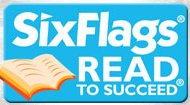 PLEASE NOTE: Lots of people have been contacting us this year with problems associated with the Six Flags Read to Succeed program, as they appear to be having lots of issues. We have no affiliation with the Six Flags Read to Succeed program other than posting the information. If you are having problems, please contact them directly via the Contact Us page.
Details for the 2013-2014 Six Flags Read to Succeed program have been released. This is the third year we have helped promote the program, which rewards students for reading during the school year, and in return they get free Six Flags tickets to their local park. Students are required to spend time and logging six (6) or more hours of reading to qualify for the program. Once the log of your required reading has been submitted, tickets will be mailed in the spring (early May).
This year the program website has advanced quite a bit to access the information.
1) After visiting the Six Flags Read to Succeed website, guests need to register to access the program.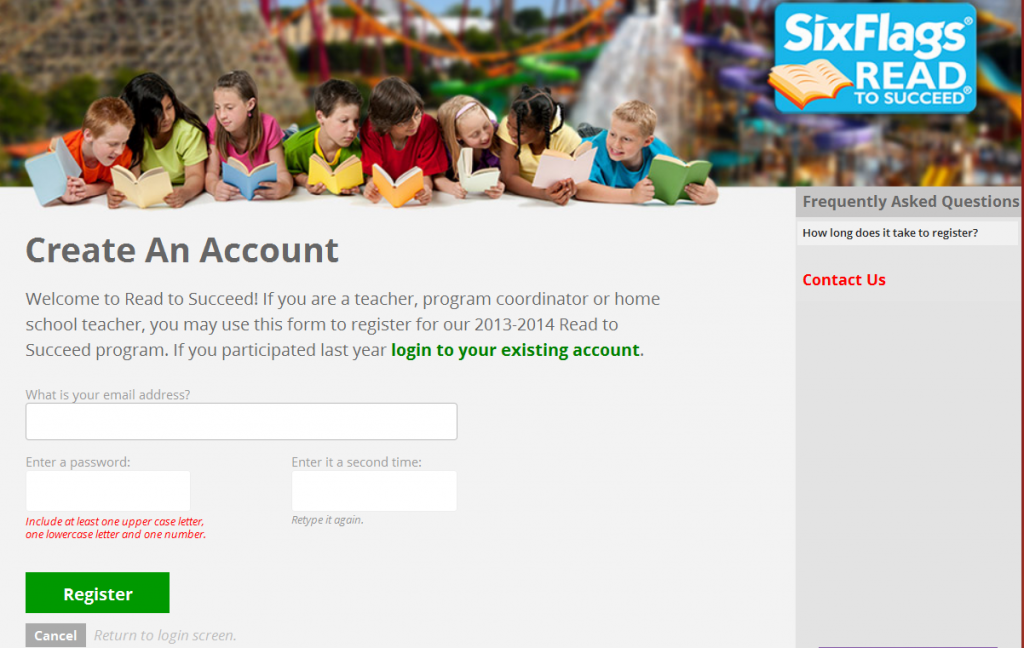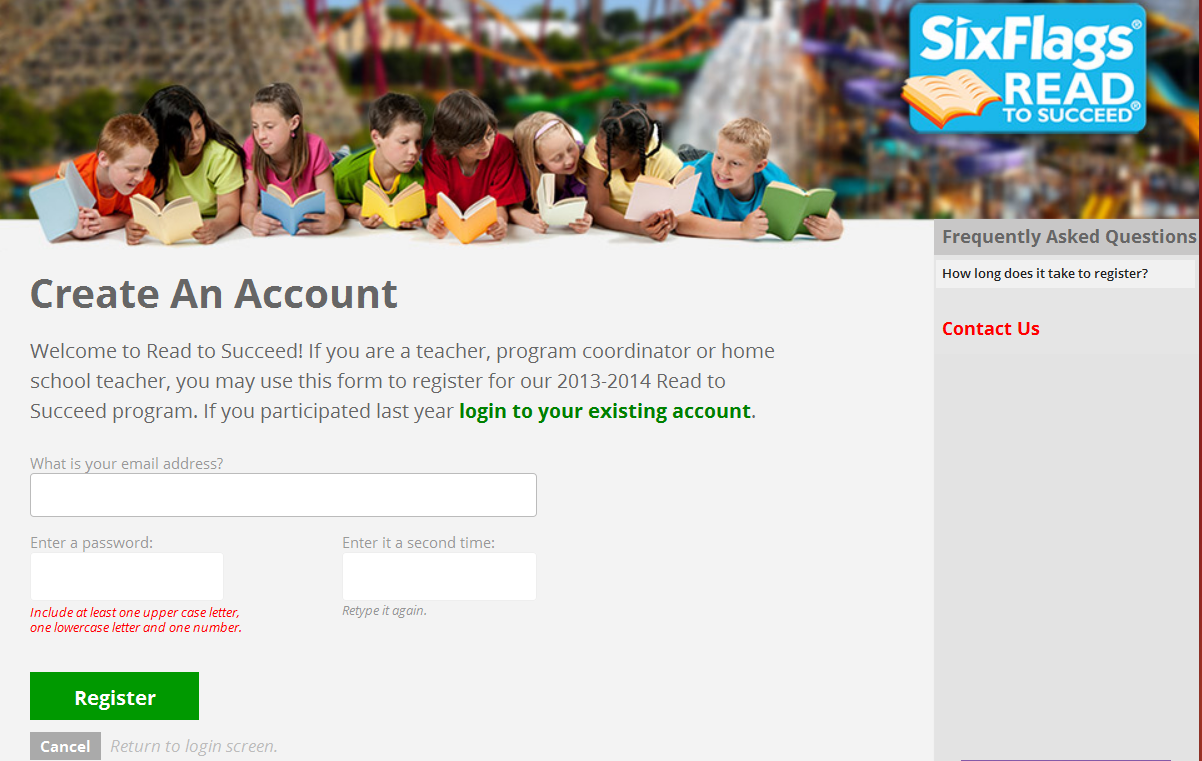 2) The next step requires you to identify whether you are registering under a public/private school or if you are a home school student.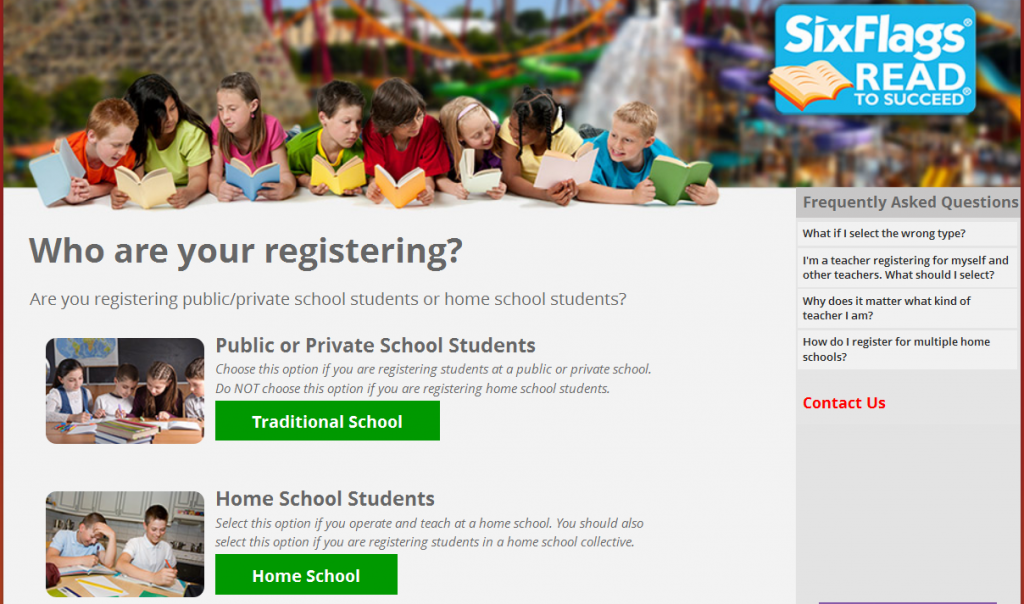 This is where the program gets lengthy. It used to be you could at least see the details of the program; however, this year the Read to Succeed program requires a lengthy registration process. We attempted to tap into the system by registering as a private/public school, but the program wanted us to become the coordinator for that selected school.
So we elected to go the home school route, just for the purpose of being able to see the details of this years program.
Legitimate students and parents of a qualifying school should have no problem registering with their participating school.
3) This years participating Six Flags amusement park locations in the Read to Succeed program include the following:
Six Flags Over Texas (Arlington)
Six Flags Over Georgia (Atlanta)
Six Flags St. Louis (St. Louis)
Six Flags Great Adventure (Jackson, NJ)
Six Flags Magic Mountain (Los Angeles)
Six Flags Great America (Chicago)
Six Flags Fiesta Texas (San Antonio, TX)
Six Flags America (Washington DC/Baltimore)
Six Flags Discovery Kingdom (San Francisco/Sacramento)
Six Flags New England (Springfield, MA)
Great Escape (Lake George, NY)
4) After finally getting through the website registration process, you will be directed to page that will allow you to then register students, manage your reading logs, select or change the park you want tickets to, and get to the real meat of the program, the terms.
It really bothers me that rather than Six Flags putting the details of the program on the front end, they elect to hide everything behind a registration process and give it to you at the very end. Poor, poor execution!
Here are important program guidelines for you to know:
Only schools with students in grades K through 6 are eligible to participate.
Student Reading Logs and Parent Letters are available in your online account under "Documents."
Students must complete six hours, or 360 minutes, of recreational reading to earn one FREE Six Flags ticket.
Students can read books, magazines, newspapers, eBooks or comic books. Reading for homework or a class assignment does NOT count.
The Student Reading Log and Parent Letter will have a fill-in-the-blank area for you to write the date you want the students to return the Reading Log back to you. You will need to remind your students and parents to return the
Reading Logs back to you on time. Late entries will NOT be accepted.
Each school will need one registered Coordinator. The Coordinator will earn a FREE Teacher Ticket for facilitating the program at their school. The coordinator can be a teacher or school employee, such as the librarian or media specialist or even a parent volunteer.
Educators who teach grades K though 6 can register. Teachers who have at least one student who completes the program can earn a FREE Teacher Ticket by entering their student information in their online account.
There are two parts to the program, the handwritten part and the online part. Both need to be completed to earn tickets.

The Student Reading Logs are handwritten by the students/parents as they log their minutes from reading. Students need to turn the logs into their teacher. Starting this year, teachers will NOT have to mail the Student Reading Logs in. However, we do ask that teachers save the completed Student Reading Logs for future reference. We may also conduct periodic reviews of Student Reading Logs, so please keep the Student Reading Logs in your files.
Educators will need to register online if they did not participate last year. Once you are registered, you will have an online account. You will need to enter your students' names and total hours they have read in your online account. If your school coordinator enters the students' names and hours in their online account, you WILL NOT get the credit for having your students complete the program, and you will NOT earn a FREE Teacher Ticket. YOU will need to enter your own students in YOUR online account to earn a FREE Teacher Ticket.

Begin the program as soon as registration opens in the fall to give your students plenty of time to read the required six hours.
Give yourself enough time to complete the online submission well before the deadline.
Additional info on tickets:
The Student and Teacher Tickets are valid for admission on select dates only during the 2014 season. The valid dates will be included on the tickets.
Tickets are valid for students in grades K-6 only, and are not valid for anyone over the age of 13. No exceptions.
Each ticket is valid for one free admission only.
Tickets cannot be used for group events, school trips, field trips or school outings.
Tickets are not for resale and are nontransferable.
They cannot be replaced if lost, stolen or damaged.
The deadline for registration is March 3, 2014 at 5pm Central Standard Time.
While the details of this years program are slim, you can also see our information from the 2012-2013 Read to Succeed program to get a better understanding and possible additional details, should they carry forward to this year.
In Conclusion
I really like the Read to Succeed program and think the more kids read, the better their chances are of advancing mentally in school. This programs gives our younger generation the chance to understand the benefits of reading, and in return, they will be able to get out and experience a little fun.
Teach your children to read InACents, and the more they learn, the faster they will be experiencing all kinds of great activities that cost way less than what the masses pay.
Save Money, Travel More!
Source: InACents
© 2013 – 2014, inacents.com. All rights reserved.