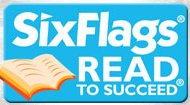 I have been waiting for Six Flags to release their information on the 2012-13 Read to Succeed program for weeks. Especially when you consider school has now back in session for nearly 2 months. Regardless, lets get down to business and figure out how we can get free tickets to a Six Flags amusement park.
The program is simple to understand and maximize the benefits. If you have a school-aged child in grades K-6 and register them with the Read to Succeed program, all they need to do is read for six (6) hours to qualify. Each child than receives one (1) ticket to a Six Flags location of their choice. The only downside is one must be located with a 250 mile radius of a Six Flags location to participate.
One must register by March 1, 2013 at 5pm.
All information will be logged online during the promotion period.
Tickets will be mailed in May for the 2013 season. Unfortunately, the tickets will be limited for use on valid days, but Six Flags does not disclose this information ahead of time.
The following Six Flags theme parks are part of the Six Flags Read to Succeed program:
Six Flags America, Baltimore, Maryland/Washington, DC
Six Flags Discovery Kingdom, Vallejo, California
Six Flags Fiesta Texas, San Antonio, Texas
Six Flags Great Adventure, Jackson, New Jersey
Six Flags Great America, Chicago, Illinois
Six Flags Magic Mountain, Los Angeles, California
Six Flags New England, Springfield, Massachusetts
Six Flags Over Georgia, Atlanta, Georgia
Six Flags Over Texas, Arlington, Texas
Six Flags St. Louis, St. Louis, Missouri
The Great Escape, Lake George, New York
Additional facts can be seen for the Read to Succeed program under Public/Private School FAQs or Home School FAQs.
For reference, here is last years information on the Six Flags Read to Succeed program.
Do not forget to take advantage of the 2013 Six Flags Annual Pass discounts if you want to visit your favorite park all year.
Save Money, Travel More!
© 2012, inacents.com. All rights reserved.