We recently had the opportunity to visit the Discovery Center Museum in Illinois, but being a busy family, we could not be everywhere at once. So we decided to have one of my college friends visit the museum and highlight the coverage below. Please welcome Erin from Home Everyday to the discussion.
There are children's museums and then there are Children's Museums.
Living in the Chicagoland area, I have access to several local area children's museums, and many of them offer great exhibits with awesome hands on activities. When Justin asked if I would like to check out the Discovery Center in Rockford, Illinois I am not going to lie, I was feeling a little skeptical in the beginning.
My initial thought was, "I wonder if this museum will be worth the drive. I mean we have children's museums in Chicago."
Well, within minutes of entering the welcoming atmosphere of the Discovery Center located in the Riverfront Museum Park, I knew my family and I were going to have a great time!
The staff member who greeted us was extremely helpful and accommodating. She immediately asked about the ages of our children and tried to direct us to the areas that she thought would be most fun for our little ones (ages 6, 4 and 3).
We first made our way upstairs, where we encountered a Sports display that took my middle sons breath away. He loves all things athletic, so he was enthralled with the displays of sporting equipment and touch and guess the ball game. He was also enamored with the different science displays that were incorporated into the sports exhibit such as the tennis trajectory exhibit. My favorite part of the Sports exhibit was where we got to see what was inside every kind of ball. I don't know why, but seeing a bowling ball cut in half was pretty amazing to me!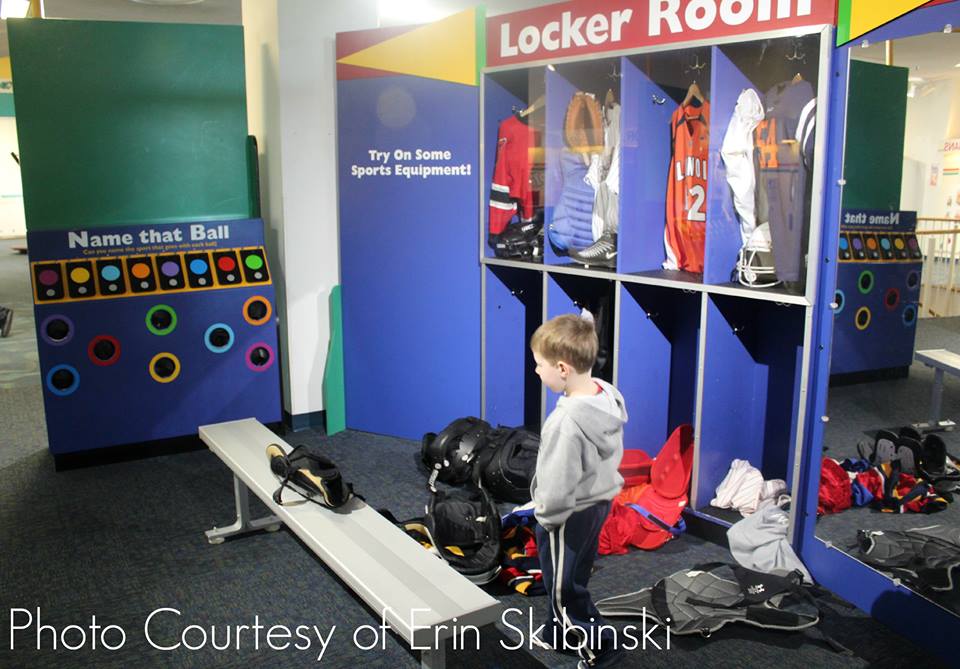 Once we made our way through that area, my daughter heard the sound of running water and sprinted toward her favorite part of any children's museum: The Water Tables. As we are regular visitors to our local museums, she knew just what to do and grabbed a smock and got down to business funneling, squirting, splashing, and maneuvering the water. I will say, that while I would like to think that if you have seen one water table you have seen them all, this section of the museum even had some things I had not seen before. We loved the water shooters that were sectioned off and you could use to try and aim and get certain shapes to spin around and around.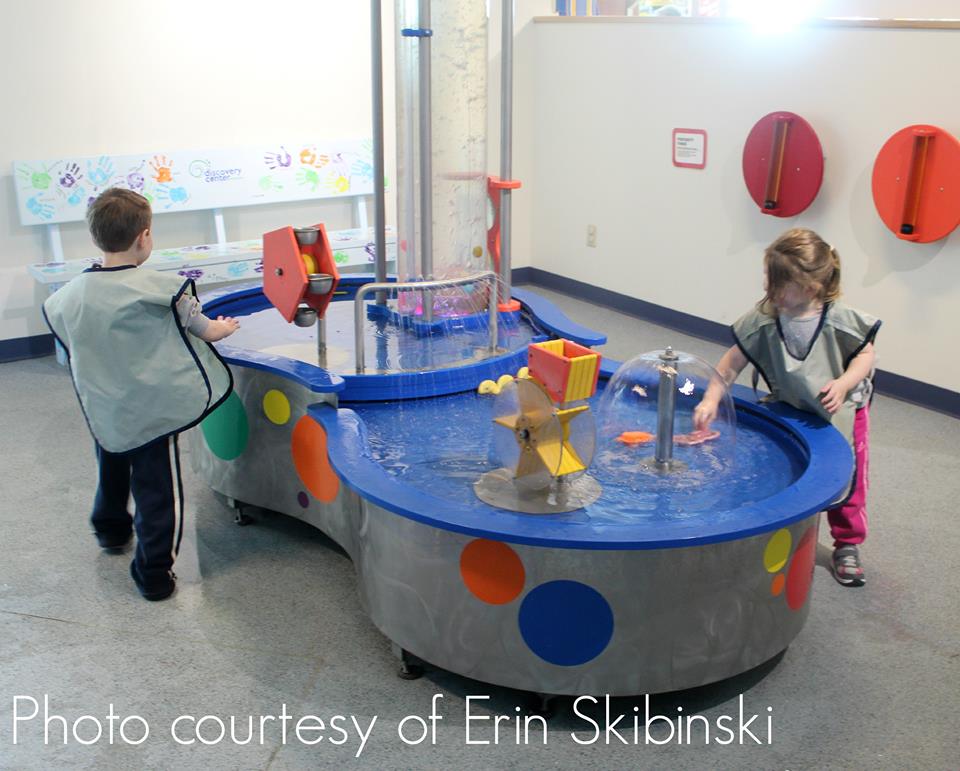 Once we were sufficiently soaked, we made our way to the pretend play area were there were several displays perfect for kids ages 2 – 7. There was a construction area, a train station with train, grocery store, pretend house complete with garage and car to repair! While it was hard to pull the kids away from this area, I assured them there was lots more to see!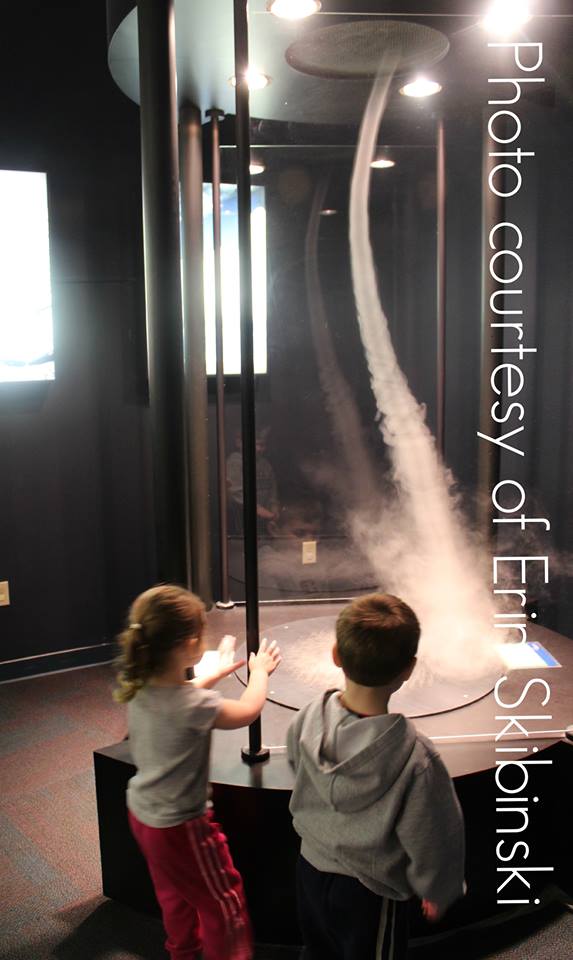 We made our way to the exhibits below which included a view of an agricultural exhibit that included a real tractor safe for kids to climb and a display that allowed kids to try milking cows. As we wound our way around the halls and different displays, I noted how while my kids were having a ball, I was almost sure that older kids would have had and enriching time here too!
I live quite a distance from the Discovery Center in Rockford, so I know it will be awhile before we are back again, but my children had a blast! However, I have to say it was worth the drive! With Spring Break approaching it is the perfect day trip for any family looking for something to do, and it is located in the Riverfront Museum Park which also houses an art museum and a natural history museum. Also, for those looking for summertime activities, the Discovery Center has an amazing outdoor space.
As I said earlier, there are children's museums and there are Children's Museums. The Discovery Center is perfect for families with children of all ages, with plenty of hands on and enriching exhibits.
For more information about the Discovery Center, go to discoverycentermuseum.org. The Discovery Center Museum is located at 711 North Main Street, Rockford, IL 61103.
Erin Skibinski, a native to Chicago's far South Suburbs, has enjoyed creating her online presence with two successful blogs, Home Everyday and ChicagoNow's South of I-80. Erin has also become a regular contributor to Chicago Parent's online community, and recently wrote a sketch that was part of the Mary Siewert Scruggs Works by Women Comedy Festival at Second City in Chicago. In between writing classes at Second City, Erin is addicted to DIY, cooking, and baking. According to her wonderful husband, she also spends a lot of time watching sitcoms, reading, and Pinning projects for him to build. She currently resides in the south suburbs of Chicago with her handy husband, and three adorable children all born in a span of 33 months (yes, she realizes this is insane). You can follow Erin's posts or hilarity on Facebook or Twitter.
We were provided tickets to the Discovery Center Museum to facilitate our review, but all opinions are those of the author. Readers can Buy One General Admission and Get One Free– Not valid with other offers. Offer valid up to 3 free admissions.