CEDAR POINT COASTER CAMPOUT – Earlier this year, we started looking into the advantages of joining a Coaster Club to get our family access to special events at Cedar Point. Cedar Point acknowledges about a dozen different coaster clubs, and after comparing several of them, our family elected to go with Coaster Crew.
For $30, a family of four could join the club and get access to special events that only club members are allowed to participate in.
For example, our family was able to visit Cedar Point on Media Day, an event the day before public park opening. Media Day was absolutely one of our family's favorite experiences at the park, because we had complete run of the park (although not everything was open) and very few people were there.
As a Coaster Club member, we were also able to apply for a lottery for the inaugural Coaster Campout within Cedar Point. 35 lucky families were chosen from the pool of applicants to tent camp in FrontierTown inside the Antique Cars lawn.
Our family was chosen as one of the winners. After demand was so high for the event, Cedar Point opted to extend the offer to additional applicants, who were also able to tent camp around FrontierTown. The main difference was we were in the grass, and they were all on the cement.
Coaster Campout
Our family arrived to the park around 2:00 PM on Friday and was directed towards the back of the park towards the Soak City/Magnum entrance. We were greeted by the Director of Communications, Tony Clark, where we received our badges for the weekend, tickets to get into the park, meal tickets for dinner, and a commemorative Coaster Campout blanket for each of us. Attached to each blanket was also a voucher good for a free order of Fresh Cut fries.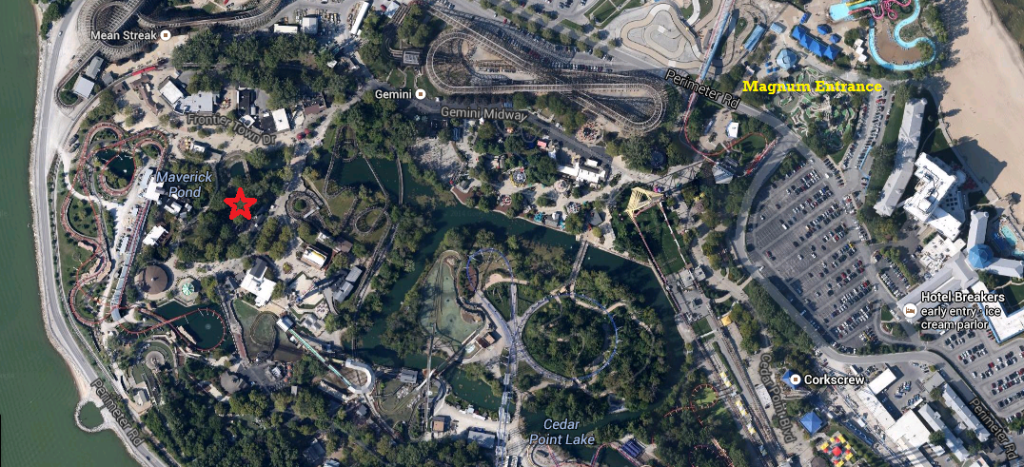 At this point, we were not bringing in all our camping equipment, as that would be handled later in the evening.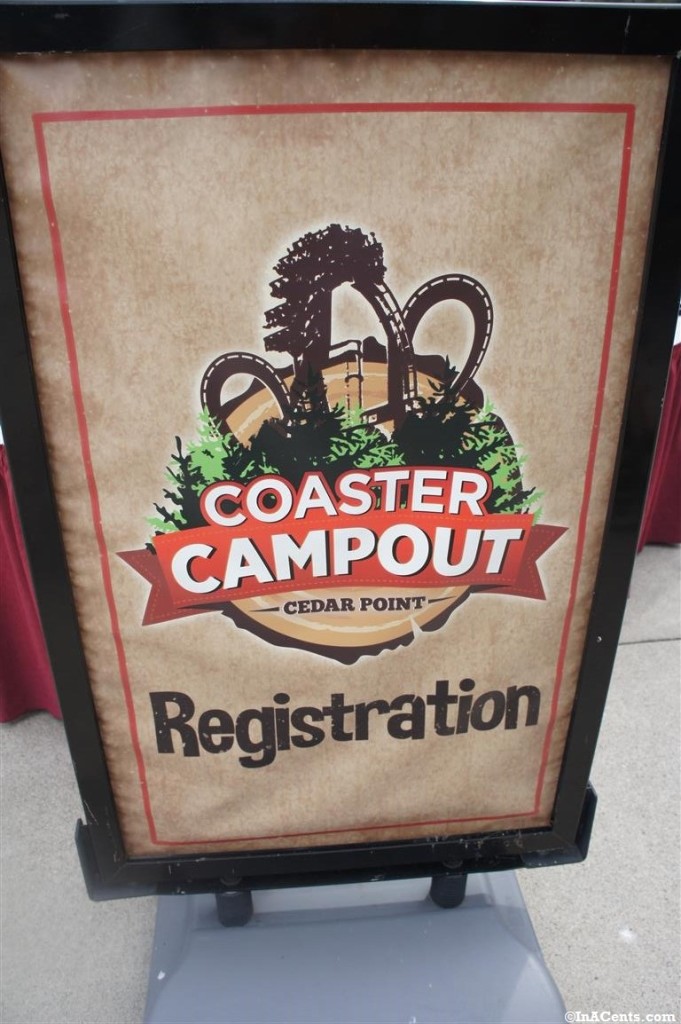 Cedar Point held Coaster Campout on Friday (July 18) through Saturday (July 19). This was an awesome decision on the part of Cedar Point! First, the weather was amazing Friday since it rained most of Saturday. More importantly, the park was not nearly as crowded on Friday, which meant we could ride pretty much anything in the park without too much of a wait.
At 6:30, all registered Coaster Club members for Coaster Campout were invited to a picnic style lunch in the Point Pavilion located at the front of the park. Guests were catered with macaroni and potato salads, as well as penne pasta with marinara, hot dogs, brats, and hamburgers, as well as chips, cookies, and fountain beverages. The food was all excellent!
At 9:00 PM, we were directed to meet back at the Magnum entrance with all of our camping gear to check in. By the time I made it out to the vehicle at 9:15, the line was 100 people back. However, after I loaded up our stroller with all the gear and got into line, I was fortunate to be called to a side registration table that was only for those in the grass.
Once inside our designated area, we were directed to our site to set up the tents. At that point, with the sun going down fast, everyone was in a race to get their tents set up as fast as possible. We were limited to a 10′ x 10′ area and power was not provided. Therefore, one had to have a self-inflating air mattress.
The entire area was also closed down to the public starting at 8:00 PM, as well as the rides. This made it possible for all of us to enjoy Exclusive Ride Times (ERT) on select coasters and rides. With wait times for the Maverick often topping an hour, this made it possible for my wife to walk right on a couple times as we took turns watching our boys in their tent.
We were even served S'mores and soft drinks around 11:00 PM.
At midnight, rides were wrapped up and we were to call it a night in our tent. Really, besides our kids, there was not much chance for the adults to fall asleep prior to that because the music was still loudly playing until midnight.
My wife and I were so excited from the experience though that we stayed up talking and taking everything in. By the time we finally fell asleep, it was sometime after 1AM.
This is where I should have questioned the schedule. I remember looking at the official schedule and seeing quiet hours were from 2-6:30 AM. Hmm, yet the rides closed down at midnight. Sure enough, we get woken a couple minutes to 2:00 am with really loud playing scary Halloween music. Then right before 2:00 am, a witch's voice came over the loud speaker, giving all of us a teaser as to some of the new Halloweekends events. New haunted houses and characters set to thrill the nights.
At this point, everyone was up, and most had exited their tents because several monster characters were wondering outside and scaring people.
Overall, even though it messed with all our sleep, looking back, the haunted awakening was a really cool highlight of the event. Most of the people attending Coaster Campout are diehard enthusiasts that soak up all this stuff. Us, not necessarily being all into the coaster aspect of it, and having yet been to Halloweekends, it was pretty cool. However, the couple in the tent next to us was not amused, and packed up their things and immediately left. Several other people on social media appeared not to happy with Halloweekends being factored into the event, as some may have religious beliefs against such activities. We were just fortunate our kids did not wake up during this "haunt."
Our family thought it was pretty great. The only complaint was the music played was REALLY loud. So loud that the speakers were crackling. From the sounds of it, despite bothering a few, the majority of the Coaster Campout participants really enjoyed the Halloweekends twist. After all, there is a reason Halloweekends is the busiest time of the year to visit the park.
At 6:30 AM, we were promptly awakened over the loudspeakers to get up and start clearing our stuff, as we had to be out by 8:30 AM. However, at some point early in the night, it started raining. So my wife and I were lucky we got a couple hours of sleep, and were awake well before the wake up call.
Guests were then treated to more ERT on two coasters, showers in makeshift trailers that were brought in, and breakfast up at Coasters Drive-In. Breakfast included assorted pastries, yogurt with fresh blueberries and granola, and scrambled eggs with ham and cheese. Bottled Minute Maid juices and coffee were also available.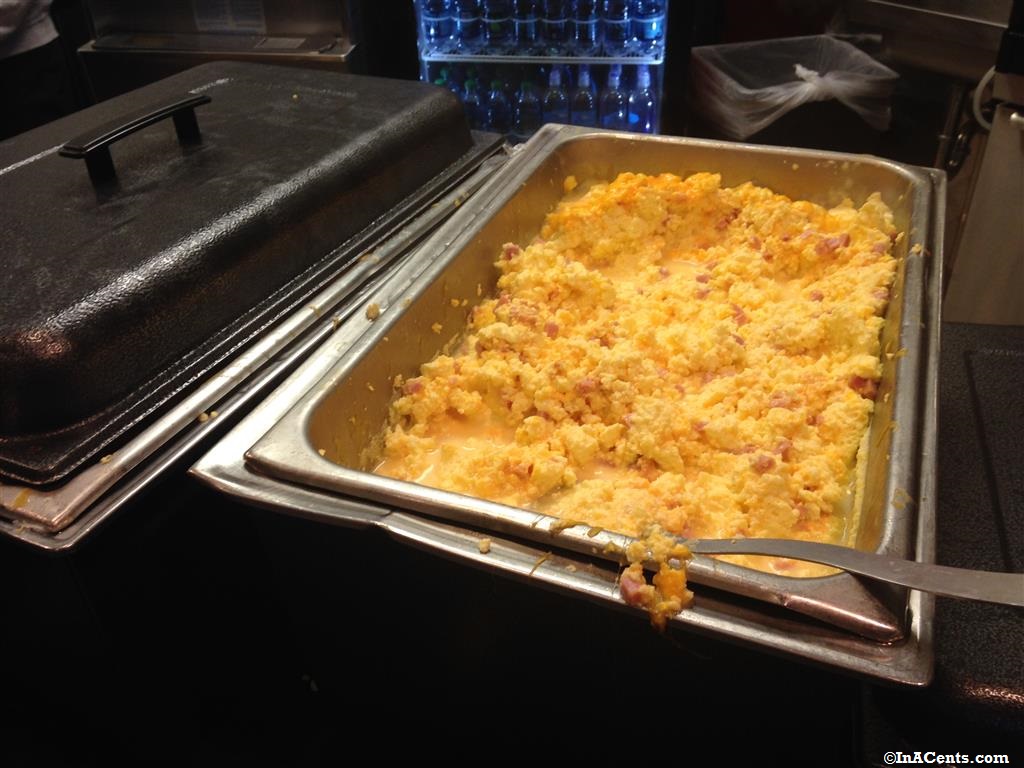 We were then free to enjoy the park for the remainder of the day. Getting access to the park without the public there is an amazing, once-in-a-lifetime experience.
In Conclusion
As we drove home, and the sleepiness began to settle in, we began to all realize what a tremendous event Cedar Point had just put on and how lucky we were to have participated. Regardless of whether you were there with friends or a family, the event catered to everyone. It was just truly incredible to be sleeping in a tent inside the park on the historic grounds, where for 100+ years guest have been having great times and making great memories.
We are so thankful for having been invited by Cedar Point for this event!
Save Money, Travel More!
Source: InACents
Disclosure: As winners of a Coaster Campout spot, Cedar Point provided our family with access to the park and event, as well as the meals and benefits mentioned in the article. All opinions are those of the author.
© 2014, inacents.com. All rights reserved.