Just a month before my grandparents and aunts visited Walt Disney World in 1985, The Disney Company announced plans (April 1985) to build a Hollywood-style theme park on the property. Then in June 1985, Disney and Metro-Golywyn-Mayer/United Artists sign a 31-page, 20-year agreement, giving Disney the exclusive rights to use most of the MGM/UA film studio's movies, for a yearly US$100,000 licensing fee [Chronology of the Walt Disney Company].
The year 1985 also signifies the 200-millionth guest to Walt Disney World. This same year, Disneyland welcomes its 250-millionth visitor.
In December of 1985, Disney signs an agreement to construct a new park in Paris, France.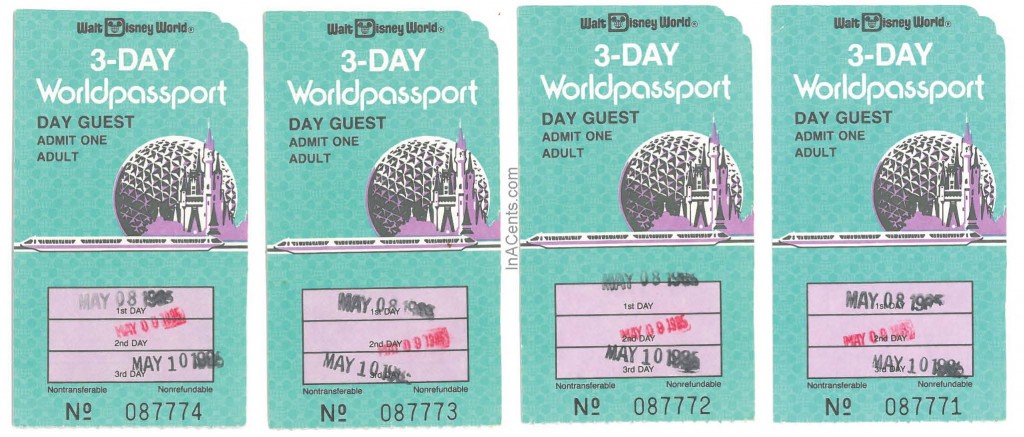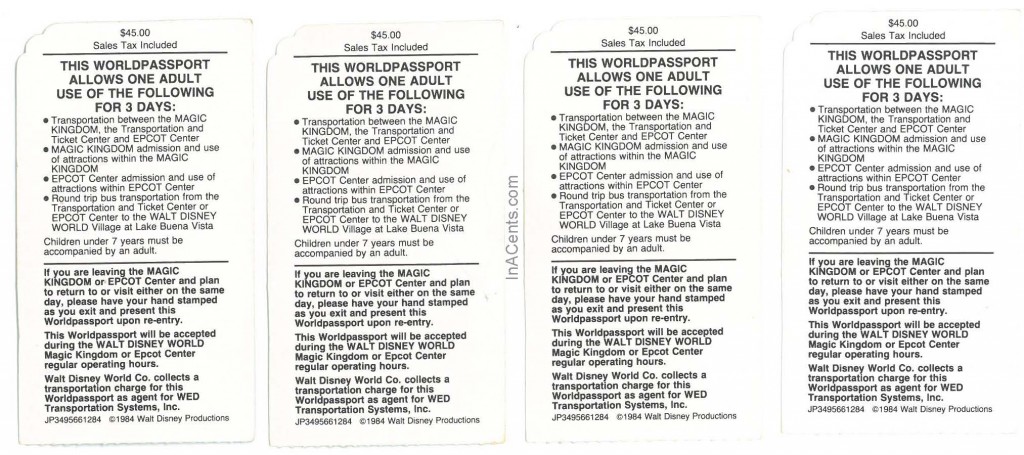 Some things to note about these tickets. The price of a 3-Day Worldpassport ticket in 1985 was $45. These tickets granted guests admission to the Magic Kingdom and Epcot. By comparison, the 1-Day Passport ticket from 1982 was only $13.25.
So assuming Epcot would have been open when my grandparents visited in 1982 (Epcot opened October 1, 1982), the difference in ticket prices was not that much considering you got access to a whole additional park.
Do you have old Disney travel documents that you no longer want? If so, we will gladly take them, perform high-quality scans, and research them for historical preservation. Contact us to arrange delivery.
Save Money, Travel More!
© 2012, inacents.com. All rights reserved.