Need a little extra chug in your train travel? How about a free 100 Amtrak reward points?
Gary points out that if you link your Facebook account with your Amtrak Guest Rewards account, one can earn a free 100 points.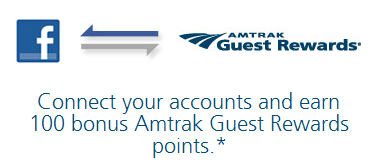 Not yet a member of the Amtrak Guest Rewards program, and are you going to travel within the next 90 days? Then drop me an email at justin (at) inacents.com, and I will send you over a referral, earning us both 500 free points.
This offer is valid through November 3, 2012 11:59:59pm CT.
After linking your accounts, one can always unlink them if you no longer wish to be targeted for promotion offers. The points instantly posted to my account, which is really a nice deal.
Save Money, Travel More!
© 2012, inacents.com. All rights reserved.