When it comes to Disney, most families spend a small fortune to attend the parks and stay in the hotels, that spending money on extraneous activities may have to wait till another day. However, I was surprised when earlier in January we saw an offer for 40% Off Sammy Duvall's Watersports Centre at Disney's Contemporary Resort Marina courtesy of Groupon. The offer is still live as of this posting, and for those going to Disney World during the valid dates of the Groupon, the cost savings can be significant enough to now allow you and your family to experience some of the other onsite activities.
While I do not think I would want to spend my time at Disney parasailing, particularly when it is the colder months, the latest offer for going up in a hot air balloon ride would definitely peak my interest.
Located at Downtown Disney, we have often seen the hot air balloon soaring over Downtown Disney, but when we were in the vicinity, it was never in operation (due to weather). Guests board a tethered hot-air balloon and climb to 400 feet with 28 of their closest friends, hovering above Walt Disney World. Rides last approximately 10 minutes.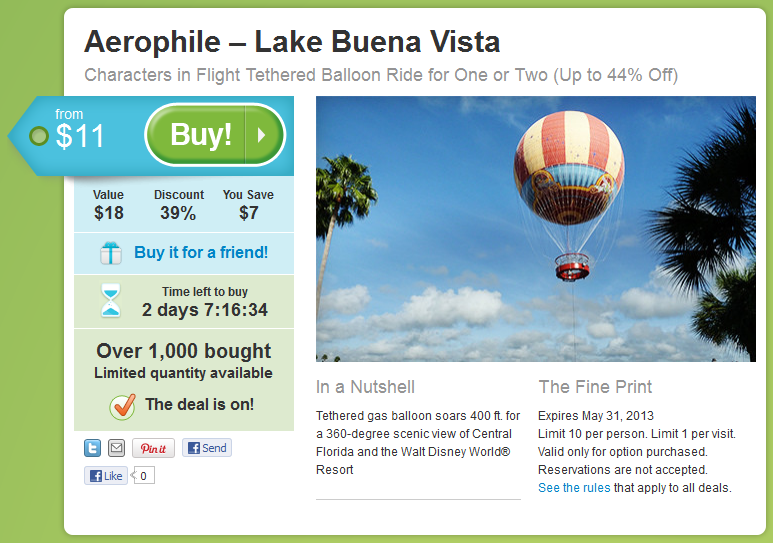 Groupon is currently offering a deal for only two more days on the Disney hot air balloon ride experience. Guests can select either the $11 Characters in Flight tethered balloon ride for one person (up to an $18 value) or $20 for a Characters in Flight tethered balloon ride for two (up to a $36 value). Once purchased, the vouchers expire May 31, 2013.
I would like to think most guests visit the Downtown Disney area at some point in their vacation, and for a couple of bucks and maybe a half hour to hour of your time, I think the hot air balloon ride would be a nice experience to at least say you have crossed off your bucket list.
Considering most hot air balloon rides can cost hundreds of dollars, I find the value of this Groupon pretty reasonable. For comparison, here is a real hot air balloon ride offer, showing how expensive they can be (over $100 even with a Groupon).
I would say go ahead and even get married on the hot air balloon ride, but we all saw in the past week how that could end up.
Save Money, Travel More!
© 2013 – 2015, inacents.com. All rights reserved.