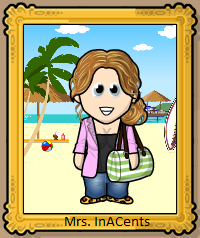 I love Disney! I love everything about it. I think my love for Disney has always been a part of who I am. I had Disney birthday cakes themed like Lion King or Little Mermaid, even when I was in my teens. Come to think of it, someone please tell my Darling Husband that this is what I want for my birthday next year, hint hint! I honeymooned with Mr. InACents at Walt Disney World (WDW). My three year old had already been to Disneyland and Disney World before he was two years old. I wore Minnie Mouse ears at my wedding rehearsal and during the honeymoon. Really the list of things I love about the Disney Empire could fill the elusive Disney Vault. That is why I insisted that we go to Disneyland on the way to Hawaii as soon as I heard we had a layover in Los Angeles.
One of my favorite indulgences about Disney is the Theme Parks. I particularly love Disneyland! I love Disneyland the most part because it is so ridiculously manageable with toddlers. I say "ridiculously manageable" because it really is ridiculous in how easy it is, especially when compared to the Walt Disney World Parks. In Disneyland you can walk from any area hotel (not just Disney hotels) to Disneyland, and back in easily 5 to 15 minutes. You do not have to fold up your gigantic stroller, carry two sleeping toddlers who are both sticky with cotton candy, and try to find a seat after the fireworks show, on a Disney World shuttle.
At Disneyland, park hopping is literally crossing the plaza that separates California Adventure from Disneyland. There is nothing even remotely like "hopping" involved between one of the four (many miles apart) WDW parks.
I also love the nostalgia that Disney himself brought to Disneyland. The Park was his original idea, that he spent time on and then enjoyed. Mr. Disney brought his grandchildren to Disneyland, and he even had an apartment there. Knowing Disney lived his dream really adds magic to the experience. Most of all, I love Disneyland because for families with toddlers, the Park is a nice introduction to a Disney vacation.
The Planning
The whole time in thinking about our Hawaii trip I have mainly thought about our three day Disney trip at the beginning. I am a meticulous Disney travel planner, and I start months in advance. I have really only spent a few short weeks planning the over 2 week part of the trip in actual Hawaii. This just shows I am a true Disney fanatic. It is hard not to be super excited because we are introducing Disney to our 15 month old by taking him to his first ever Disney Park (note to self: Don't forget to pick up his free "First Visit" button). It is also our first Disney vacation that our three year old is big enough to anticipate with mounting excitement. My hubby and I are also getting anxious to see (and maybe even write about) some of the new things at the parks like Fantasmic, World of Color, and Little Mermaid, to name a few. Unfortunately Cars Land will not be open for our cars fanatic son to enjoy, but I, as a Mom, am somewhat grateful for the lack of what will probably be mammoth crowds associated with a new section of the park opening.
In planning for our Disney adventure we have had a lot of family movie nights watching Disney classics. My oldest son and I have been looking at the Disneyland website almost nightly looking up all the attractions. Being the train lovers that we are, we have counted that we will be able to see/ride up to 5 trains on property including: Heimlich's Chew-Chew Train, Casey Jr. Train, Tomorrowland Monorail, Disneyland Railroad, and Big Thunder Mountain Railroad. This is going to be HUGE for our train enthusiast children. We have used YouTube to watch a lot of the different rides people have shot via smartphone. We have pretend played the "Small World" ride. I do this by putting the boys in a laundry basket and "driving" them around in a huge loop over and over while singing repetitive lyrics.
In case you are interested here what months of planning gets you in terms of a planned out Disneyland schedule:
First day
3:00 pm Check into hotel (Howard Johnsons)
3:30pm Possible time to swim in Howard Johnsons great pirate themed kiddie pool area
4:30 Change and head to Disneyland hotel to see it newly remodeled
5:30 Head over to Downtown Disney for dinner at Catal
7:00 Walk around shops
8:00 Head to hotel for sleep
(very ambitious first night!)
Second Day
7:30 am-Head over to Disneyland park which opens at 8am according to my "Disneyland Inside Out iPhone App." (free)
We always head straight to Fantasyland as Toddler friendly rides fill up later in the day. In the past this makes it so we can accomplish 3-4 rides in the first hour (a huge feat at any theme park)
Breakfast and lunch will mostly be favorite Disneyland snacks (Dole whip) and pre-packed toddler favorites (applesauce, juice boxes, goldfish crackers, real fruit leather)
4:00 pm- Mickey's Soundsational Parade
6:00 pm- Dinner at Big Thunder Ranch BBQ
9:00 pm- Fantasmic!
9:30 pm- Disney nighttime Fireworks Spectacular
10:00 pm- back to hotel to sleep
Third day
8:00 am- Head to Grand Californian Hotel for breakfast
9:00 am- According to some Disney Bloggers, you can get into California Adventure an hour before it opens if you are either staying in the Grand Californian Hotel or you have a receipt from a purchase at the hotel dated for that day. We are going to see if this trick works. These blog sources said some days a few rides are open an hour early and other days you just get to be first in before the crowds.
11:40 am- Princess Lunch at Ariel's Grotto (we asked our three year old which character meal he would like to go to and he chose this one as he loves "frincesses" as he calls them)
7:00 pm- Pick up World of Color Picnic Dinners (I am going to review and discuss World of Color Picnics process in another upcoming article)
9:00 pm- World of Color
10:00 pm- Head back to hotel
Fourth Day– Aloha Hawaii!
Wish us luck! More to come soon…
Love, Mrs. InACents
Save Money, Travel More!
© 2012, inacents.com. All rights reserved.