We are an affiliate of Howard Johnson, which pays us a commission should you elect to make a purchase using our link.
Howard Johnson will offer a promotion, titled Orange Wednesday (affiliate link), on December 3, 2014. Select hotels across the U.S. and Canada will be discounted 50% off rates on up to three nights. However, the deal is only limited to the first five people to call each of the selected properties.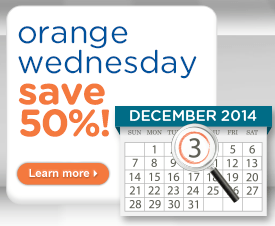 Guest must complete their stay by March 3, 2015.
For example, our family has stayed in the Howard Johnson Anaheim Hotel And Water Playground, located adjacent to Disneyland. The location is ideal for walking right into the park, and the budget conscience property with pools and water playground fit perfectly into our plans.
Both times we have visited the HOJO, we have used the Mousesavers discount, which brought the cost down to around $100 per night. Current rack rates start at $118, depending on your time of travel. Five lucky guests will be able to snag rooms for about $60 per night, which is an excellent rate.
In Conclusion
The Howard Johnson Orange Wednesday sale can save a family a bunch of money, although the sale is extremely limited to only the first five guests to call and book directly with each property.
Save Money, Travel More!
Source: InACents
© 2014, inacents.com. All rights reserved.