Our family was very fortunate a couple years ago to get free tickets to Hershey Park in Pennsylvania as part of the Chevy promotion (see below). We had a tremendous experience at the Park and associated Chocolate World. There are various discounts out there for tickets that we have tried to again pull together for 2013.
Tickets normally cost $57.95 for a Hersheypark Regular 1 Day Ticket (ages 9 – 54) and $36.95 for a Hersheypark Jr/Sr 1 Day Ticket (ages 3 – 8 & 55 – 69). All purchased tickets directly from Hershey are subject to $0.85 amusement tax per day. Parking costs an additional $12/vehicle. This means a family could significantly reduce their out-of-pocket costs by purchasing your tickets early.
In addition, any single day tickets get you access to the park the night before. Present your ticket at the gate after 7:30 PM and enjoy all of the rides and shows all night long!
Giant Food Stores for Hershey Park Tickets
At select Giant Food Stores in Pennsylvania, guests can purchase Summer tickets to Hersheypark located in Hershey, PA at discount.
Giant Food Stores will sell tickets for $15.00 off regular admission or $2.00 off junior/senior admission. You'll also get a voucher for free parking through June 30th when you purchase 2 regular admissions.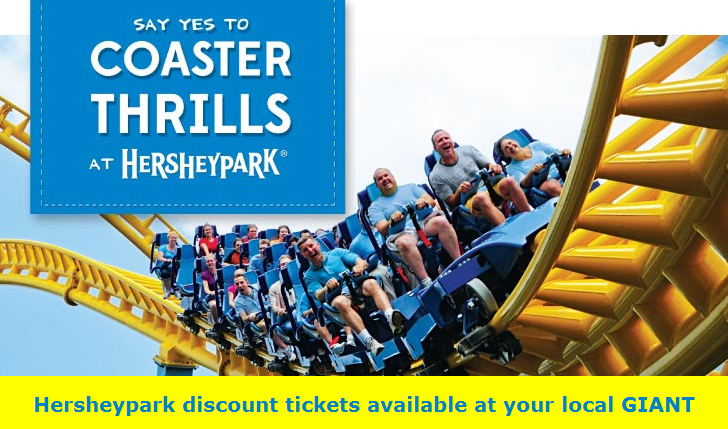 Chevy Owners Appreciation Days
For the past three (3) years Chevrolet has partnered with Hershey to offer free tickets to Chevy owners. The first year anyone could enter. In 2011 and 2012, they only granted tickets to those that were mailed a postcard. In the past, targeted Chevy Owners could get free tickets to Hershey Park by visiting chevyhershey.com (link not live for 2013) and entering in your unique code. Tickets go fast, although with the tighter restriction of requiring a unique code to redeem, it may not be as big a rush. If a code gets posted publicly and is available for everyone to use, jump on it fast.
Boy Scouts of America
The best offer currently out there for Hershey tickets is through the Boy Scouts. Both the Frontier District of the Boy Scouts (Promo Code: 21254) and the Pennsylvania Dutch Council (Promo Code: 52368) of the Boy Scouts offer discounted tickets through their website. The price of tickets depends on when they are purchased.
Tickets purchased through July 31, 2013:
Regular (ages 9-54) – just $38.10
Junior/Senior (ages 3-8 or 55-69) – just $29.25
Senior (ages 70+) – just $21.50
Tickets purchased after July 31, 2013:
Regular (ages 9-54) one-day passes, the price increases by $5 (to $43.10)
All other ticket prices remain the same price
A portion of each ticket sale purchased through the Boy Scouts gets donated to the organization.
As you can see, there are some tremendous deals to be had for 2013 that can help offset the cost of having your family attend Hershey Park.
Hershey Park is located at 100 W. Hersheypark Drive, Hershey, PA 17033.
Save Money, Travel More!
Source: InACents
6/5/12- Originally published
© 2013 – 2015, inacents.com. All rights reserved.