Update: 10:00 AM: Out of Stock!
Update 9:35 AM: To redeem your codes for tickets, visit cfparkrewards.com. However, the site is currently not working when entering in the codes. Coke is aware of the situation, and is working on it. Worked at 10:45 AM.
Today is Wednesday, which means Coca-Cola discounts an item in their inventory. For today only, for 250 points, you can get a one-day ticket to any of the Cedar Fair amusement parks around the country. The promotion is in part because of a new contract that Cedar Fair signed with Coca-Cola as the new beverage provider, previously being held by Pepsi Cola.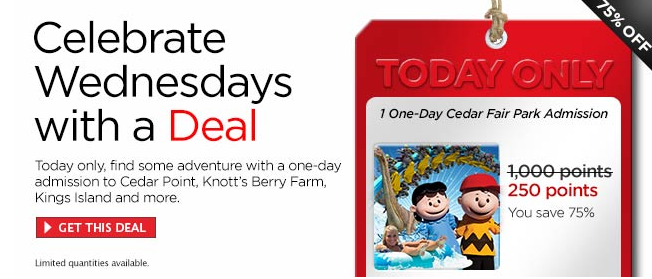 This deal will sell out this morning, so act quick!
Valid for one admission to any Cedar Fair park located in the United States (Cedar Point, Cedar Point Soak City, Carowinds, Dorney Park, Great America, Kings Dominion, Kings Island, Knotts Berry Farm, Knotts Soak City – Orange County, Knott's Soak City – Palm Springs, Michigan's Adventure, Valleyfair or Worlds of Fun) for a single day during regular operating hours thru Labor Day, September 2, 2013. Not valid for upgrade attractions, special ticket or private events, park buyouts or with any other coupon or discount programs.
I was able to purchase six (6) tickets with our points, allowing us to go to Cedar Point one day and Kings Island another. I love "free" summer vacations!
Save Money, Travel More!
Source: My Coke Rewards
© 2013, inacents.com. All rights reserved.