Just like that was offered in May, My Coke Rewards (MCR) has brought back the Wednesday only deal for discount tickets to Cedar Fair amusement parks. Our family LOVED this deal, as we have been to both Cedar Point and Kings Island this summer, all in part because of MCR. Trip reports of both coming soon.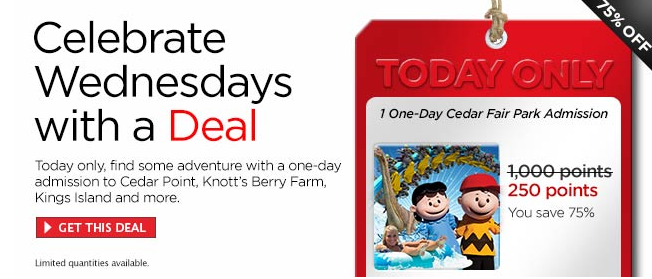 When this offer ran last time, by 10:00 AM they were sold out! So run, do not walk, and take part in this promotion before the site bogs down and they are all gone.
The only problem is the tickets must be redeemed by September 2, 2013, giving your family just under a month to use them.
This digital code will be delivered via email only, to the email address associated with your My Coke Rewards® Account. If you have changed your email address since creating your Account, please be sure to update it prior to redeeming. Valid for one admission to any Cedar Fair park located in the United States (Cedar Point, Cedar Point Soak City, Carowinds, Dorney Park, Great America, Kings Dominion, Kings Island, Knotts Berry Farm, Knotts Soak City – Orange County, Michigan's Adventure, Valleyfair or Worlds of Fun) for a single day during regular operating hours thru Labor Day, September 2, 2013. Not valid for upgrade attractions, special ticket or private events, park buyouts or with any other coupon or discount programs.
Language must be included.
UNAUTHORIZED RESALE OF TICKET(S) IS PROHIBITED
Save Money, Travel More!
Source: My Coke Rewards
© 2013, inacents.com. All rights reserved.