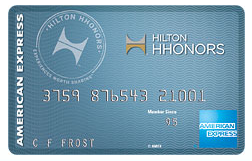 I finally broke down and got my first American Express card last summer, which was the Hilton HHonors™ Credit Card From American Express. The standard offer on this card is 40,000 points, however, I applied during a limited time promotion offering 50,000 points.
Well the 50,000 Hilton HHonors card from AMEX is back again.
There are two reasons I really like having the American Express Hilton card.
1) The card comes with no annual fee, which is great for those looking to improve their credit. Lots of people end up closing their credit card when the annual fee comes due, but since the card is free, it can remain open. As a result, the age of the account will continue to grow and improve your credit.
2) Carrying an AMEX does good for our family because we live near and shop routinely at Costco, which only accepts American Express. We also exclusively get our gas at Costco. So at least a couple times a month the card gets used at Costco, earning a nice pool of Hilton HHonors points.
The unlisted reason to like the card is it comes with 50,000 HHonors points after only $750 in purchases within 3 months. I think most families can easily afford to place $250/month on the card without much effort, and pay it off each month.
Now the downside of Hilton points is that they are drastically becoming the Delta Skymiles of hotel rewards. Since Hilton hands out points so freely, they conversely require a lot of points on redemptions.
Our family typically looks to stay in your typical Hampton Inns or some of the "cheaper" Hilton properties. They offer consistent products, free breakfasts, pools, and affordable rates, typically. However, when it comes to using HHonors points, Hilton leaves much to be desired.
To give an example, this week we are staying up near Traverse City, Michigan. Looking for hotel rooms over the fourth of July holiday is of course, more expensive. There are also very limited hotel options in the area.
The Hampton Inn Traverse City, even though sold out for our dates, runs roughly $210-250/night. Yet they require 37,500 to 40,000 points PER NIGHT! The valuation is just absolutely ridiculous.
However, in Hilton's defense, we had a small mountain of points with Club Carlson, and a Country Inn & Suites happen to be all that was available in the area. The nightly rate was roughly $200/night, yet I quickly reserved a room at 38,000 points per night. While it definitely hurt having to redeem 152,000 points for a night in Michigan, it also became our only option at making this last minute trip happen. Every hotel and campground was completely booked…more on that to come.
Fortunately, we earned the points cheaply thru a special free night offer last year. In addition, the point of having points is to be able to use them to make trips happen that might not happen otherwise with dollars.
The Hilton HHonors 50,000 point offer is valid until August 31, 2013. I think this is a great card to not only add balance to your HHonors account, but also a good, all-around AMEX card to carry.
Save Money, Travel More!
Source: Million Mile Secrets
The Hilton HHonors card listed in this post does not offer us a commission, and is the best offer available at this time.
© 2013, inacents.com. All rights reserved.