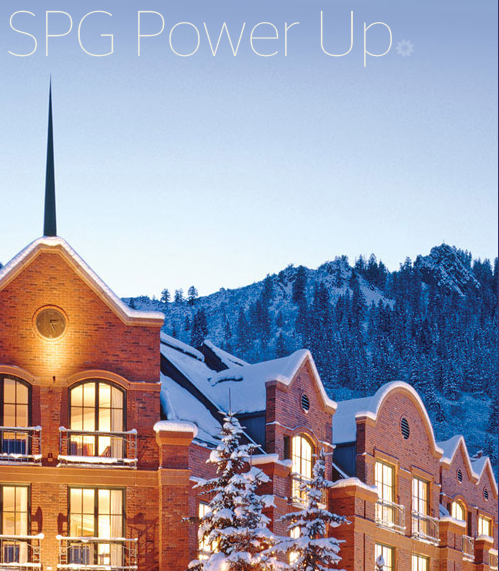 Do you have any Starwood stays coming up in the near future? Than make sure to sign up for the Starwood Preferred Guest (SPG) Power Up promotion.
Travel and stay at a SPG property for four (4) days, and earn a bonus 2,000 Starpoints. Once you reach 20 nights, you will earn an additional 10,000 Starpoints. In other words, this is a tiered reward promotion.
4 nights = 2,000 Starpoints
8 nights = 2,000 Starpoints
12 nights = 2,000 Starpoints
16 nights = 2,000 Starpoints
20 nights = 10,000 Starpoints
The Power Up promotion runs for stays through April 15, 2013. However, one must register by February 28, 2013.
Nights do not have to be consecutive and can be accumulated across multiple stays.
Want to supercharge your SPG Starpoint balance? The Starwood Preferred Guest® Credit Card from American Express (Affiliate link) offers 25,000 points with little effort.
Earn 10,000 Starpoints with your first purchase and another 15,000 points when you spend $5,000 within the first six (6) months of Card membership, which is enough for a weekend getaway to a Category 4 hotel like the Westin Savannah Harbor Golf Resort & Spa. So why should one care about an offer for a measly 25,000 points when other credit cards will award you 50,000 to 100,000 miles/points?
1) Free Night Redemption– Depending on the category of hotel, reward nights start at as little as 2,000 points per weekend night (Category 1) up to 35,000 points for a Category 7 hotel. The SPG Redeem/Transfer page also lists a great feature of a fifth reward night free. Simply redeem five nights and your fifth night is free at category 3, 4, 5, 6 and 7 hotels.
2) Diversity of Brands– Among the SPG brands are Four Points, Sheraton, Aloft, W Hotels, Le Meridien, Luxury Collection, Element, Westin, and St. Regis.
3) Cash and Point Redemption– One of the best values of the Starwood AMEX and the SPG program is the cash and point option. Starwood gives guest the ability to combine a reduced amount of points per night with cash, which can have a tremendous value.
For example, lets say I wanted to stay at the St. Regis Princeville Resort in Kauai, where rooms can go for $400/night. I could redeem 20,000 points/night, but an even better option would be to redeem for the cash and points option of 8,000 points + %150 per night. So for the price of a low-end hotel in Hawaii, someone could stay in a high- end property at a reasonable rate.
4) Airline Transfer Option– Long believed one of the favorite benefits of the Starwood Preferred Guest card is the availability to transfer Starpoints into other programs at favorable rates. The SPG airline partner list includes over 30 of the major airlines. Most of the airlines transfer at a 1:1 ratio. What is even better is that if you transfer a minimum of 20,000 Starpoints, you will receive a bonus 5,000 points. In other words, 20,000 SPG Starpoints equals 25,000 airline miles. This is an excellent option to have with the SPG card, as well as select partners which one will not receive with the Chase Ultimate Rewards or American Express Membership Rewards programs.
5) Starpoints Earn Potential– Get 1 Starpoint for every eligible dollar spent. However, as a SPG cardholder, you will earn 4 Starpoints per dollar spent at SPG properties. Elite status bumps up the bonus to 5 points per dollar spent.
6) Jump Towards Elite Status– As a card holder, you will receive credit for 2 stays towards your Starwood Preferred Guest elite status and credit for 5 nights toward your Starwood Preferred Guest Elite status. This means you will only need to stay 23 stays or 45 nights to get Platinum status.
7) Referral Bonus– Have friends that are jealous of your travel lifestyle and your shiny new Starwood Preferred Guest card? Well good thing, because you can refer your friends and earn 5,000 for your own account balance. Time to start talking to all those friends on Facebook.
8) Low Annual Fee– The Starwood Preferred Guest card comes with no annual fee the first year, $65 each subsequent year. However, most people will agree the SPG card is one card worth carrying for the long-term due to the above options.
If you own a business, (even if you sell stuff on Craigslist or eBay, you own a business) you can also apply for the Starwood Preferred Guest® Business Credit Card from American Express, (Affiliate link) which is also offering 25,000 points.
———————————————————————-
As a reminder, do not forget the SPG program is also a partner in Audience Rewards. Broadway trivia questions are issued roughly every 10-14 days, allowing you to earn free Starpoints on a consistent basis throughout the year. A couple minutes of your time can mean hundreds of points each year. To keep track of the latest questions and answers, be sure to follow our Audience Rewards page, as well as join us on Facebook or Twitter for the latest updates when they are released.
Save Money, Travel More!
We earn a commission for the use of our affiliate offers above. If you chose to use them, thank you!
© 2013 – 2017, inacents.com. All rights reserved.