After a nice morning around the Disney's California Adventure boardwalk area, we made our way to the long-awaited Little Mermaid, Ariel's Undersea Adventure ride. When we visited the park in 2010, the ride was still under construction, so we missed out on getting to see it. Little did we know just how great of a ride it really was once we got to spend some time under the sea.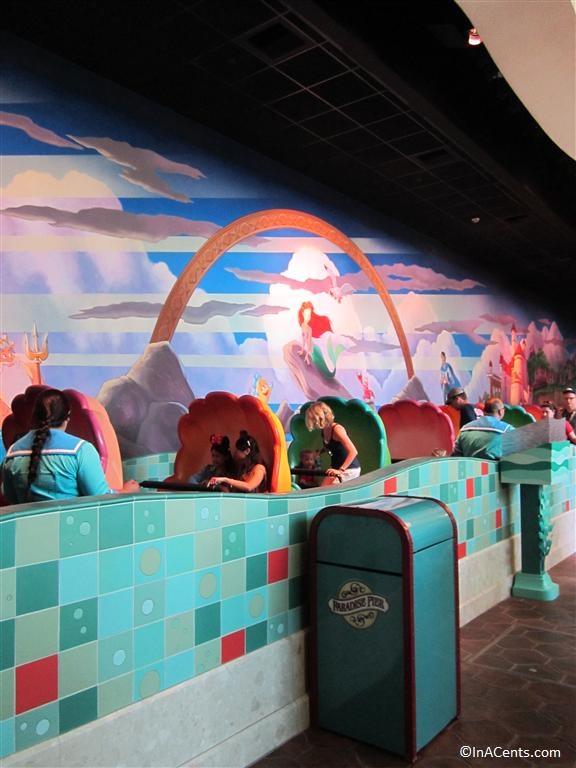 Surprisingly, there was never much of a wait to get on the ride throughout the day, which made riding it multiple times to waste some time all the more easier.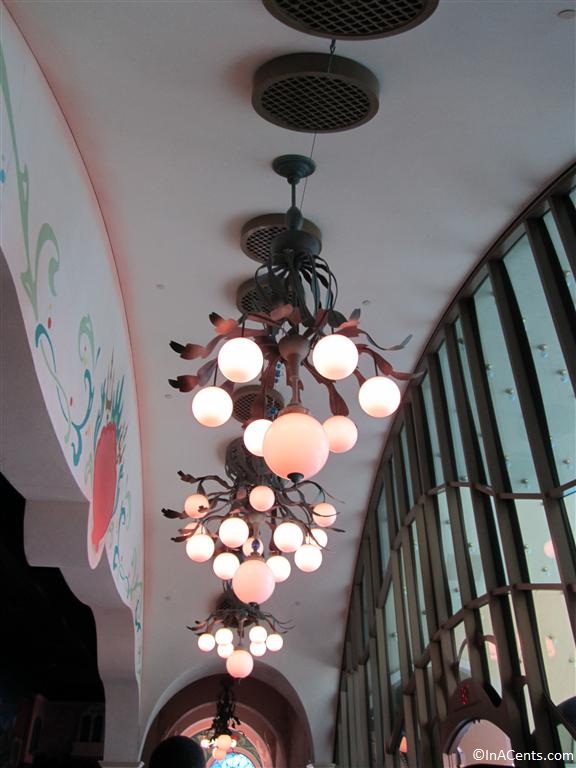 Ariel's Undersea Adventure takes you through a re-creation of the movie, with lively scenes of what really goes on below the waves. Riding in a clamshell, you start your adventure being narrated by Ariel's seagull friend, Scuttle. Following you dive into the depths of the ocean, and begin my meeting Ariel and Flounder looking up at the surface of the water. From there, you get to see Ariel's collection of whosits and whatsits galore, before immediately being cast into a rambunctious scene with Sebastian and all their friends singing "Under the Sea."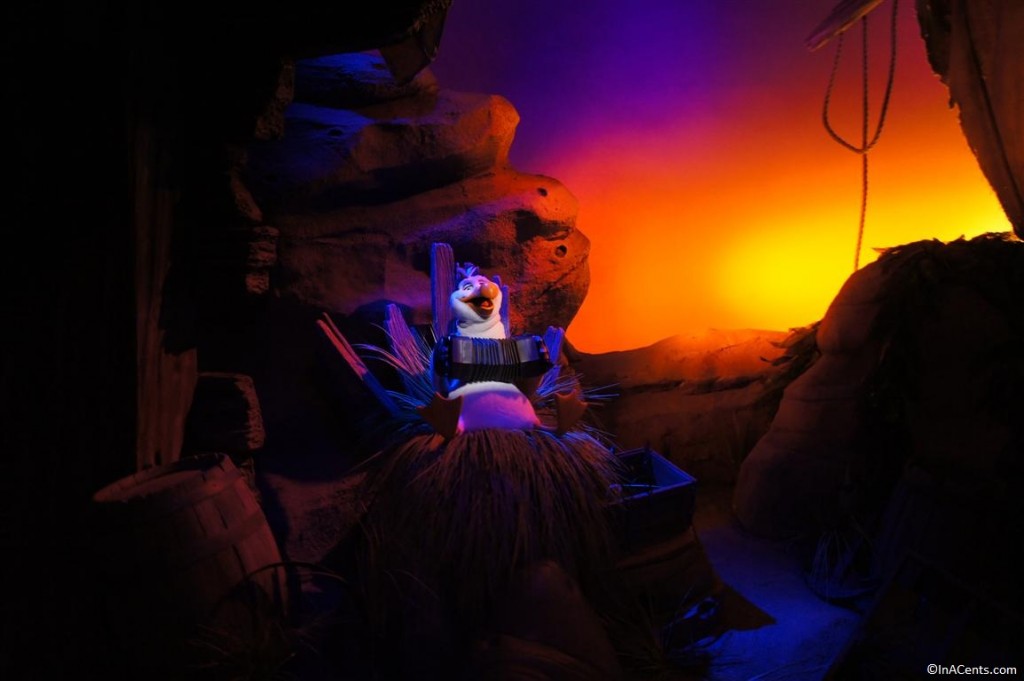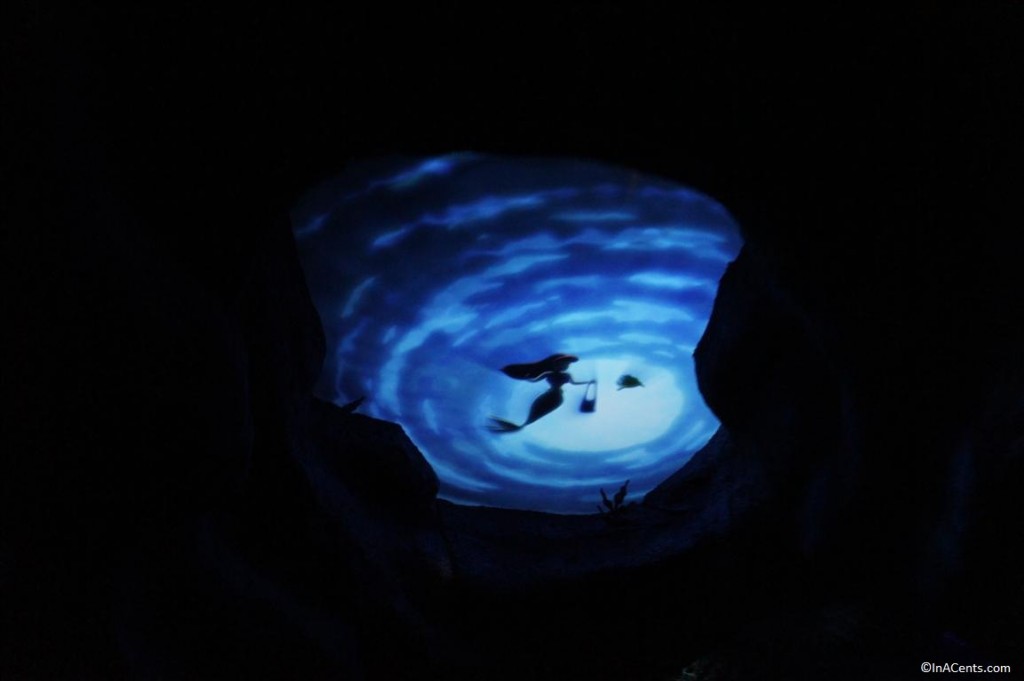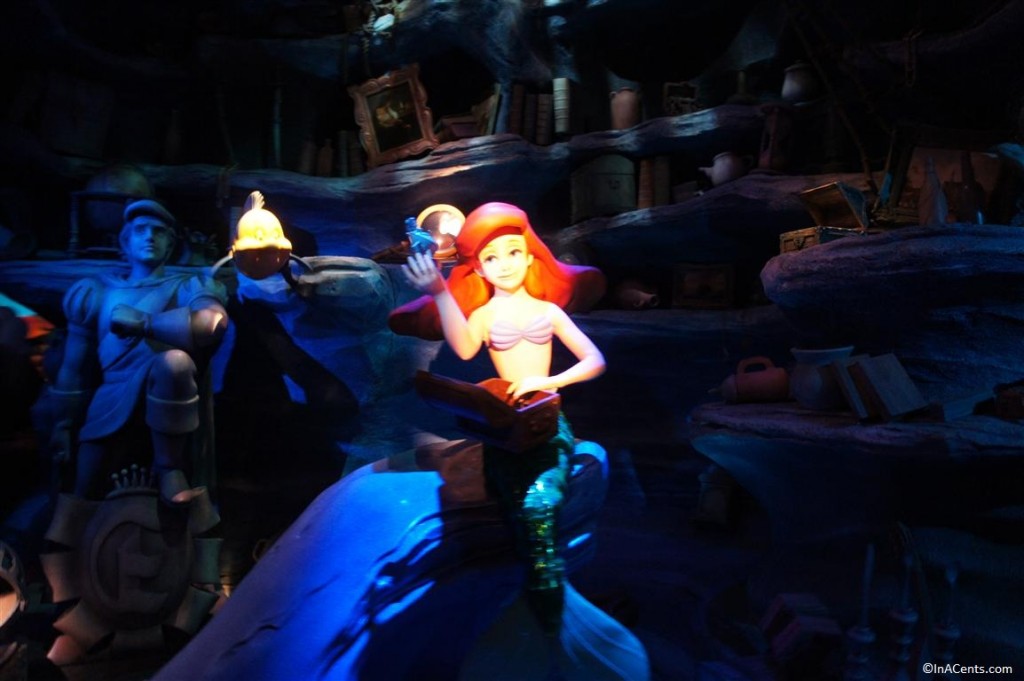 I was rather disappointed to hear that the new Fantasyland expansion at the Magic Kingdom (Walt Disney World) has the same exact version of Ariel's Undersea Adventure from DCA. One of our favorite aspects of visiting both parks is the differences in not only the parks, but also the versions of the attractions.
Journey with us on our adventure under the sea.
(For those reading this post via email, click here to watch the video over on my site.)
Following our ride on Ariel's Undersea Adventure, we had early reservations for dining with the princesses at Ariel's Grotto. The building is located along the entrance to the boardwalk with a nice view out onto the park and water feature where the nightly World of Color show is presented.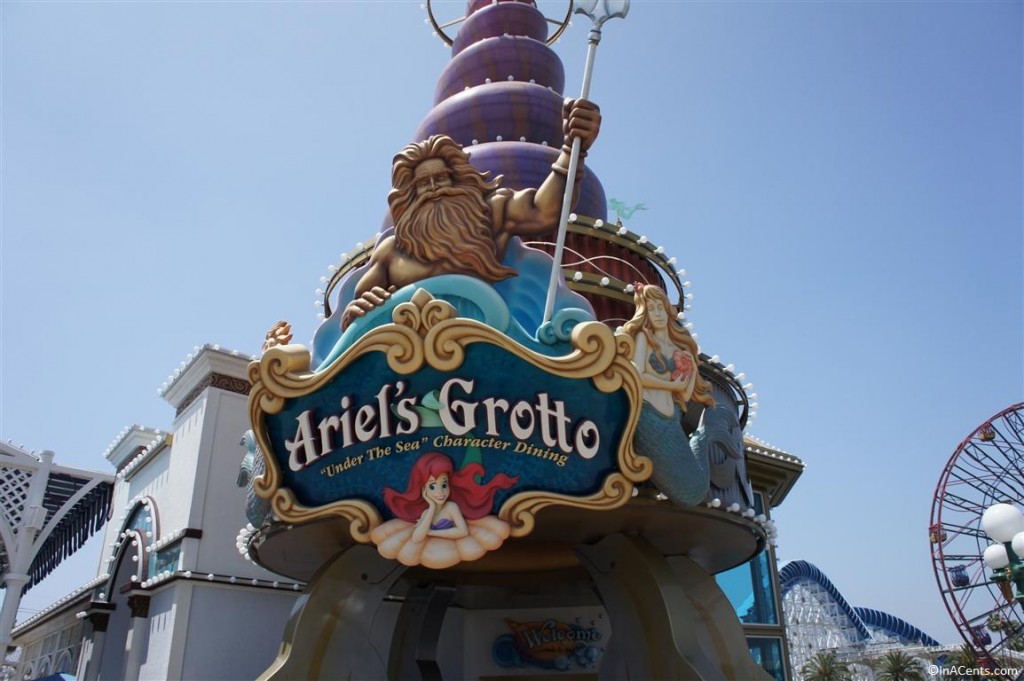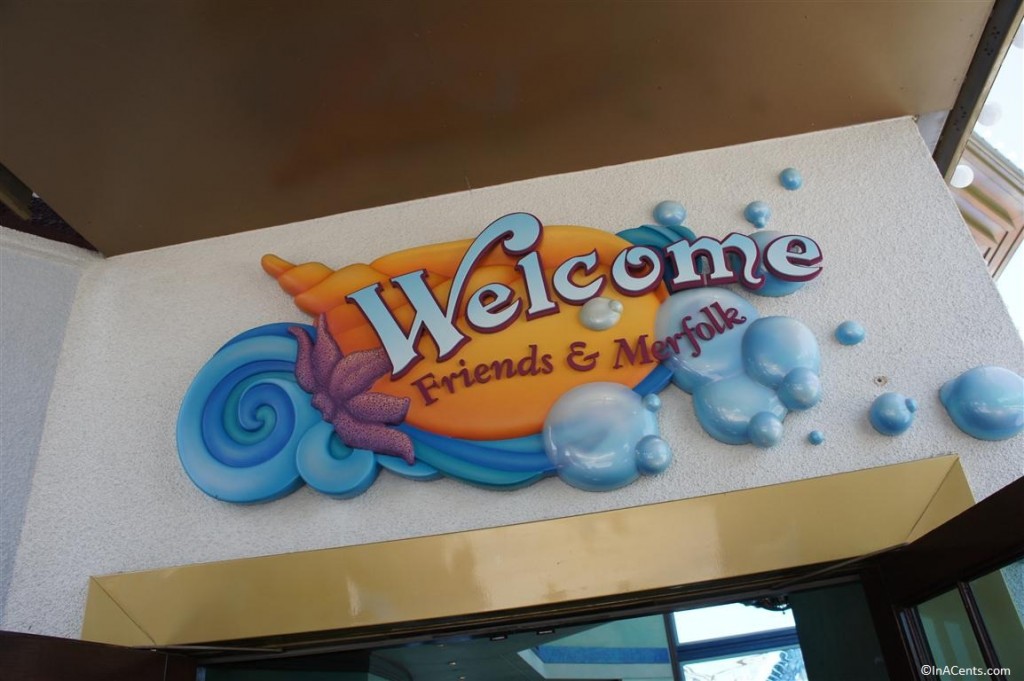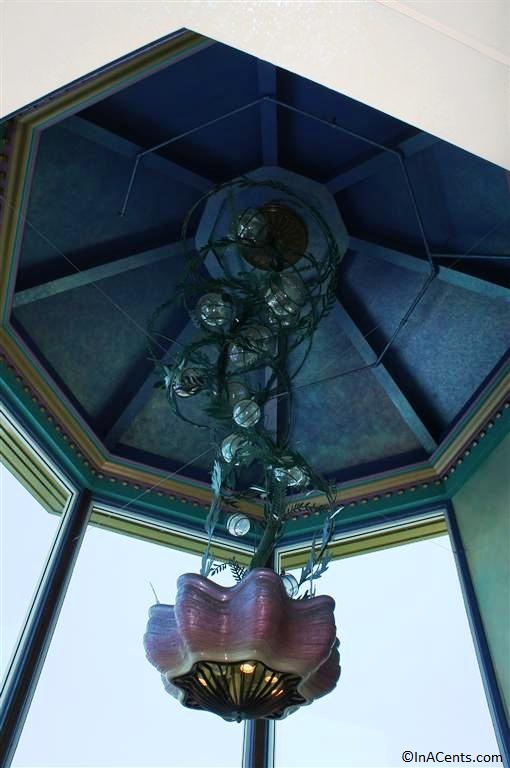 After a short wait, we were on our way down into the restaurant and to meet Ariel, in all her legged version splendor. Bug, despite having a slight cold, had no problem approaching Ariel, although, just like their dad, they tend to stumble upon their words when in the presence of a princess. Lan-Shark (1), however, refused to go anywhere near the lovely former mermaid.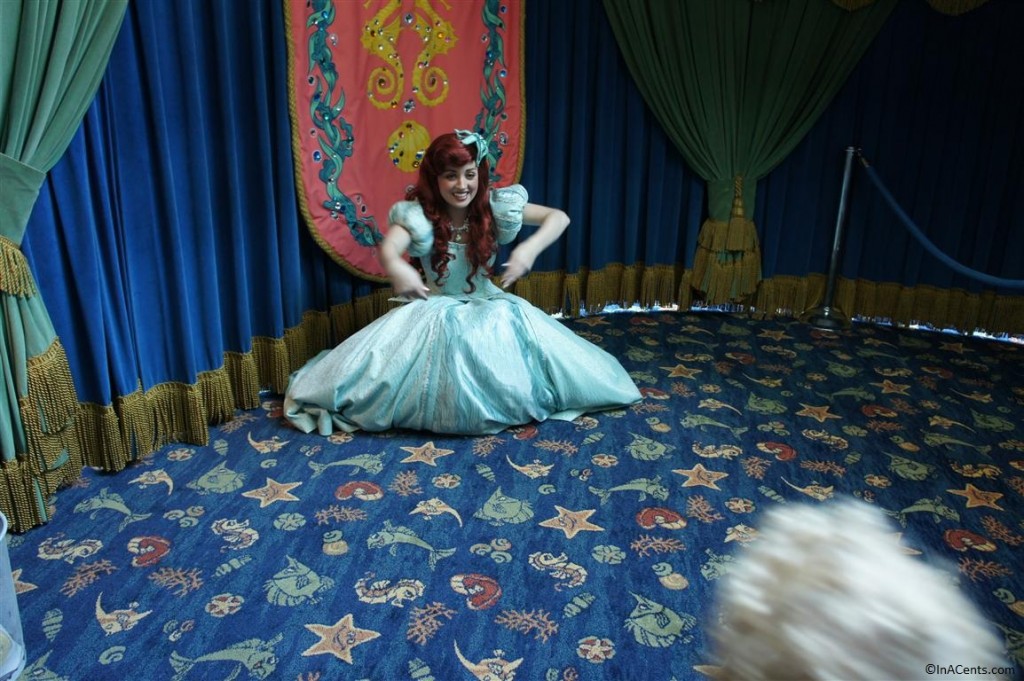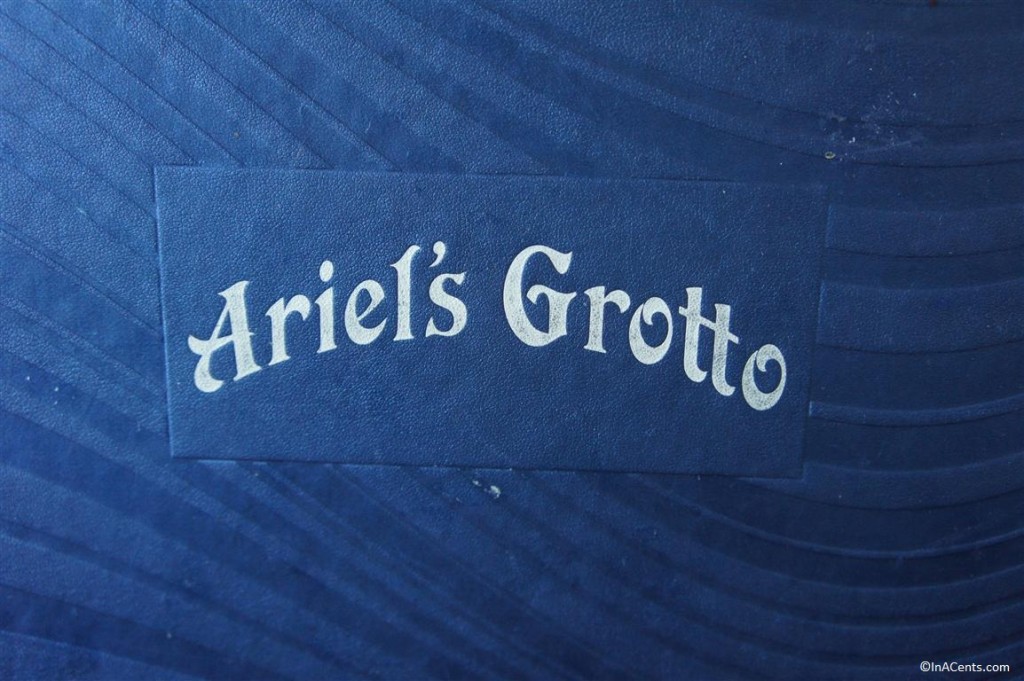 Shortly after being seated, we were offered our beverages, and the Antipasti Tower was waiting for our enjoyment, as well as a sourdough pull-apart flower and butter.
The Antipasti Tower included a mixed greens salad served with Ariel's Grotto House Vinaigrette.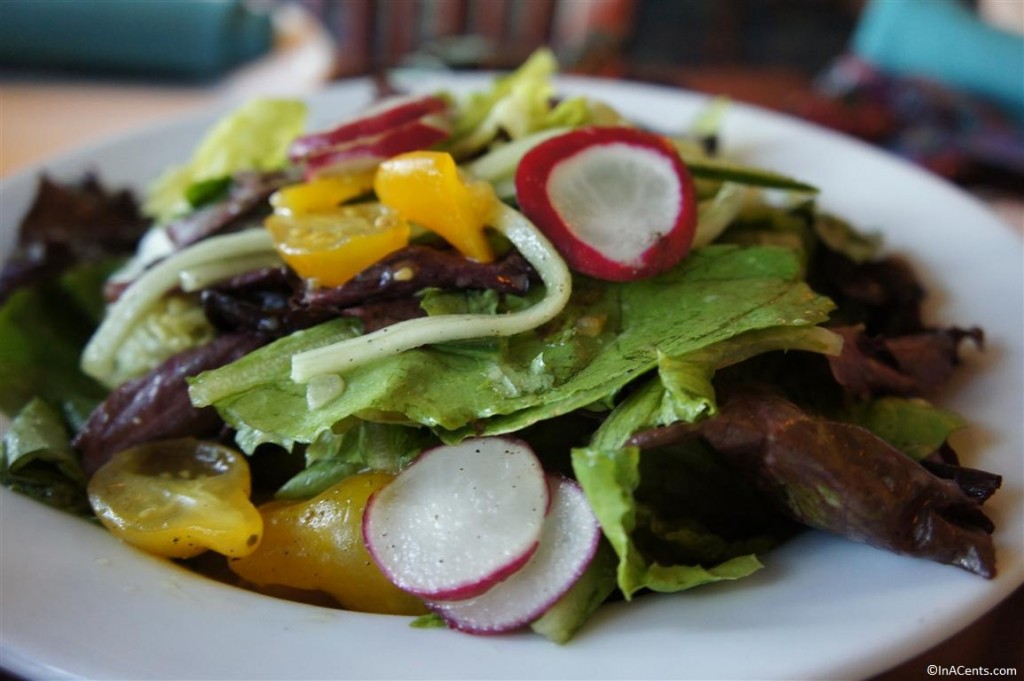 In addition was a plate of salami, marinated mozzarella, tomatoes, gherkins, olives, red pepper bracelets, chilled vegetables with pesto, and ranch dips.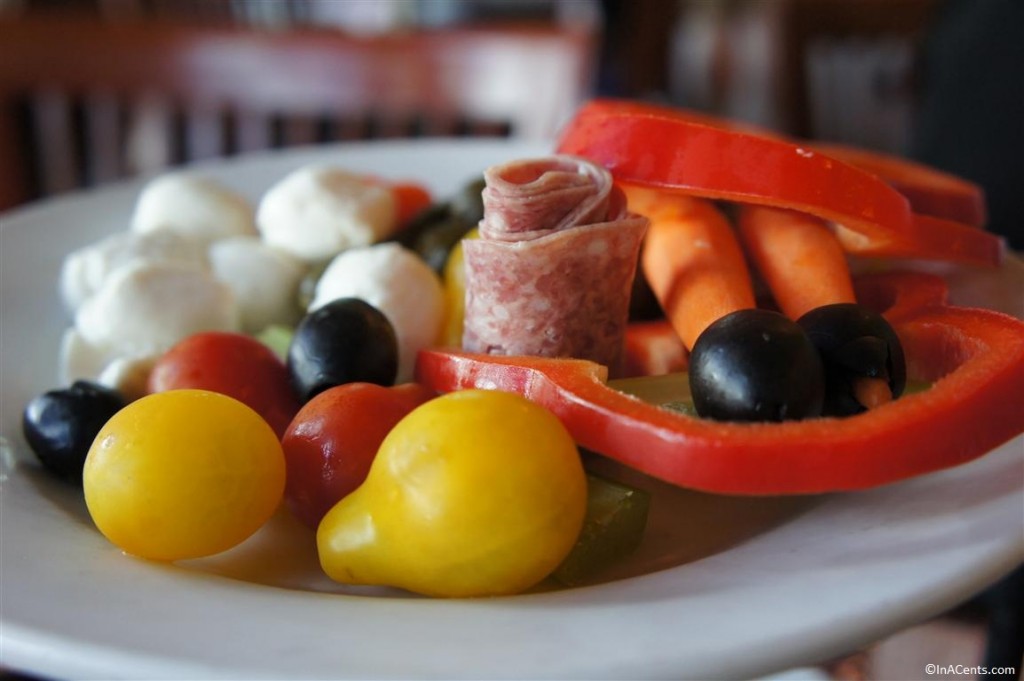 The last platter was a fruit gelatin called "Jewels of the Sea", served with string cheese and seasonal fruit.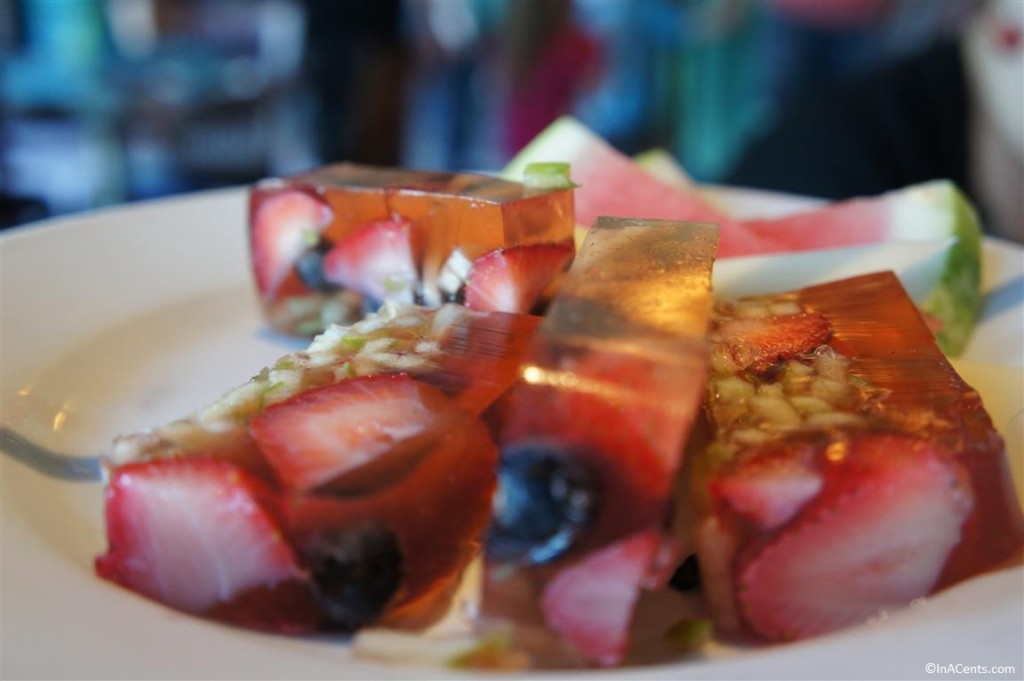 For the main dish, I selected the day's sustainable fish, served over rice pilaf and topped with a sweet-and-spicy pineapple chutney with a side medley of seasonal vegetables.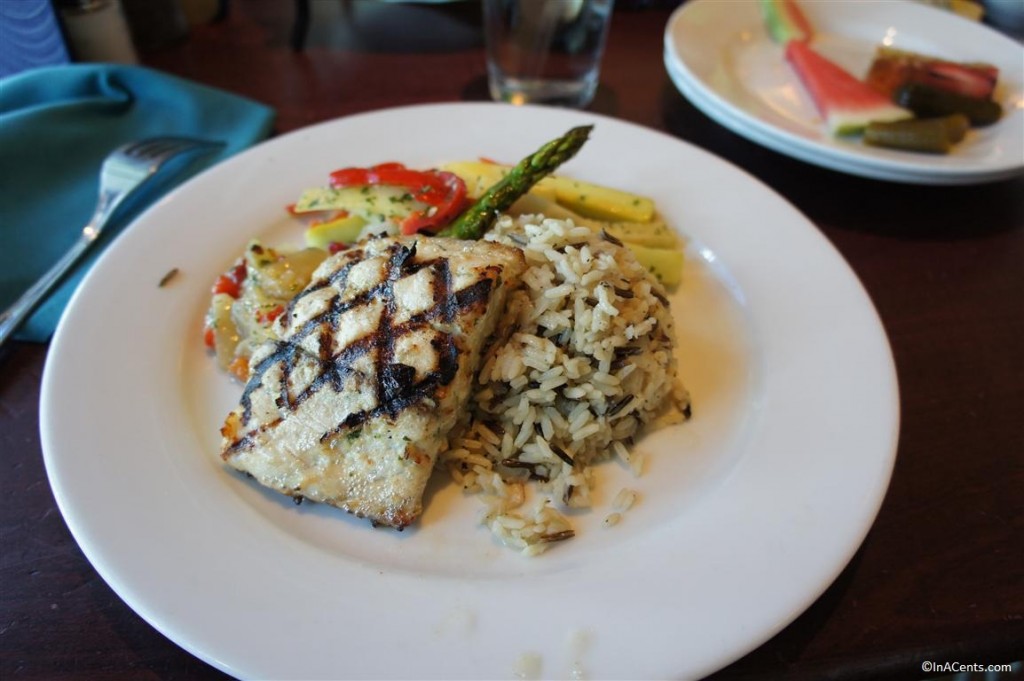 The boys had orders of mac-n-cheese, which were topped with Goldfish crackers, served with a side of fresh fruit.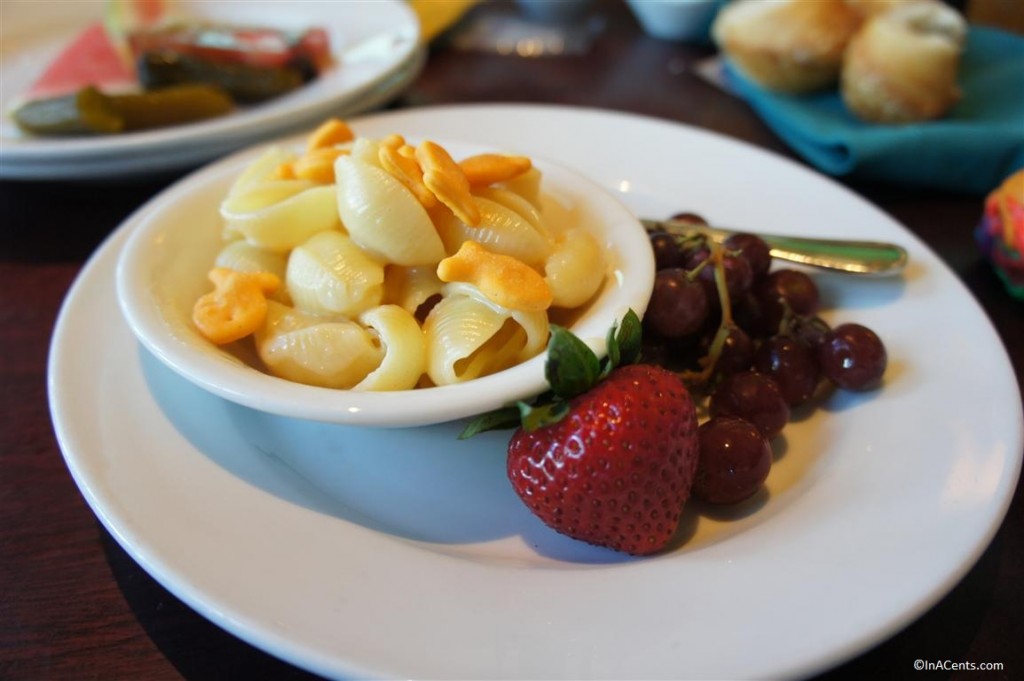 Mrs. InACents ordered the Santa Maria-style Tri-tip, which was slow roasted and smoked over red oak wood served with cheddar-herb mashed potatoes and a medley of seasonal vegetables.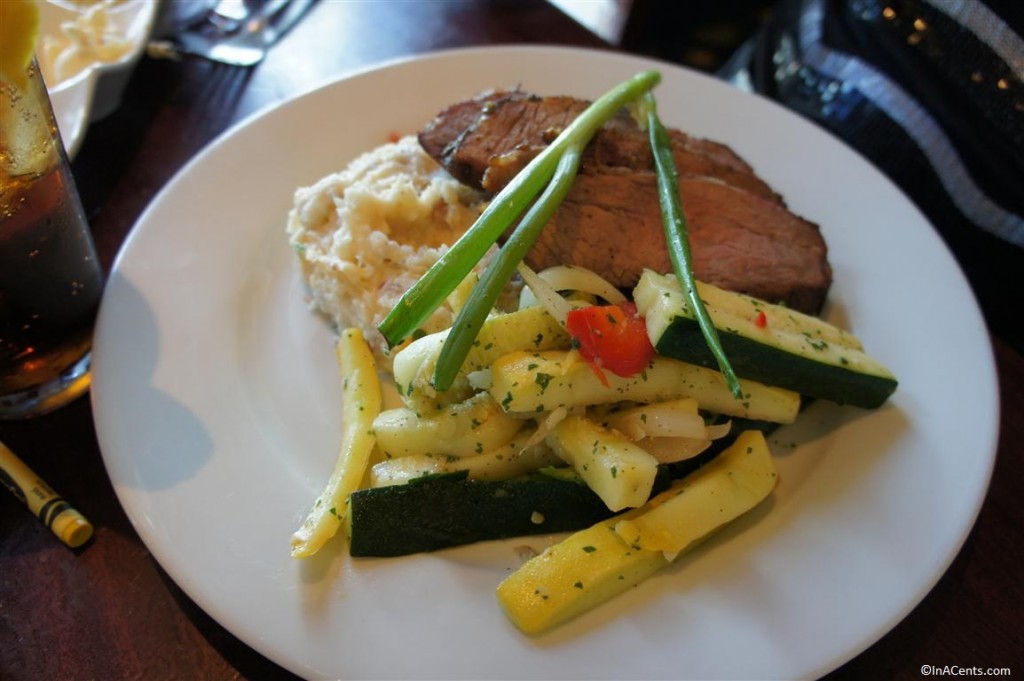 During the meal, the princesses start to come out and visit each of the tables. We were honored to be in the presence of Snow White, Aurora (Sleeping Beauty), Cinderella, and Belle (Beauty of the Beast) and the boys were genuinely stunned with their beauty. In addition to getting some good pictures of the boys with each of the princesses, I also captured some great photos of myself that were enlarged and now sit atop of our fireplace at home. Such a beautiful scene, it almost brings me to tears of happiness.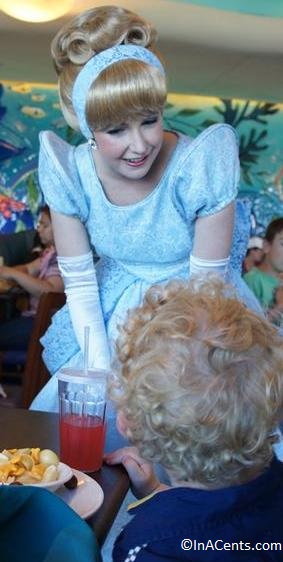 Following our meal and meet-and-greets, we were free to take our time and enjoy the beautiful decor of Ariel's Grotto, as well as a wonderful assortment of desserts.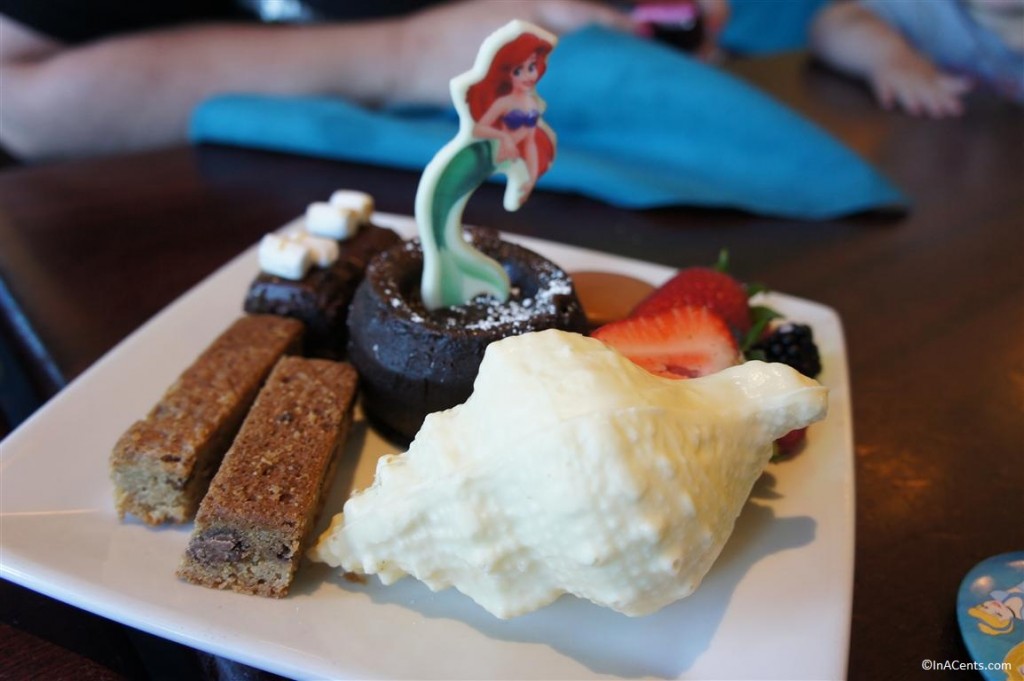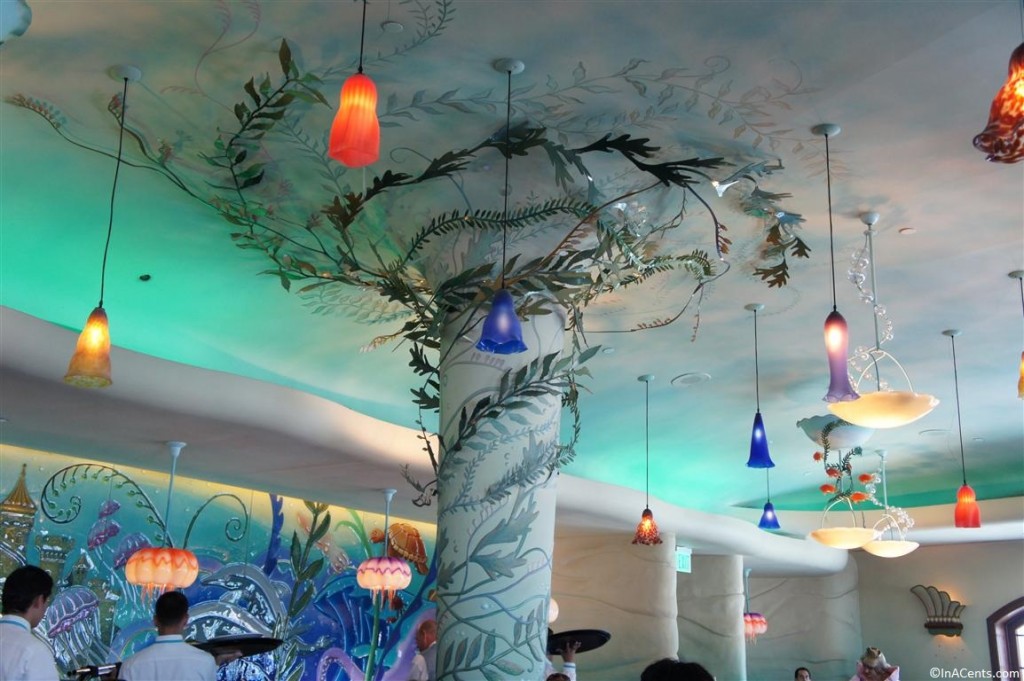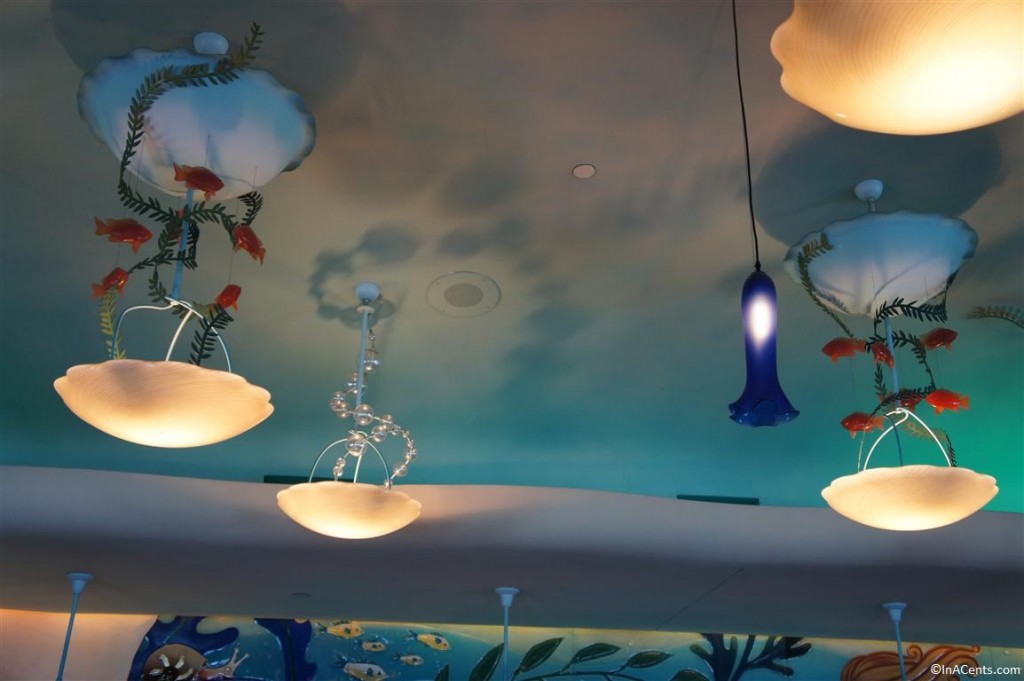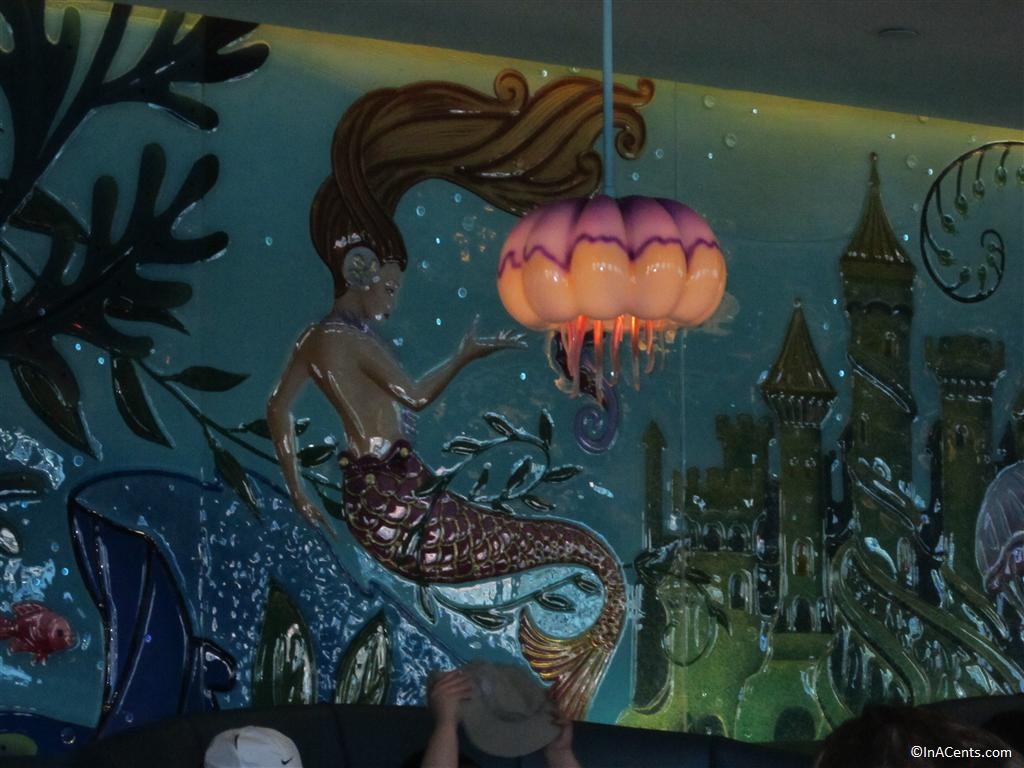 Dining at Ariel's Grotto was approximately $50 per person, and our boys were free. Considering we were pre-paid, it was rather nice to know we could order whatever we choose off the menu, and tax, gratuity, and the characters were all included in the price.
Save Money, Travel More!
© 2012, inacents.com. All rights reserved.