This past summer during our visit to Disneyland, it was my wife, Bug (3), and my second visit, and Lan-Shark's (1) first time to a Disney Park. The whole experience inside Disneyland was truly a remarkable experience for all of us, and at the end of the day it is almost like having to say goodbye to an old friend.
After the evening fireworks show, and when both boys were fast asleep in their strollers, my wife and I casually wondered around the just inside the Main Street hub near the Fire Station. We realize it might seem cheesy to feel so connected to the iconic Walt Disney, but when you really take in how much happiness Mr. Disney created for decades to come, it is kind of hard to saying so long to a friend. Especially when there is a lantern forever lite in Mr. Disney's memory, letting everyone know he is still watching over all of us in his park.
Our last stop to a remarkable day in Disneyland was the Disney Gallery to see the exhibit "Trains of Disney." Once inside, there were amazing details of the various trains that either were in operation at one time at Disneyland or were concepts for future designs. Oh how I would love to see some of these trains IF they even still exist anymore.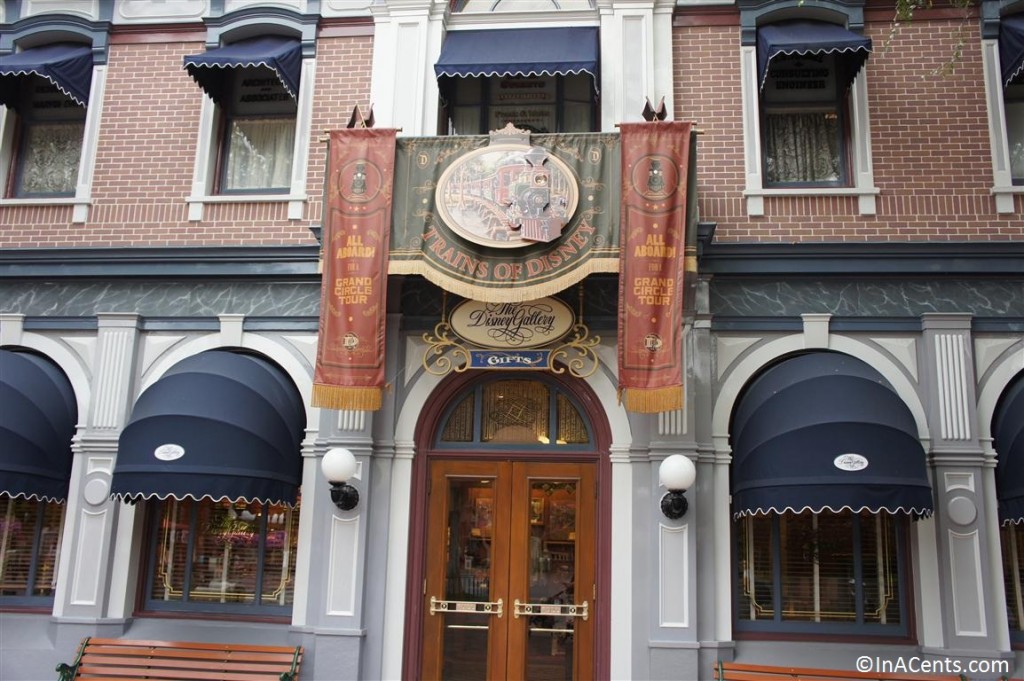 As much as I was impressed with the train exhibits, what was equally as impressive were some amazing, and very detailed models inside the exhibit. Each display told a remarkable history of Walt Disney, the Imagineers, and the theme parks progression through time. The incredible attention to detail is hard not to stare in amazement, especially when you consider the countless hours that would go into each design characteristic.
After our return, I was very thankful to Disney By Mark for putting me in contact with Mike C., a WDI model maker. Mike was able to share with us some incredible details on the models!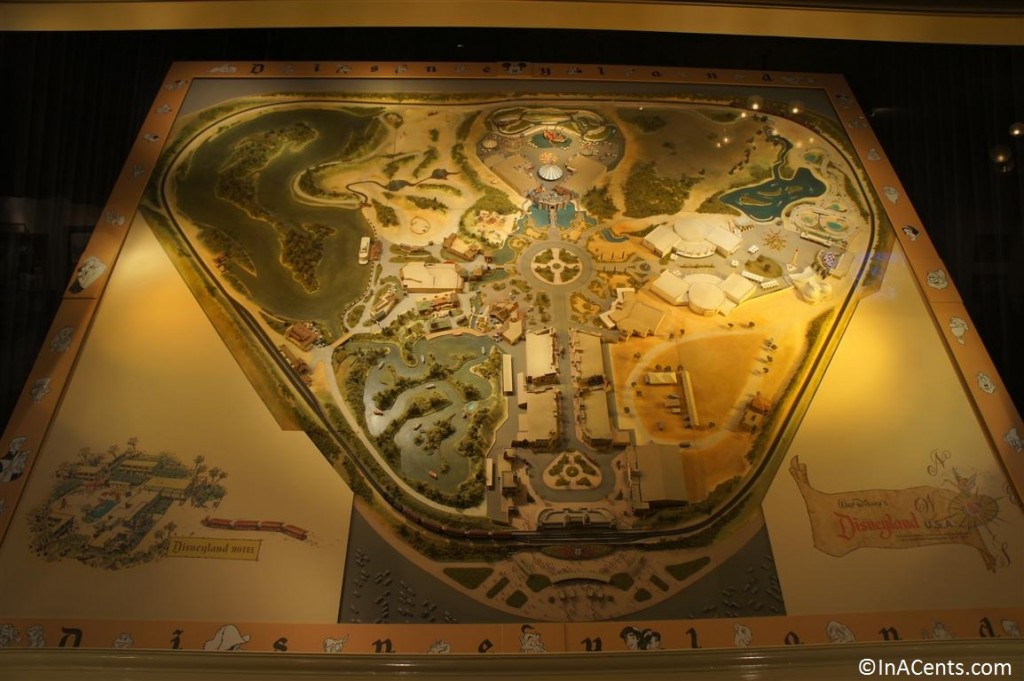 The Disneyland model, pictured above, is located inside the Opera House and is a recreation of opening day in 1955. The model was first presented to the public during the 50th anniversary celebration of Disneyland in 2005 and remains today as a great reminder of the parks elaborate growth and history.
Originally the idea was to have models showing Disneyland in 1955, 1975, 1995 but the space did not exist. The model is made from laser etched strathmore board (a high quality illustration board) – mostly all the buildings. Some details like the Jungle Cruise Boats, Autopia Cars, The Castle, The Moonliner Rocket, The Mark Twain Riverboat, etc. were GROWN on a Rapid Prototype machine. Blueprints or drawings are digitized into a 3-D program and created layer by layer in dimension out of resin or nylon type materials. Other details like people, cars, lampposts, trees, horse drawn wagons, park benches were purchased by model suppliers. Other materials used were styrene, brass, foam and vinyl. The Disneyland RR locomotives were made by a company called Bachmann and painted to look like the Disneyland trains. The coaches were made by Atlas/Model Diecasting.

There were a few mistakes made on the model –some of the structures on Main Street sport their 2005 color schemes!! The CK Holiday locomotive –The Western Freight Train –on the outskirts of Fantasyland/Tomorrowland had it's tender (coal car) placed backwards –meaning the loco's miniature engineers would have no way to access water and fuel for the steam locomotive!!
| | |
| --- | --- |
| | |
Main Street U.S.A. Model
The Main Street U.S.A. model is an intricate replication of the famous entrance to the Disneyland Park, created by Mr. Robert Olszewski. The details are incredible, and while it was good for us, it is sad that most people never even come inside the Disney Gallery to witness some remarkable treasures.
Disneyland Sleeping Beauty Castle Model
The Sleeping Beauty castle model is a wonderful depiction of what we see today in the central hub, also know as a Disney weenie (i.e. a visual structure that draws a crowd down the main corridor of the park).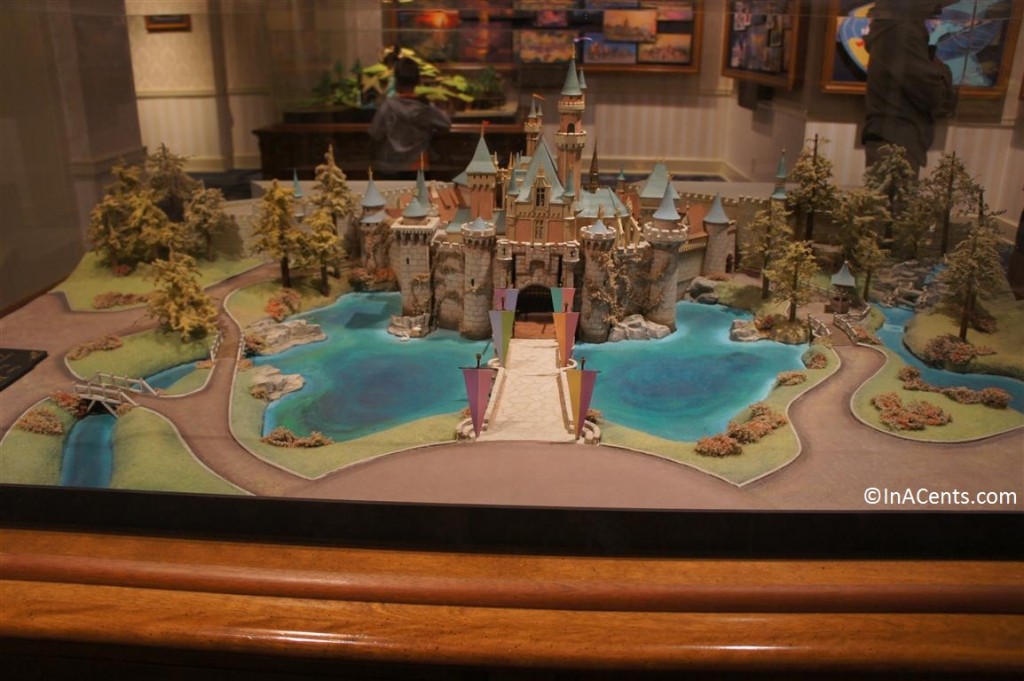 The plaque on the castle reads, "Neuschwanstein Castle in Bavaria was the inspiration for Sleeping Beauty Castle. But after viewing the model, designers felt that the interpretation was too literal. On a whim designer Herb Ryman picked up the top portion and turned it around. Just at that moment Walt Disney walked into the room. He loved it, and voilà! A magical theme park icon was born."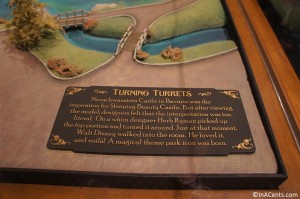 If you look closely you can see the Snow White wishing well and associated water feature.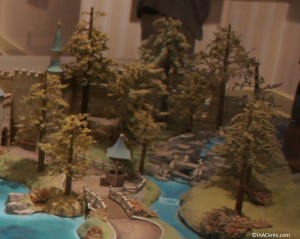 (1954,1960, restored 1987)
This model is an ORIGINAL final show model made by WED prior to the opening of Disneyland. The original was made from a modelers plywood, card-stock, task-board-similar to Masonite, paper, wood putty and metal. It was painted with gouache paint. The base is a 20lb density foam (from the 1987 restoration) and features flocked -static grass. After Disneyland opened the model was featured inside the park in various displays along Main Street USA. Other models displayed were some Main Street and Adventureland models. During this period alterations were made to keep the castle model looking as it did at that point including the addition of the wishing wheel and Snow White Grotto, etc. At some point the models were removed as more shop and vendor space was needed. Over the years, the model was lost and re-discovered in a cardboard box in many pieces!!. It was decided to have it restored and was used as the "welcome" piece for the newly opened Disney Gallery in New Orleans Square in 1987. It is the only one of its type. It is built at 1/4″ = 1′-0″ –a standard architectural model scale.
Splash Mountain Model
(1987-1988)
This model was used as a design model during the development and construction of the attraction that opened at Disneyland in 1988. It is a show model –meaning it is completely painted, detailed and finished. It was featured in press & publicity information packets and also displayed at Disneyland on Main Street USA in the Showcase Shop (from 1973 till 1990 The Showcase Shop was known as Disneyland Showcase — a Preview of Upcoming attractions). Splash Mountain was the LAST Disneyland project/model to ever be displayed in that space.

The model is made from gatorboard, fiberboard, urethane foam (balsa foam) wood, resin, and styrene. It was painted with gauche and acrylic paint. The scale is also 1/4″ – 1′-0″. Many smaller scale models of Splash Mountain were made as the attraction's design progressed. Once the final layout and blueprints were drafted, the model was made to show designers, vendors, construction workers and guests EXACTLY how Splash Mountain would look once completed.

An interesting fact about this model: Walt Disney loved miniatures and models. Whenever Walt traveled, he would find small miniatures, parts, details, etc. that he thought would be great for models! Walt would bring them back to WED so model makers could use the parts and tiny bits on future models. For years after Walt passed away, the WED/WDI model shop tried to feature something from "Walt's" parts collection on models when they could; to keep Walt's spirit alive in the model shop. This Splash Mountain model was the VERY last model to utilizes remaining parts from Walt's original collection. The small yellow and white flowers in the planter beds were the final pieces left.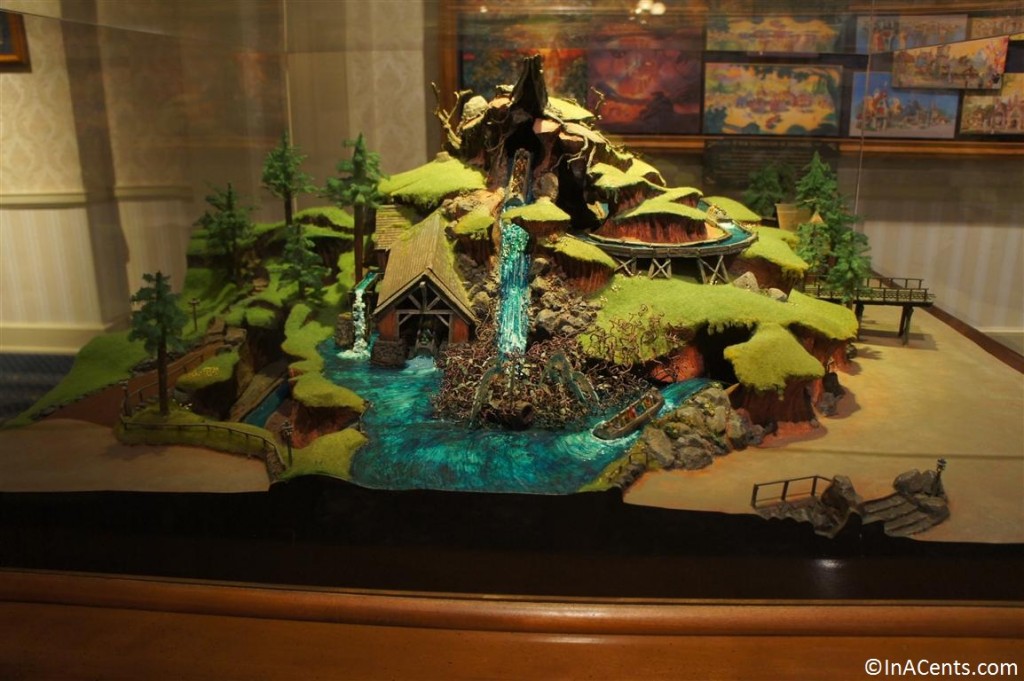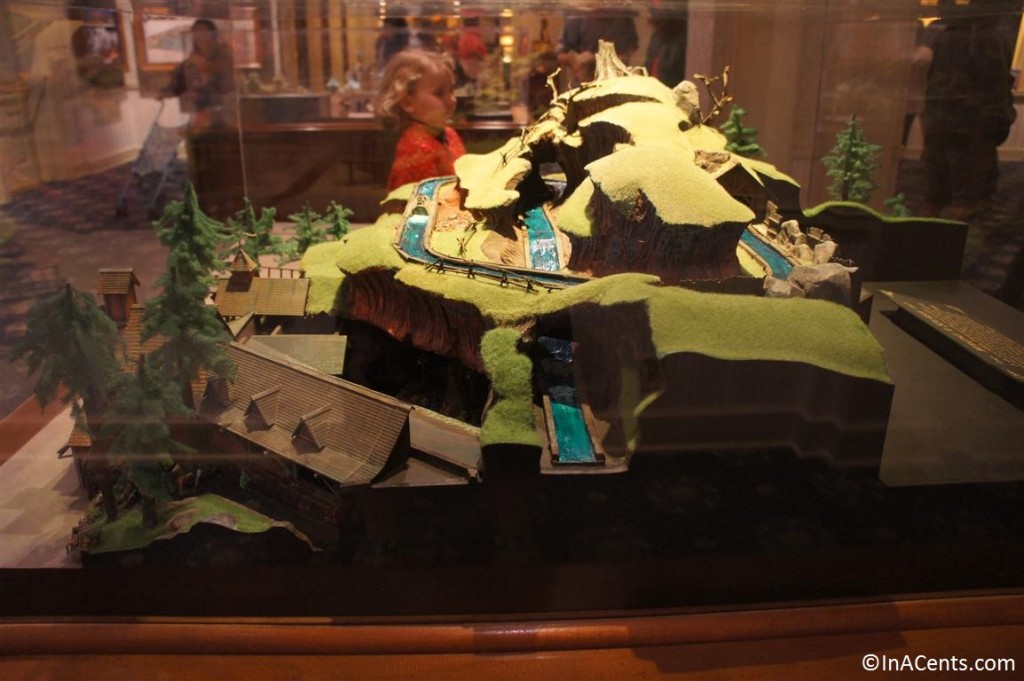 The plaque on Splash Mountain states:
"Making a Splash
In the mid 1980's, Disneyland had two problems ~ the need for more attractions in Bear Country, and an aging Bicentennial ~ era attraction called "America Sings," featuring colorful Audio ~ Animatronic critters. Thus in 1989, Bear Country became Critter Country, and the main attraction was a log flume featuring characters from the tales of Brer Rabbit (which looked remarkably like the critters in America Sings)."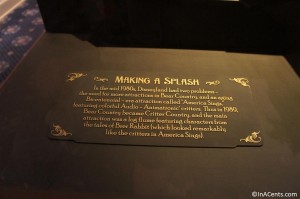 The Disney Gallery is for sure a spot we plan on stopping at during future visits because first, the building was practically empty, which can be difficult to find at the end of the night when every Main Street shop is packed; and second, because even more so than before we entered the Disney Gallery, we felt a bit closer connected to those helping spread happiness inside the walls of Disneyland!
Thanks again to Mark and Mike for sharing the above fascinating information on the models!
Save Money, Travel More!
© 2012, inacents.com. All rights reserved.