Update 12-30-11: Since transferring out all of our points early this week, we had another round of Audience Rewards points post to our Best Buy Reward Zone account, giving us 12 additional points. The problem is, points.com will now not allow us to transfer points out from Best Buy. YMMV.
If you have been following InACents for some time, you know we help you earn free miles and points in various programs that can later be redeemed for valuable travel. Our perfect example was how we are going to Hawaii and Disneyland next summer for practically free all by using miles and points. Lots of things become possible by smartly managing the use of points.
This year we decided to start earning Best Buy Reward Zone points not because we shop there, but because we can earn free points currently in the Audience Rewards program by answering some simple questions. In case you are not aware of the Audience Rewards program and the many benefits they offer by purchasing your Broadway tickets through them, please check out our Audience Rewards Points Play Trivia page located at the top of the site. Have you been earning Best Buy Reward Zone points along with us?
Over the course of the past couple of months, we have earned a total of 65 Best Buy Reward Zone points. It is far from a page turner, but considering it did not cost us anything but a little time, it can be worth it as we will show you below.
At the end of a calendar year, any points in the Best Buy Reward Zone program under 250 will be lost. Therefore, what options do we have to avoid losing the points?
Luckily, Best Buy is part of the points.com network, and the rewards can be converted into other programs by using the following steps.
After logging into your points.com account (or creating a new one is fast and easy), add your Best Buy Reward Zone information into your account to see your available point balance.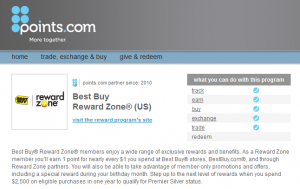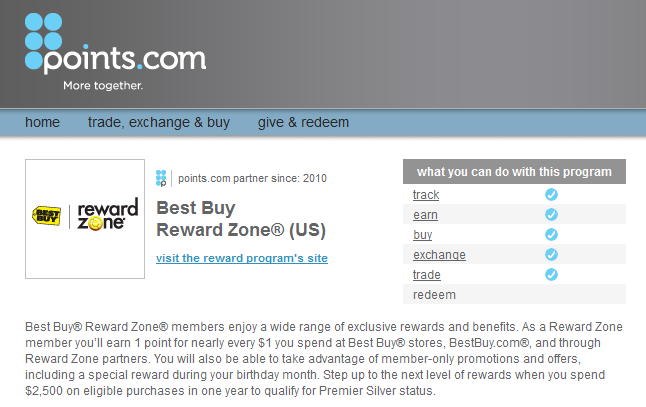 Next, you want to click on the Exchange page to be able to get the points into another program. Note, the points.com site states "Best Buy Reward Zone only permits exchanges to get more points. Please note that it can take as much as 48 hours for your Reward Zone balance to update after you complete a transaction on Points.com." However, this does not appear to actually be the case as you will see by going through the process. You may need to keep maneuvering around the site and the exchange option screens to actually get availability to show up as my account kept blocking out my exchange options. Just keep trying as it does eventually work.
Now for the fun part. You are allowed to move points out of your Best Buy Reward Zone program and into the following programs:


Aeroplan®
Alaska Airlines Mileage Plan
American Airlines AAdvantage®
American Express® Membership Rewards®
Asia Miles™
AviancaTaca LifeMiles
Continental Airlines OnePass®
Frontier Airlines EarlyReturns®
Futura Rewards
Hawaiian Airlines® HawaiianMiles®
Priority Club® Rewards
S&H greenpoints
US Airways® Dividend Miles®
Virgin America Elevate
So you have some decision making to do at this point. Which program suits your needs best? More than likely you are not talking about a lot of points to move over. For example, we only have 65 Best Buy Reward Zone points from this year, which can be converted to:
– 17 American Airlines AAdvantage®
– 17 Continental Airlines OnePass®
– 18 Frontier Airlines EarlyReturns®
– 30 US Airways® Dividend Miles®
I simply did not have enough to get them into some of the other programs, but you might. So my decision making process boils down to 1) which program I value the points in more, and 2) which program am I at risk of losing any miles due to activity. Fortunately, all of my accounts maintain some type of activity that I do not need to worry about the later at this point.
Since I know how much success I was able to score with using our Continental miles, and having the availability to easily move them over to United, I highly value those miles. However, getting almost double the amount of US Airways miles is pretty enticing, so that is where I am moving our points.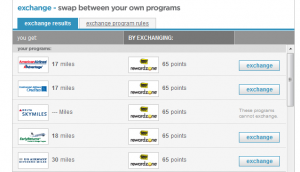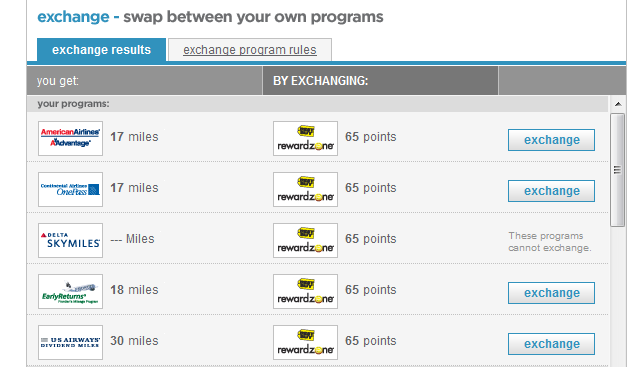 I then going through the confirmation process, and ta-da, I will have 30 miles sitting in my US Airways account.

Again the goal is to not necessarily be able to get a million points through this process, although there is potential to earn more points in the Best Buy Reward Zone program next year since we will be taking part over a longer period of time. The point, no pun intended, is to be able to have some flexibility with getting the points into other programs that can work for you and your family.
One other thing to keep in mind as we go through the next year. Start early earning points in all of these programs. The perfect example is with the US Airways Grand Slam promotion, which has run every September to November. Having the flexibility of points in other programs can earn you lots of free or really cheap hits towards earning mountains of free Dividend Miles. For example, I was able to convert some points in other programs, including the Best Buy Reward Zone points, into Dividend Miles, earning us some free hits in the process.
Let me know your successes in the comments for converting points.
© 2011, inacents.com. All rights reserved.