Today is the last day of the Great Clips $5.99 nationwide haircut promotion, so I decided to go over during my lunch hour to get mine done. I was in and out in less than a half hour. Considering I already have very little hair to cut in the first place, it works perfect for my schedule and wallet.
What I thought was a great feature that is now available as of March 1, 2011, is that you can now check-in online for your appointment. Details can be seen here and is available online or through an app for your iPhone or Android phones. Per my hair attendant, she said you can check-in up to an hour in advance. The Great Clips website is supposed to tell you how long the wait is before you check in. So I decided to try it out.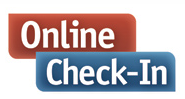 Sure enough, when I go to the salon locator page, it lists all the Great Clips in my area, and on the map it shows the wait time for each. This is outstanding, because now no longer will I need to be concerned with how long the wait will be before I leave. I typically leave if the wait is longer than 10-15 minutes since I am so impatient, so this is an excellent time management tool. Thank you Great Clips for saving me time and giving me a "great" price for my clip!
© 2011 – 2013, inacents.com. All rights reserved.