Normally, I do not really even blink when it comes to purchasing miles and/or points directly from the reward programs. The only time it typically makes sense to purchase the extra miles or points is in the instance when you are short on making a reward redemption.
Yesterday morning, we had to make a last minute change to our July travel plans, and I found myself looking for hotels in the upper peninsula of Michigan. I have always wanted to visit Sleepy Bear sand dunes in the northwest corner of Michigan, and who can turn down some beautiful beaches along the Great Lakes?
Based on our experience to Mackinac Island a couple of years ago, the waters were crystal clear, which was shocking for a Great Lakes area beach.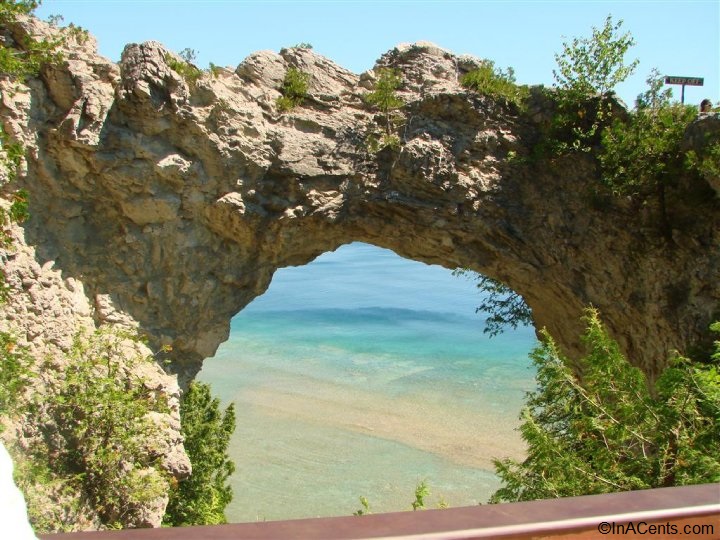 So the chance to stay at some wonderful beaches within a 7 hours drive of Cleveland has this family extremely excited.
The Hotel Hunt
Unfortunately, we are traveling over fourth of July weekend, which means peak prices, and ultimately, limited availability considering it is only weeks away. A quick search through the various chain hotels (IHG/Priority Club, Hilton/HHonors, and Club Carlson) showed rates in the $200-300+ range per night over the long holiday weekend. Even a stop over at VRBO was fruitless because everything is booked up.
So what does a family do when they are in need of a last minute travel plan? Well this family is fortunate enough to have a small stockpile of miles and points at our disposal.
Last year, Club Carlson ran the promo of the year, offering enough points to stay for another night free after staying one night during the promo period. After three different stays, I had over 154,000 points at our disposal; and the Mrs. had another small pool of points in her account.
A quick look through the Club Carlson system only shows one hotel within the area, a Country Inn & Suites (CIS). This family particularly loves CIS because they serve free breakfast, have great, clean facilities that are consistent across the brand, and usually offer a pool. We are simple folks, and do not need big, fancy hotels.
Rates for the holiday weekend are ~$250/night, or 38,000 points per night. Normally, I would never consider dropping that many points for a hotel in…Michigan. However, I also do not want to have to drop $250 for a hotel room in…Michigan. So the alternative to dropping $1000 on a hotel room is spending a couple of points.
Club Carlson Flash Sale
So since Club Carlson was already on my radar, I happen to notice Club Carlson's chatter on Facebook and Twitter about their flash sale.
6/20/13- Offer live from 9:00 PM EST until 10:15 PM EST.
6/19/13- Offer live from 9:00 AM EST until 10:15 AM EST.
6/18/13- Offer live again as of 8:25 PM EST and runs until 9:15 PM EST.
At 1:00 PM EST on 6/17/13, Club Carlson offered points for purchase with a 75% bonus. The minimum purchase was 1,000 points (+750 bonus) for $7. The maximum purchase was 40,000 points (+30,000 bonus) for $280.
The offer only ran until 2:15 PM EST.
Why I like this offer is because with the couple of points I have left over in my account, I could purchase 70,000 points for $280, which would equate to two (2) nights up in Traverse City. Or $140/night on points versus the $250 in actual cost. If we wanted to stay a couple more nights, it would be a no-brainer for purchasing points to make things happen in this instance.
This means if a family has a specific goal in mind for using points, this sale can be a tremendous value. Fortunately, I had plenty of points in my account to redeem for the weekend.
While I will not be taking part in this promotion, as of right now, I think if you have a specific plan in mind, this can really be valuable and worth a look.
Personally, I do not like to buy points nor have large balances of points sitting on hand due to the devaluation that happens with the programs. This year, all of the hotel chains upped the amount of points required for a room. Therefore, hoarding miles and points does no good for the long term.
We will update this post accordingly all week with the latest offers. However, you can always follow Club Carlson on Facebook or Twitter to keep an eye on the next daily sale. While you are there, we would love for you to also follow along with us on Facebook or Twitter too. Thanks!
Save Money, Travel More!
Source: Club Carlson Facebook/Twitter
© 2013, inacents.com. All rights reserved.