After being thoroughly disappointed with Disney's California Adventure prior to the opening of Cars Land, and having hours to kill until the start of World of Color, one of the things we had to look forward to was a pre-purchased picnic lunch from Wine Country Trattoria.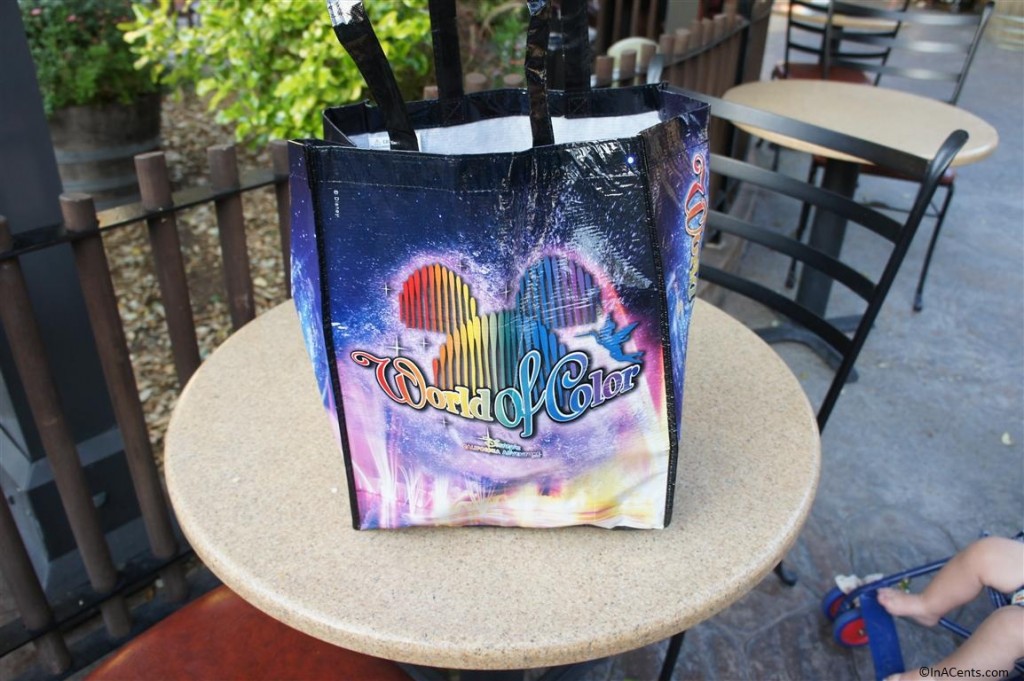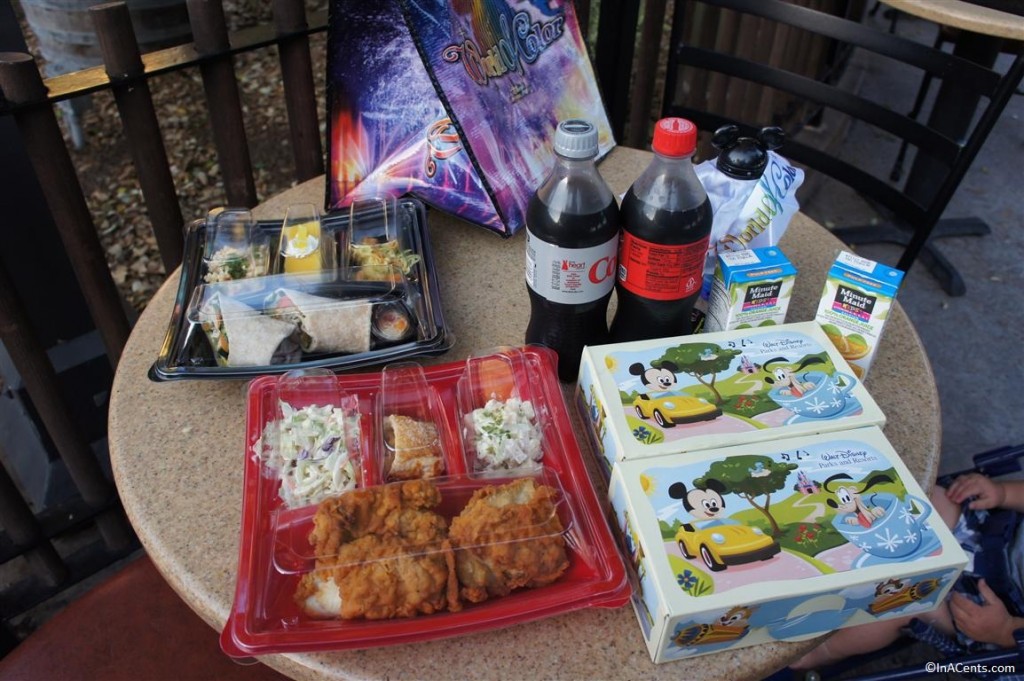 My wife, who is the Disney details planner of all meals and activities (while I take care of all the getting there, hotel(s), and transportation), had selected an assortment of meals for us. Since it was our first time experiencing the World of Color (we had last visited in 2010, just prior to its debut), we did not fully know what to expect. As a result, the picnic lunches seemed like the perfect opportunity since you also receive a ticket to preferred viewing of the World of Color.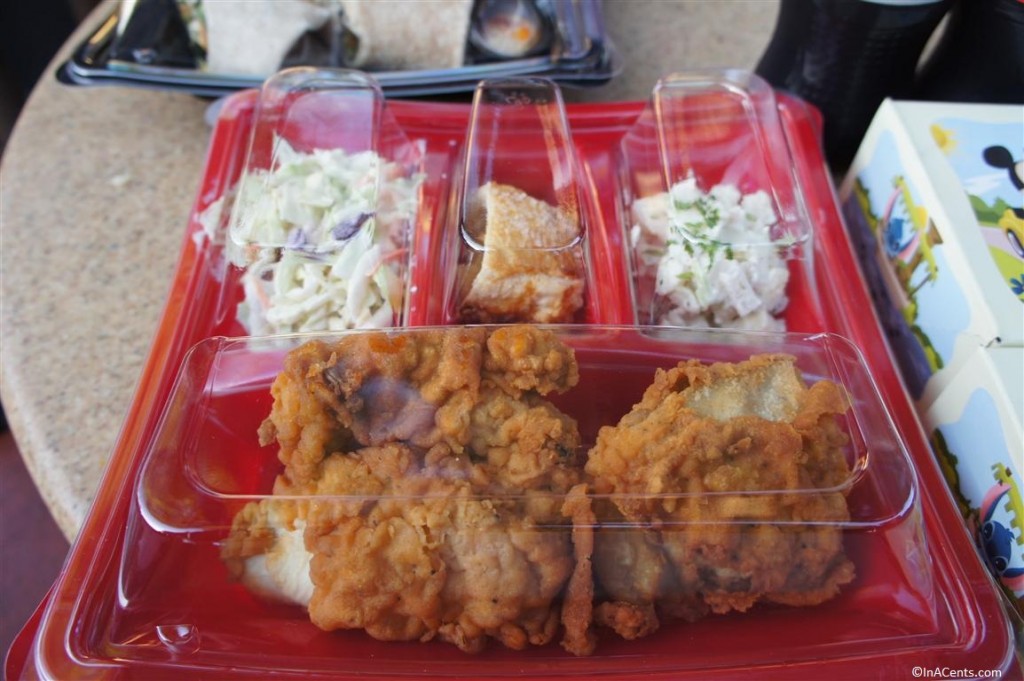 The meals were presented in a reusable World of Color bag. My meal was the All American, which included cold honey-stung fried chicken, green and red cabbage cole slaw with apple cider dressing, old fashioned potato salad with sweet onions and dill relish, and apple pie.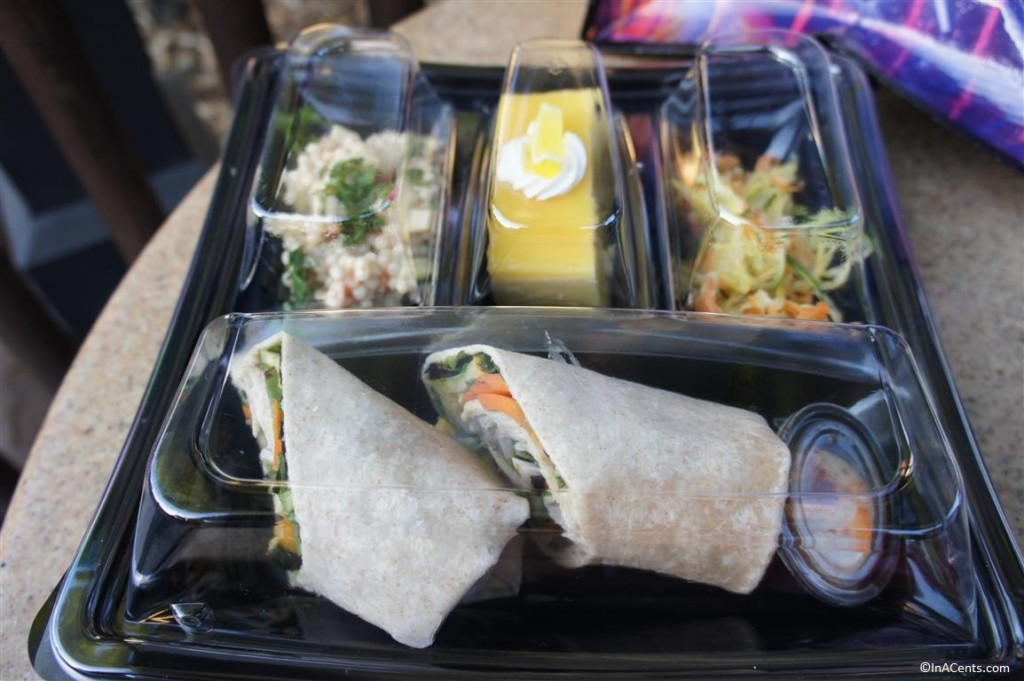 My wife's meal was the Mediterranean Vegetarian, which included marinated grilled vegetables in a whole wheat wrap with roasted garlic hummus, raw zucchini and squash spaghettini with first-press lemon-infused olive oil, vegetable couscous with toasted coriander vinaigrette, and lemon layer cake.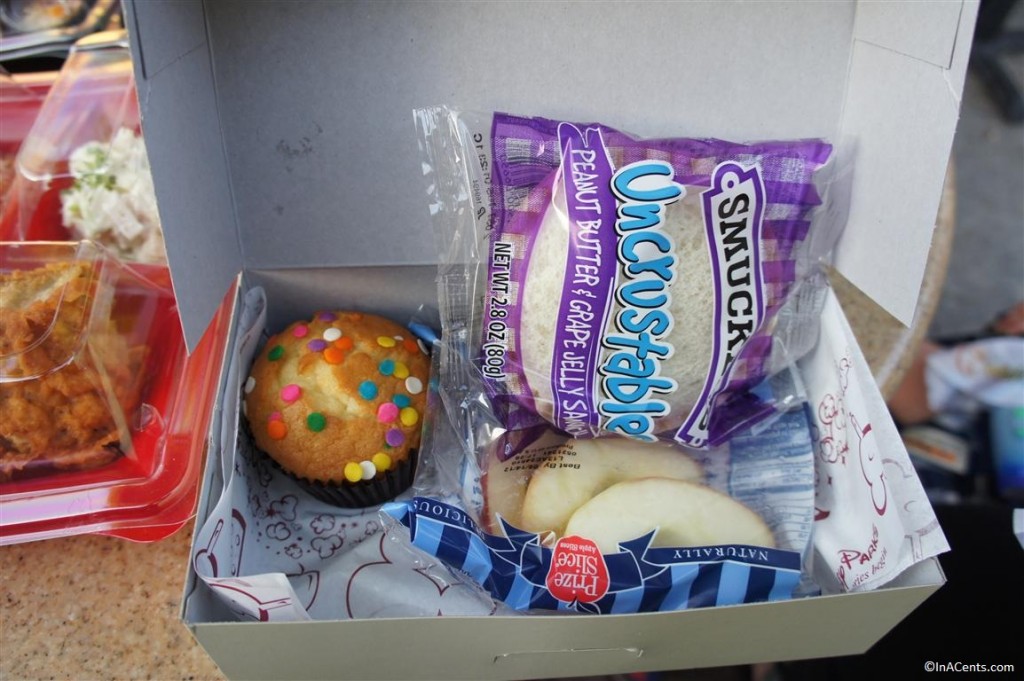 The boys each received the Lunchbox Classic, which included a peanut butter and jelly meal, apple wedges, World of Color confetti vanilla cupcake, and a choice of small low-fat milk, 100% Minute Maid® juice box or small Dasani® water.
The kids meals also each came with a World of Color Souvenir. In our case, they each received a light-up spinner toy, like the ones they sell along Main Street at night. The souvenirs were perfect for our little ones, and considering we only paid around $15 for each meal, I considered the picnic meals one of the best bargains inside of the Disney Parks. A meal, preferred viewing of the World of Color, along with a reusable Disney bag, and toys for the boys, for around $60. At Disney, that is a steal.
The food was nothing to necessarily rave about. The choice of a chilled fried chicken made me feel like I was eating leftovers at home and in too much of a hurry to toss it into the microwave for a couple of minutes. Regardless, the food was still passable. For me, the best part of the meal though was what came outside of the takeout container.
Each adult meal included a 20 ounce bottle of ice-cold Coca-Cola (or Diet if you must). Remarkably, my one must-have indulgence inside the Disney empire, that is always served at the perfect temperature, and after a long day of entertaining, the perfect thirst quencher.
Save Money, Travel More!
© 2013, inacents.com. All rights reserved.