Thanks to our readers, and all of your help, InACents is your reliable resource for earning free miles and points courtesy of the Audience Rewards program! The Points Play trivia program has changed quite extensively in 2012, and we were there for you to help you maximize your returns, with the ultimate goal of getting you to your final destination for free.
The major change that effected everyone in 2012 was that Audience Rewards (AR) changed how the trivia questions to earn free airline miles and points were structured with their partners. Early in 2012, and since the programs inception, AR issued unique questions for each of their partners (Delta, US Airways, SPG, and Best Buy). Therefore, you as the guest could earn free miles and points in EACH program on a pretty regular basis (approximately once every 10 days). Then like all good things, AR changed how questions were issued.
In July 2012, AR started issuing the same trivia questions for each partner program. This meant if you had multiple partners linked to the same AR account, you could no longer earn mile or points across all of your accounts. There are some tricks to be able to break apart your account affiliations, but the ultimate solution, especially for newbies, is to create a unique AR account for each partner.
After the change, our family was set up pretty nicely, because all our AR accounts were separated except for a Delta, SPG, and Best Buy account. The nice thing was, I had an easy decision to make. I could have easily broke them apart into new accounts, but I ultimately just abandoned earning points in that particular Delta and Best Buy account.
The only reason I had any interest in earning Best Buy Reward Zone (BBRZ) points was for the conversion of those points into miles or other point programs. Another major factor in collecting BBRZ points was to convert them into the US Airways Grand Slam promotion; however, in 2012 the program did not happen. FAIL!
So what should you do?
So now, here we are at the end of 2012, and I am sitting on 282 BBRZ points courtesy of Audience Rewards. How many do you have sitting idle?
Last year, we highlighted the process of converting Best Buy Reward Zone points, but this year I wanted to expound on that discussion.
First, for those that do collect Best Buy Reward Zone points, without any interest in collecting them, you need to set up your account properly. The BBRZ program is automatically set up to issue you a $5 gift card when reaching 250 points. If that is your thing, then fine; however, I changed my configuration so that I am not issued a voucher until reaching 1,000 points, therefore, effectively never issuing me a reward since I will not earn that many points in any given year.
Ok now what? The BBRZ program automatically expires your points as of the first of the year (unless you are their credit card holder or premium member). Therefore, if you have 282 points, like we do, then we will automatically be issued a $5 certificate (250 points) and forfeit 32 points as of January 1. Not a smart choice, at least for us, where we value each and every mile earned.
So what are your options?
That is where the site points.com comes into play. The Points site will allow you to convert points from one program into another. Under most circumstances, I would encourage not using points.com because of the horrible transfer ratios, but in this instance, it opens up the doors for liquidating pointless points.
After creating an account, and adding in your BBRZ info (see my post on converting Best Buy points from last year if you need help), we are ready to get to the good stuff.
From here, you can now determine which other programs to transfer your points. Lets take a quick look at our options we have set up in my wife's account.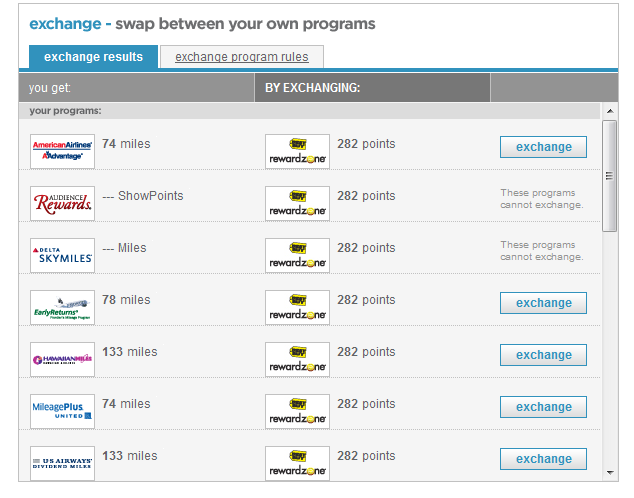 Now we can see how things convert, with the best values coming from moving the points into Hawaiian Airlines or US Airways miles. Note these are also the only other accounts we have linked into my wife's points.com account, and you can add tons more if none of these interest you.
So we have two viable choices if we want to move all the points into one account. We need to think about if any of our accounts are near an expiration. If that was the case, I might consider moving a minimal amount of points over to it.
The second thought is are any our accounts capable of earning more points/miles by converting into another program. Let me elaborate. For example, if I was close to a 5,000 mile threshold with Hawaiian Airlines, I might consider moving miles into that program because they can be converted into 10,000 Hilton HHonors points, a 2:1 ratio. For us, transferring to Hilton is not viable since we are not anywhere near a 5,000 mile increment with Hawaiian.
So, in our circumstances, our best option is to liquidate to US Airways.
Note: I recommend performing your transfer as soon as possible, so that when 2013 rolls around, you do not lose what your "Audience Rewards gave you."
So there you have it. Now you have evaporated those points BBRZ points, and at least garnered some miles that get you and your family one step closer to sitting on the beach.
Save Money, Travel More!
© 2012, inacents.com. All rights reserved.