Lisa, from Gone with the Family, is a wife and mother of two daughters, from Canada who has a keen eye for travel. I love reading about their adventures from around the world. They recently returned from a trip to Paris, France, and I am always really impressed with Lisa's knowledge about her subjects. So join me in this wonderful guest post from Gone with the Family.
A family vacation in a large city can be exciting and fun-filled. Some of our family's favourite vacations have been in New York, Chicago, London, Rome, Copenhagen and Paris. However, the cost of accommodations, food and attractions in a city can very quickly add up, especially for families. Here are a few suggestions for keeping expenses down while still having a great time.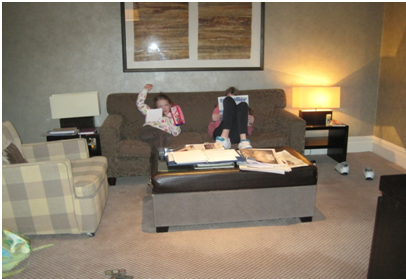 1. Renting an apartment can be a great option for families who are planning a big city vacation. This is almost always less expensive than a hotel, particularly for larger families who may require more than one hotel room. Not only will there be much more space for the family than there is in a standard hotel room, but having a kitchen will facilitate the preparation of some meals at the apartment and will lower food costs accordingly. Apartment living can also give your family a taste of what it's like to actually live in a city neighbourhood that tourists don't often visit and, if you do choose to eat out, local neighbourhood restaurants can be far less expensive than the pricy ones located in tourist areas. If you prefer to stay somewhere that has some level of service then another alternative is staying at a hotel that has suites/apartments available or staying at a small family-run hotel. Our family has stayed in apartment/hotels in London, New York, Rome and Paris and found each of them ideal as a home-base for exploring the city.
2. When planning an itinerary, check museum web sites to find out if there are free admission days or discounted tickets available. For example, the Musée d'Orsay in Paris is free to all visitors the first Sunday of each month, many museums in London such as the British Museum have free admission (although there may be a charge for some exhibits), and some museums like the American Museum of Natural History in New York City have suggested general admissions – visitors may pay less if they choose. Visitors staying in a city for several days and planning to visit multiple museums should check into programs that offer a pass to several attractions as the savings over paying individual admissions could be worth the cost of the pass. There are also museum networks which offer reciprocal benefits such that a membership at one museum may entitle you to free admission at other museums. If you have a membership at a local museum then be sure to verify prior to your travels whether it entitles you to free admission at any museums in the city that you will be visiting. An added bonus to free admission is that you can leave when the kids start getting bored and not worry about whether or not you are getting your money's worth.
3. Most cities have gardens and parks that are both free and great places to entertain kids and let them blow off steam by running around a bit. Playing in local parks also increases the likelihood of meeting and interacting with local residents and learning more about the city as a result. Central Park in New York City is a great example of an urban oasis as is Luxembourg Gardens or Tuileries Gardens in Paris and Regent Park or Hyde Park in London.
4. Cab rides are a costly means of transportation and should be avoided as much as possible – either walk or use public transportation instead. My preferred means of getting around most cities is on foot. I find that I can orient myself much better and get a better sense of the city when I am on foot as I can actually see where I'm going and familiarize myself with landmarks. Public transportation is often the most efficient way of getting around in a city where gridlock is the norm so visitors that use it may end up saving both time and money. If you are traveling with kids who aren't used to subways or underground trains then taking one is fun for the experience itself. When we visited London, my kids had so much fun riding the London Tube that it was one of the highlights of the trip for them.
5. Another cost-saving option to consider is one of the free guided tours offered by local residents in a growing list of cities. This concept originated in New York City in 1992 with the Big Apple Greeters program where enthusiastic volunteer guides decided to share New York with visitors by conducting free tours of the city's ethnically and culturally diverse neighbourhoods. As this program's success grew, similar programs began to pop up elsewhere and the Global Greeter Network was formed as a voluntary association of independent welcoming programs. Over the last few years these ambassador programs have been developed in a number of cities around the world and all consist of enthusiastic residents who provide free guided tours of the city they love.
These are just a few suggestions to make a city vacation with family a bit easier on the pocketbook. I'd love to hear any tips that other families have for reducing costs when visiting large cities with children.
Lisa Goodmurphy is a lawyer living near Toronto, Canada who left the corporate world to stay home with her two daughters, Katie and Emma (now aged 15 and 8). Badly bitten by the travel bug years ago, Lisa considers herself fortunate that her husband and kids are equally enthusiastic about exploring the world. You can read about their family's travel adventures on her blog at www.gonewiththefamily.com or follow along on Facebook at www.facebook.com/GoneWithTheFamily1 and on Twitter as @GoneWithFamily.
© 2012 – 2014, inacents.com. All rights reserved.