It is not often that a promotion gets me excited enough to want me to modify all of our future travel plans. Back in late 2010/early 2011, Priority Club opened me up to a whole new world of hotel stays and opportunities by running the promotion Crack the Case. Everybody who registered for the promotion received a different offer.
Since we had never stayed at a IHG hotel, I presume, we were targeted for a great promotion.
Earn,
60,000 points for opening the credit card
1,000 points for taking a survey
10,000 points for opting in for emails
5,600 points for staying 10 nights
4,400 points for staying at two brands
3,300 points for staying two Saturdays
In addition, if we cracked 5 of the 6 cases, we received an additional 125,000 points.
Over the course of the next several months, we changed our hotel plans to meet the promotion and unlocked all of the cases except the credit card. We earned so many points off the promotion, we received Platinum status and had enough points to pay for our families entire Oahu hotel in 2012.
Aside from the US Airways Grand Slam promotion, the IHG Crack the Case promotion was one of my favorite promotions I have ever taken part in. The offer exposed our family to a hotel brand we had not previously stayed, the program encouraged us to perform several tasks and interactions with the company, and we earned a lot of points. From a marketing perspective, the Crack the Case promotion was great!
I occasionally go on Twitter, telling IHG to bring back the Crack the Case promotion. Maybe someone was listening!
So imagine my surprise this week when I discovered a similar promotion coined the Big Win.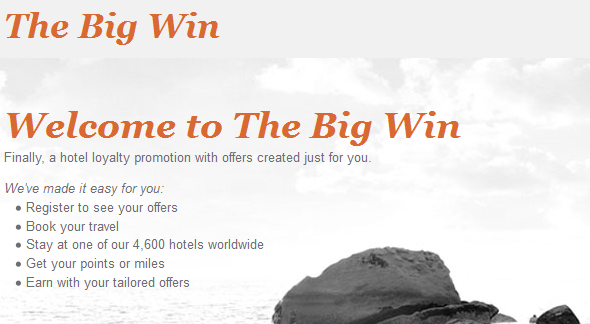 The new promotion mimics the Crack and Case offer, but under a different format. After registering for the promotion, I was targeted with a 50,000 point offer.
Try one and done: Stay at any IHG® hotel and receive 1,000 Points.
Stay more & earn more: Stay a total of 4 nights and receive 4,000 Points
Explore our brands: Stay at 3 different IHG brands and receive 10,000 Points
Book with us: Book 2 separate stays through an IHG® hotel website or mobile device to get our best price guarantee and receive 2,000 Points
Win in a weekend: Stay 2 Saturday nights and receive 8,000 Points.
Win big: Complete all of your offers and receive 25,000 Points
Your offer will be totally different than mine. Doing some quick preliminary research, it appears my offer if quite low compared to others and some other people have additional tasks.
I also decided to create a new IHG Reward account for my wife to see what kind of offer she would receive. Unfortunately, she received the same offer.
Our account balance is quite low, so this offer is really enticing for our family.
The promotion takes place from September 1 to December 31, 2013, giving you plenty of time to meet the goals.
What will IHG points get me?
We will earn 50,000 points by taking part in the Big Win promotion. Now, if we wanted to stay in some of the high end Intercontinental properties, our entire point balance would be required for one nights stay.

However, the smarter play is to use only 5,000 points per night using the Points Break list. The hotels offered various around the world and are updated periodically. If you happen to be in the right place at the right time, Points Break hotels can be your best use of IHG points.
Does the IHG Rewards Club Credit Card Make Sense?
It has been a little while since our family applied for any new credit cards (May 2013). In addition, neither my wife nor I have ever had the card before. If you are an existing Priority Club/IHG Reward members, you typically will get targeted for their best offer throughout the year of 80,000 points after $1,000 spend in 3 months. There is also a FlyerTalk thread that has a link for the same offer as well as those that say it is still working.
The card also comes with no annual fee the first year (only $49 thereafter), free Platinum status, and every year you receive a certificate for one free night at any IHG hotel. We highly valued our Platinum status during the Chocolate Murder Mystery.
So now seems like an excellent time to go ahead and get the credit card. In our situation, we need to stay at least 4 nights, and let's assume an average of $100/night. So that means we only need to spend $600 over the course of 3 months. Pair the credit card bonus with the Big Win Bonus, we will earn 80,000 + 1,000 (spend) + 50,000 = 131,000 points. That means we are purchasing points at less than $0.008 per point.
At 35,000 points per night at the Waikiki Beachcomber, that is 3 free nights; more if I would select a points and cash option.
As an alternative, should we be able to take advantage of the Points Break hotels, our 131,000 points could be stretched out to 26 nights.
Save Money, Travel More!
Source: IHG
© 2013, inacents.com. All rights reserved.