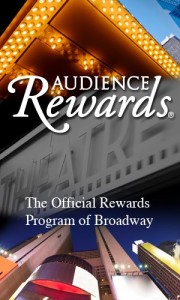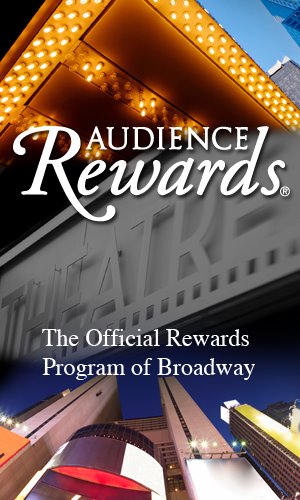 InACents has long been the leader in helping promote the Audience Rewards (AR) program to help you earn miles and points. The reward program was created to help sell premium Broadway show tickets. However, the problem was you only earned miles or points when purchasing the most expensive level seats, thus becoming a rich man's game. Most people do not purchase the highest priced seats, thus turning off the majority of the audience from the rewards program.
The program is structured to make you spend a lot of money to sit up front, and with the commission Audience Rewards (AR) earns, they in turn offer you a kickback in the form of miles or points from your favorite brands. As long as enough people purchase the expensive seats, there is enough extra money to allow a taste for the small guys.
It was only after I happen to stumble upon the AR method of earning free miles and points by answering some relatively simple Broadway show questions in mid-2011 that the light bulb went off. Here we had a perpetual mile machine to keep earning free rewards with minimal involvement and NO cost.
The AR program allowed the everyday person to earn a handful of miles or points approximately once every 10-14 days for FREE. It was simply smart marketing on the part of AR. Customer acquisition costs were less than a quarter per round of questions. Get that customer to keep coming back for free miles or points every couple weeks, and you build brand awareness, with the hopes that they eventually become purchasing customers.
However, with the high priced earning potential by purchasing tickets for rewards, the dollars and cents do not always make sense for the everyday traveler. If the program allowed one to earn miles and points for any level Broadway show seats, there would be a lot more potential for conversions.

Lots of people in the mileage world do not bat an eye at "wasting time" for such small mile or point denominations. Why would they spend 3 minutes answering questions for a $0.25 earning potential? However, earning these free miles and points allowed many people to keep their accounts active and from having them expire.
The answer for our family is we want to take advantage of as many free miles or points as we can. When we travel, we do not look to fly in first class cabins or stay in expensive suites with our rewards. I, as well as most of our readers, have families that need to get many people from point A to B. Our family just wants to be able to get to our destination and stay comfortably, where every mile or point matters in the game.
The other big question is why would we spend so much time promoting a program that earns a whole 10-12 miles or points every week and a half? It is not like we get paid as an affiliate for promoting Audience Rewards. The reality is as we started to learn the ins and outs of the AR program, more and more people started to count on our information, thus making us a reliable resource. Now too many people count on us to have the answers to turn back.
Lastly, we really enjoy researching the answers each round and making sure everything works across all the partner programs, as well as helping those with the program.
We have seen a lot of changes take place in the Audience Rewards (AR) program over the past two years. When it was initially orchestrated, in addition to the standard 2 mile/point questions, there were rogue 20 point questions that appeared for the first so many participants. My leads at AR would never divulge exactly how many, but we estimate it was roughly the first 25-50 people. Once the extra point questions were gone for the week, you had to wait until the next round. I was fortunate enough that by waking up early, I get access to the system before many people were even awake, and often got to take advantage of the bonus questions. However, it was short lived.
Another early benefit of the Points Play trivia questions was the ability to earn across the different partners (Delta, US Airways, SPG, and Best Buy). In the beginning, regardless of whether you had a single AR account with multiple partners listed, or had a separate AR account for each partner, you could earn free miles or points across each platform because the questions were different for each program. So you might earn 10-20 miles or points with Delta, US Airways, SPG, and Best Buy. However, that benefit also was shortly lived, when AR started issuing the same questions for each program, effectively allowing you to only answer them once. The workaround was keeping each partner linked to a separate AR account.
As thing developed, and the AR program became more popular, we saw the 20 point questions disappear, and then the same trivia questions being issued across all programs. For quite a while, questions were consistently put up and 9 days later taken down, and on the tenth day new questions were issued. However, anytime some type of pattern starts to appear with AR, they change it up.


We have seen a huge uptick in Audience Rewards program over the past couple of months, and surprisingly, the main contributor is not the mileage or hotel earning programs, but actually the Best Buy Reward program. Once Best Buy started offering guest free points via their Facebook page, which was pretty lucrative, all of a sudden the masses started to realize the AR program existed.
Now, shortly after we post the answers to the trivia questions, blogs and forums all across the web post the information as their own, mostly all with no credit to the source. By the nature of some of these "freebie" sites, I guarantee they are not spending the time researching the answers and actually making sure they work.
So with so many new faces getting involved in the mile and point earning potential behind Audience Rewards, I predicted there was starting to be an imbalance to premium seats purchased versus free rewards handed out for trivia. Audience Rewards was starting to spend more and more on the free miles and points, even at only a $0.25 per person per round. When the numbers started to add up, AR needed to pull the plug early.
Like anything that starts to get too popular, once the economics to the issuing company start to fall out of line, they start to get eliminated.
Current Audience Rewards Status
Yesterday morning I received an email from a reader asking what happened to the Audience Rewards Points Play trivia questions. One 7/29/13, the questions were last updated. Using the 10 day rule meant that yesterday, new questions should have posted. So I alerted the reader to give it a day or two since no new questions were posted.
The reader than called Audience Rewards to check on the status while I also submitted an email to my contact at AR. The reader responded first back to me that AR had informed them that the ability to earn free miles and points via trivia questions was being suspended. It was shortly thereafter that AR confirmed with me that the Points Play trivia questions were being reevaluated.
I later placed a phone call into AR to discuss the details. In my brief conversation, I was informed that for the time being, the Points Play trivia questions to earn free miles and points is being suspended. I presume the reason is to evaluate if the economics make sense.
AR said the suspension is not necessarily permanent and is looking to possibly make a return of the Points Play trivia questions to earn miles and points, but more as a promotional tool, rather than a rotating giveaway.
I also wonder if the contracts with the partners has expired, and the partners might be trying to increase the cost of the mileage and point acquisition. AR does not divulge a lot of information whenever I talk with them, which is really pretty shocking from a marketing perspective. If your job is to get brand awareness out there, your job should also be to get all the facts out there before people start to speculate.
So for now, I am sad to say that there will be a lull in Audience Rewards info since there is very little point in promoting the program anymore. I am hoping that Audience Rewards revamps and comes back stronger and better, making the Points Play trivia questions more lucrative for both AR and us.
R.I.P. Points Play Trivia (for Partner programs)
Note: You can still answer Points Play trivia questions for AR; however, it is only to earn Show Points and not partner miles and points.
Save Money, Travel More!
Source: InACents
© 2013, inacents.com. All rights reserved.