The name Waikīkī means spouting water in the Hawaiian language, for springs and streams that fed wetlands that once separated Waikīkī from the interior.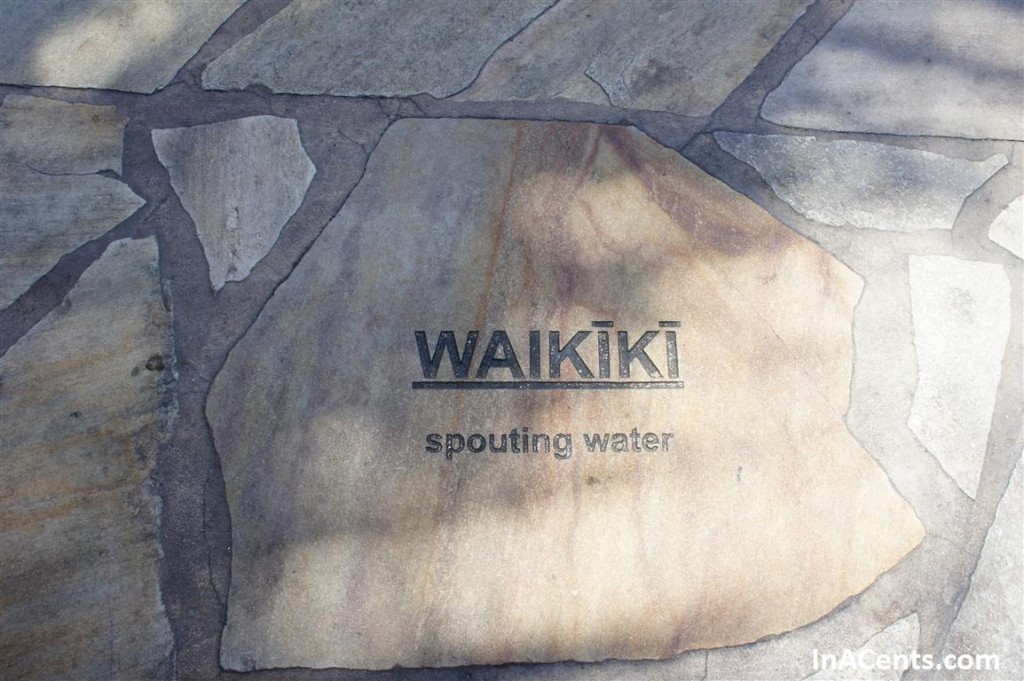 When I visited Hawaii alone in 2006, I barely even paid Waikiki Beach a glance, let alone a moment of my time on the sand. I had little interest in being around the crowds and was more intrigued to get out of the City and explore all the other parts of Oahu. However, quite a bit has changed in my life over 6 years, making a visit to Waikiki Beach all the more likely.
Now I am married to the same girl I started dating when I came to Hawaii the first time. Plus we now have the two most amazing little boys who came along to start some new adventures. So planning a week on Oahu had a totally different appeal than when I was alone. Now all of a sudden the appeal of spending some time on the beach with the boys sounded like a delightful experience. What has happened to me?
Our family stayed at the Holiday Inn Beachcomber for free because of Priority Club reward points. So we were located right in the heart of the city compared to when I stayed in Aiea with a friend on my previous trip. The city of Honolulu is far from the beautiful, ideal image most people have of Hawaii. So there is that side of you that naturally pulls you to the ocean, and conveniently, it was located across the street from our hotel.
We quickly learned that Waikiki Beach, while definitely a popular tourist location, was great beach and water access for the boys. We spent several small trips at Waikiki Beach when we were ready to just relax and not travel to another destination.
It was also convenient to be so closely located to shops and restaurants surrounding Waikiki Beach. We could wake up in the morning, go to Hula Grill for breakfast, then head to the beach a couple hours. However, being so close to tourist traps comes with its own share of issues.
Convenience comes with a price in Honolulu. We learned that lesson twice on our first full day on Oahu. We wanted to purchase the boys some sand shovels and pails that we could use throughout the trip. We went in a small boutique shop and the boys picked out the most expensive sand toys I have ever seen, $20 worth. Ouch. At least the cost went towards our new credit card minimum spend.
At several points throughout the trip we were trying to manage what was in our suitcases, and you better bet those sand toys came along for the ride after having to shell out an Andrew Jackson. If they had been cheap $1 toys, I would have just left them behind and bought new ones where we needed them, but the convenience fee we paid made me want to hang onto them.
The second convenience fee came after being in the water of Waikiki Beach for five minutes, and I stepped on a sea urchin, getting the spines stuck in my heel. So I hobbled across the street to purchase a $7 piece of tweezers. It was sad to see the same items at Walmart later in the week for a couple bucks, but you pay what you have to when within the tourist area.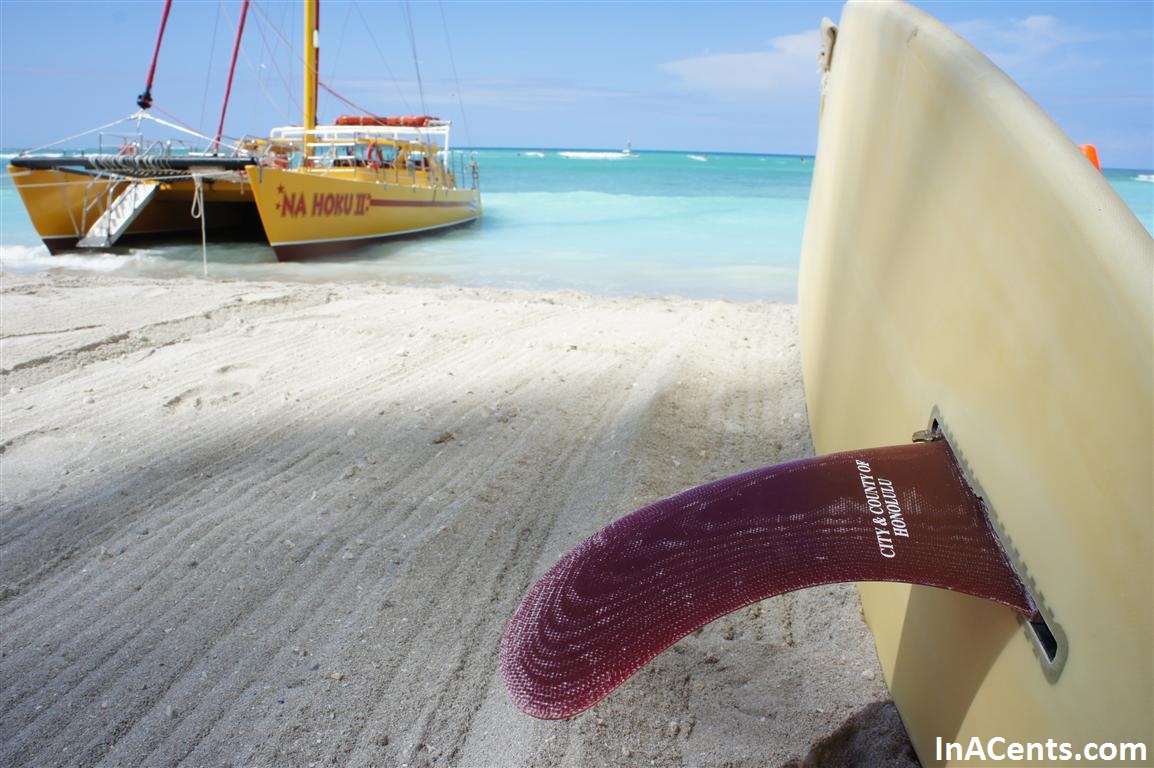 Above is one of my favorite pictures taken on Waikiki Beach (that did not include the boys). However, the boats were one of the most disturbing practices that we witnessed on Waikiki Beach. Several of the boats purposely beach themselves so people can charter them. They also take up quite a bit of beach real estate and do not appear to be operated the most safely to clear away swimmers.
While the boys did not go into the ocean much, I could see parents really having to pay attention if their kids were swimming in the vicinity of the boats.
Overall, I have to say that my preconceived notations about Waikiki Beach were easily dispelled. We really enjoyed the beach, especially with kids. In addition, the crowds were low, making it easy to find a spot on the sand wide enough for our gear, the boys, and some toys to building sand castles.
Save Money, Travel More!
© 2012, inacents.com. All rights reserved.