After just returning from a two and a half week vacation, and finding our fridge completely bare, I was happy to see a new promotion from Discover Card Miles waiting for me at home so we can eat. Earn double miles on grocery purchases purchased between June 29 and July 1, 2012.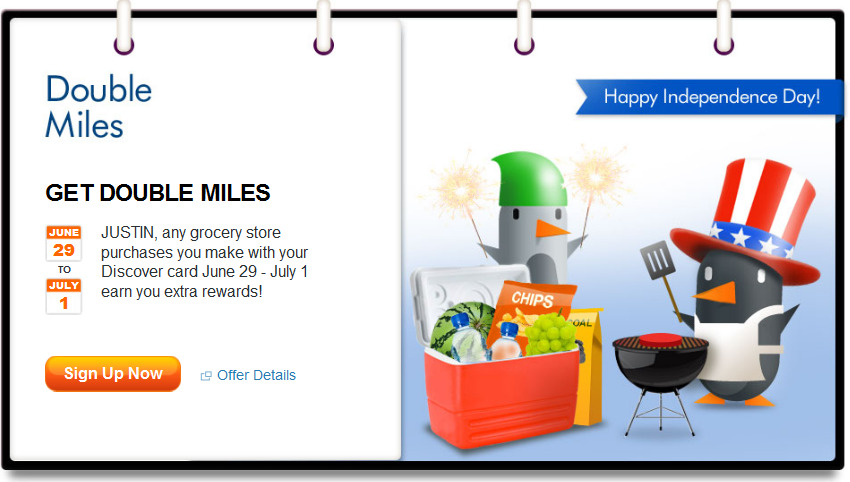 Terms:
*Sign up to earn Double Miles on purchases made at grocery stores from 6/29/12 (or the date on which you sign up, whichever is later) through 7/1/12. Grocery store purchases are those made at merchants classified as stand-alone grocery stores or supermarkets. If a purchase is coded for a category other than those listed above, it will not qualify. Grocery or food purchases made at convenience stores, gas stations, warehouse clubs, supercenters and discount stores are not eligible. Rewards are added to your Miles account at the end of your billing period. See Miles Program Terms and Conditions for further details.
For those looking to really stack up on double miles, you should also be able to add to your purchase gift cards towards other places you will already shop or dine, as it should all code as grocery.
Update: The 20,000 mile offer is no longer available. See our credit card page for the latest offers.
If you do not have a Discover Miles Card, you can sign up using our link, and earn 20,000 miles with no annual fee and $4,000 in spend within 6 months.
TERMS OF 20,000 BONUS MILES OFFER: Earn 10,000 Bonus Miles for every $2,000 you spend, up to 20,000 Bonus Miles. Purchases must be made within 6 months from the date your account is opened. We are not responsible for merchant delays in processing transactions. This promotional offer is in addition to the Standard Miles earned on purchases. Promotional Miles will be applied within 8 weeks of reaching $2,000 and $4,000 spend amounts.
Up until recently when we opened up some other cards, Discover Miles was always my go-to card because I like the convenience of being able to easily apply the miles towards ANY travel purchase within the last 90 days. No need to work with mileage programs and blackout dates, because if the purchase codes as travel, it can be redeemed for credit in 10,000 mile increments.
Save Money, Travel More!
© 2012, inacents.com. All rights reserved.