I was shocked this morning when I went to sign into my AutoSlash account to run the numbers on our rentals for Hawaii, only to find that Dollar/Thrifty, and Hertz/Advantage are no longer part of the inventory.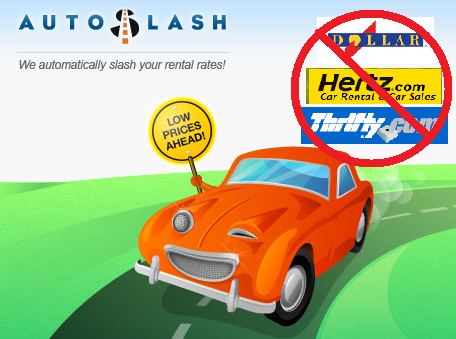 According to the official comment from AutoSlash:
To our loyal customers:

We regret to inform you that Dollar Thrifty Automotive Group, Inc. – the corporate parent of Dollar and Thrifty, and Hertz Corporation which also owns Advantage – took action to prevent our customers from booking rentals from these brands through AutoSlash.

This action came on the heels of this February 18, 2012 New York Times article, which encouraged the renting public to "make a statement" by "booking through AutoSlash and patronizing Hertz, Thrifty and the other companies that play along." We're disappointed that these companies have now chosen to reverse course and adopt this anti-consumer position, after having participated in this site since its launch in mid-2010. Apparently, with more customers booking reservations through our service, they felt they could no longer support our consumer-friendly model of automatically finding the best discount codes and re-booking when rates drop.

AutoSlash will not waver in our objective to help people get a great deal on their rentals. We have exciting product plans on the horizon to make our site even more useful to you, and we look forward to sharing details with you when the time comes. If you'd like to stay up-to-date on new developments, please enter your email address below.
I find this fascinating because ultimately, the consumer was being provided a potentially very valuable service from AutoSlash (even though I had my doubts). Reserving a rental vehicle at the best rate is a completely daunting challenge. Prices change constantly based on supply and demand. In addition, rental car companies put out potentially hundreds of discount code rates and coupons that can save the consumer money. Finding the codes and coupons that each consumer qualified for was frustrating when one needs to check the prices so frequently.
Enterprise/National/Alamo, already would not allow AutoSlash to book their vehicles. In addition, Avis/Budget pulled the plug on inventory. Now the remaining big players (Hertz/Advantage and Dollar/Thrifty) will no longer allow guest to book vehicles using AutoSlash.
As much as I question the AutoSlash service, I do not like to see valuable tools taken away from the consumer. I have no interest in renting a vehicle from a questionable car rental company (E-Z Rent-a-Car, Fox Rent-a-Car, Payless or Sixt) since when we are on vacation, I need the least amount of potential hassles. That is why I prefer to deal with a reputable, name-brand company. Our family can not afford to have an older vehicle die on the side of the road when on vacation.
The whole issue really comes down to one thing. The car rental companies no longer held the upper hand on pricing when a computer automatically rebooks for the consumer. The car rental companies will try and paint a picture that AutoSlash is using questionable discount codes and coupons that the consumer may not be entitled. Then when the traveler shows up for their vehicle and is asked for proof to validate the discount, the consumer is left without a possible valid reservation.
I do not buy the car rental companies depiction since AutoSlash would not risk losing their clients by using questionable booking practices, although it would have been nice if AutoSlash disclosed which discount code/coupons were used for the reservation. On the contrary, in my experience, and the several other people I have talked with, I doubt AutoSlash was doing much at all with rebooking reservations, as I never have had a reservation reprice except for within the first 24 hours.
Regardless, AutoSlash has lost a major market share on vehicle rentals. I hate to see consumer options diminish, and I still wonder why the vehicle rental companies even can have a say in who books their vehicles. It baffles me why Enterprise, Hertz, or any other company can have the power to say you are not allowed to monitor our inventory and book for the consumer. The problem might have more to do with AutoSlash using Travelocity's booking algorithms and agreements between the car rental companies.
Keep in mind if you have an existing reservation through AutoSlash and Dollar/Thrifty or Hertz/Advantage, your reservation MAY be in jeopardy, and I recommend checking with the respective company to make sure the reservation is still valid.
© 2012, inacents.com. All rights reserved.